2022 has been a year of unprecedented growth for the digital out-of-home (DOOH) industry in Canada. Coming back from strict lockdowns, lack of social interaction and confinement to our homes, we can confirm people are returning to their regular daily routines. Not only are consumers out of the house, but they are extremely receptive to out-of-home (OOH) advertisements.
Where is Canada seeing this growth, specifically?
People are back in the office and regularly commuting.
As offices have opened up again, the daily commute has resumed for many. According to a survey completed by COMMB and Leger, 79% of Canadian commuters are using their personal vehicles for their daily activities, and 75% visit their place of work at least once a week.
Attendance at concerts is higher than ever.
Canada experienced record-breaking attendance for in-person events in 2022. Concert bookings alone are up 30% in comparison to Q2 2019, further showcasing that concert attendance has not only recovered but has surpassed pre-pandemic levels.
People are more inclined to dine out.
As people return to work, engage in social activities and leave their homes more frequently, restaurant attendance has also grown. According to the Canadian Restaurant and Foodservices Association (CRFA), 60% of Canadians are buying food in restaurants once a week or more. Compared to 2019's pre-pandemic levels, we're seeing an impressive 16% increase in overall foot traffic to dining establishments.
Travel is back and has seen exponential growth.
As originally predicted, the travel sector experienced the highest bounce back in Canada, amongst other growing trends, being up more than 700% from a year ago — according to TD Consumer Reports.
Now, why are these numbers relevant to the growth of OOH advertising in Canada? With the increased participation in transportation, events, restaurant attendance and travel this year, brand marketers have an increased opportunity to reach their target audience while they are out and about and re-engaging with the physical world. Not to mention, consumers' attention to their physical surroundings is at an all-time high, and overall, people are in a much more positive and receptive state than before.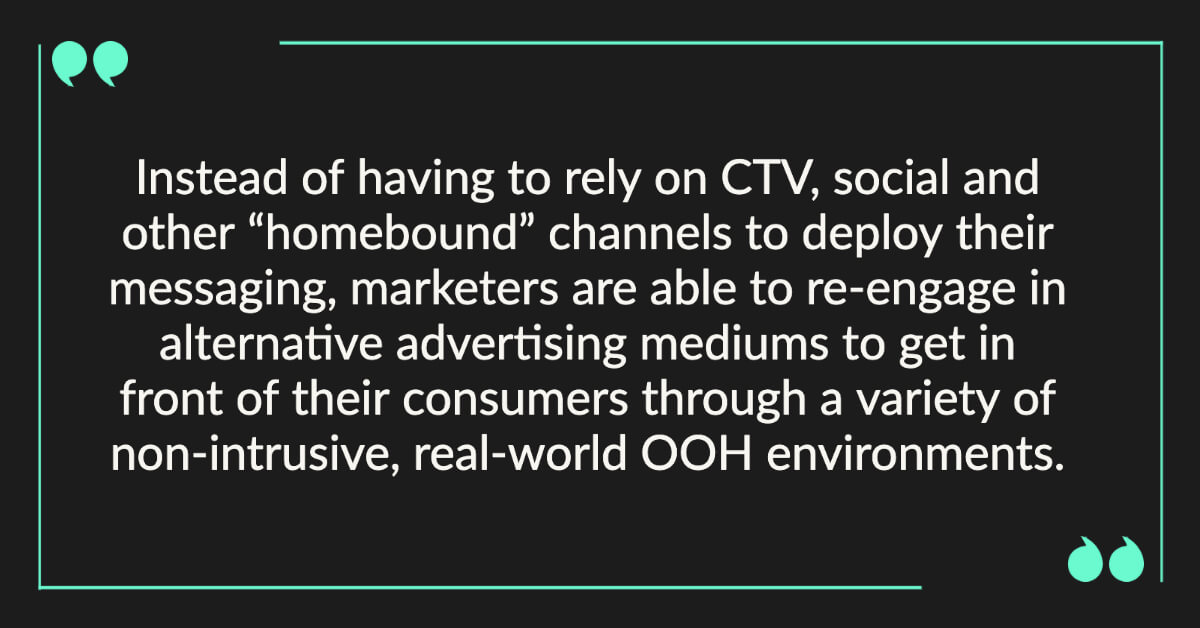 DOOH spend is on the rise.
This year, for the first time, digital ad spend in Canada will be more than double traditional ad spend, accounting for 68.3% of the total ad market. Advertisers value DOOH's enhanced targeting and measurement features, putting DOOH formats at the forefront of ad spend in Canada. Lorena Forster, Sales Executive, Canada points out, "Advancements in campaign measurement and optimization through DOOH this past year have made it possible for clients to assess results across all metrics and thus enhance their future campaigns."
According to the DPAA, 58% of brand marketers already investing in DOOH said they were increasing their investment levels in 2022, with 18% predicting double-digit growth in their DOOH spend. Further, 77% of omnichannel advertisers noted they've launched a new DOOH campaign in the last 12 months.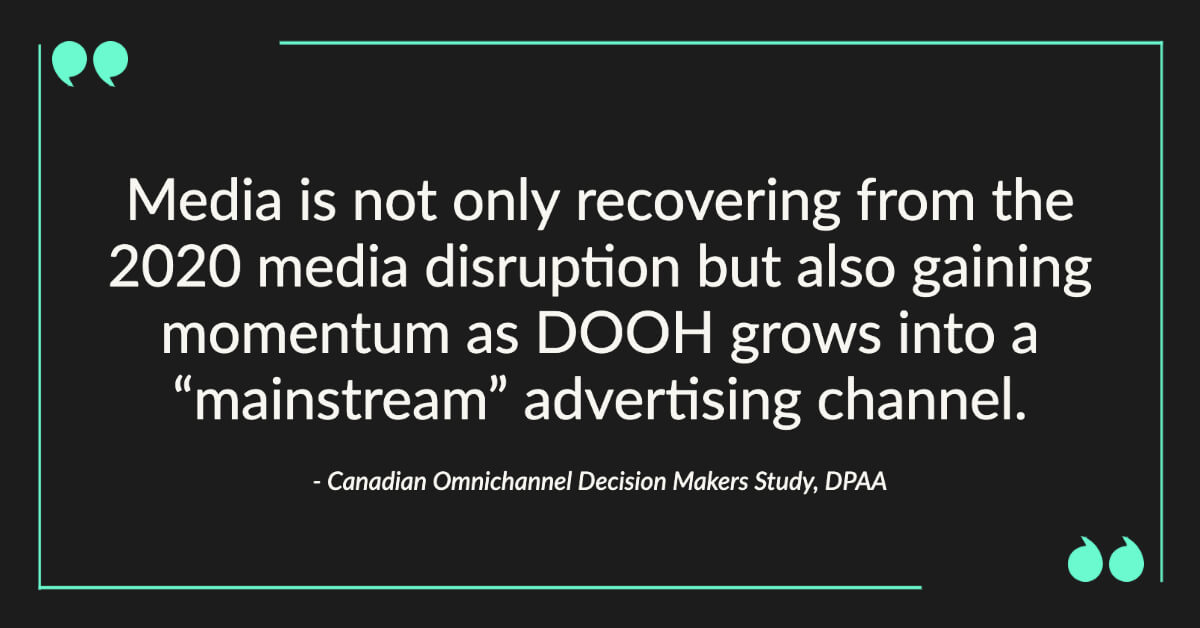 More specifically, let's take a look at the significant growth we've seen within Vistar's marketplace:
The number of campaigns running on Vistar's demand-side platform has grown tremendously in Canada in 2022. This past year, nearly 500 Canadian brands across 300 different agencies partnered with us to activate their campaigns, more than a 2x increase year-over-year.

A rise in industry events further confirms that the DOOH industry is on the rebound. Our Canadian team attended and participated in nine industry events in Toronto in 2022, up from four in 2021.

Our Canada team continued to grow and strengthened our western operations with the hiring of Joe Lasala, Senior Account Executive.

Vistar's robust programmatic supply-side platform in Canada has also grown to accommodate demand and marketers' growing needs. In 2022 alone, we saw a 15% increase in place-based media inventory, and more publishers than ever made their networks available on Vistar's marketplace for advertisers to tap into, with over 20K screens across the country.
Matt Fitzgerald, Supply Partnerships at Vistar Media, emphasizes that, "We've seen a large investment from our publisher partners over the last 12 months. This investment comes in the form of operational staff, new inventory and advanced technology — allowing marketers the best ability to access and engage with their target consumers as they move throughout the day."
Out-of-home is making more of an impact than ever.
Why is 2023 an essential time for marketers in Canada to be looking at DOOH for their upcoming campaigns? It's simple — Canadian consumers are engaging more than ever with OOH ads. According to COMMB's Insights Report, 78% of Canadians pay attention to OOH advertising, 7 in 10 shoppers admit to taking action upon seeing an OOH ad, and 22% consider actually purchasing an advertised product or service. There's no doubt that Canadians are more active than ever, and it's proven they are both receptive to and influenced by DOOH ads.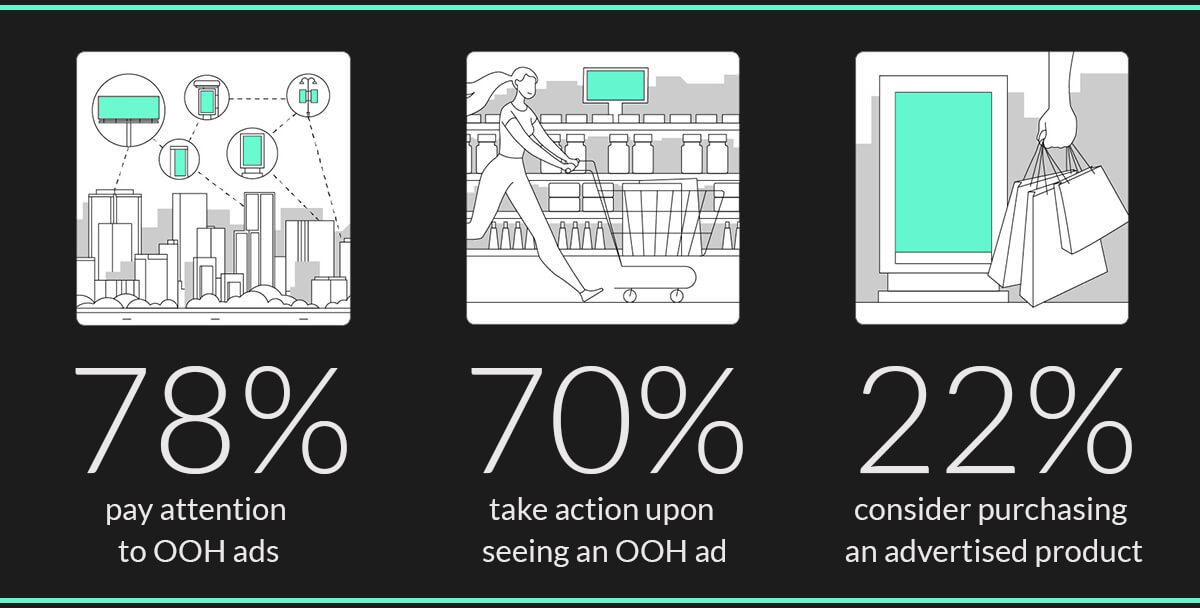 So, what's in store for OOH in 2023?
After reflecting on 2022 and its preceding years, it's evident that we are on an upward trend. The question now becomes, what does this mean for OOH in 2023?

In 2023, OOH ad spend in Canada is expected to grow at a rate of 12%, which is higher than all other media — digital included. Our new guide, The Advertisers Playbook for 2023, published in collaboration with The Drum, highlights data-driven creative, mobile extensions, and smart measurement as three "hot" trends for 2023. Taking a look at these trends for 2023, it's clear that programmatic DOOH will meet many brand marketers' needs, allowing them to create data-driven targeting strategies that will support and deliver campaign results across the entire funnel.

With the innovative measurement, targeting and dynamic capabilities unlocking new possibilities for DOOH, there is no doubt that Canada will see its biggest year yet in 2023.

For a more in-depth look at what else the future holds for out-of-home, check out The Advertisers Playbook for OOH in 2023.
Or, get in touch with us to learn how you can benefit from DOOH for your next campaign.