Across the marketing landscape, digital out-of-home (DOOH) occupies a very unique position — operating at the intersection of art and science. Being such a visually-driven medium, significant emphasis is placed on high-impact creative; and rightly so – an ad's effectiveness is heavily influenced by its ability to artfully engage an audience and sway their buying decisions. However, for a campaign to truly succeed, advertisers must also incorporate data-driven targeting and measurement tactics to ensure the ads they've worked so hard to build are reaching the right people and driving real-world results.
When the art of creative combines with the science of data-driven media planning, that's where the magic happens.
We've created this series to highlight DOOH ads that have taken these principles to heart and employed interesting or eye-catching creative, brilliant targeting tactics, unique measurement and more. The sky's the limit for this ad medium, and here are a few brands that are DOOH'ing it right:


Old Navy – inclusive creative FTW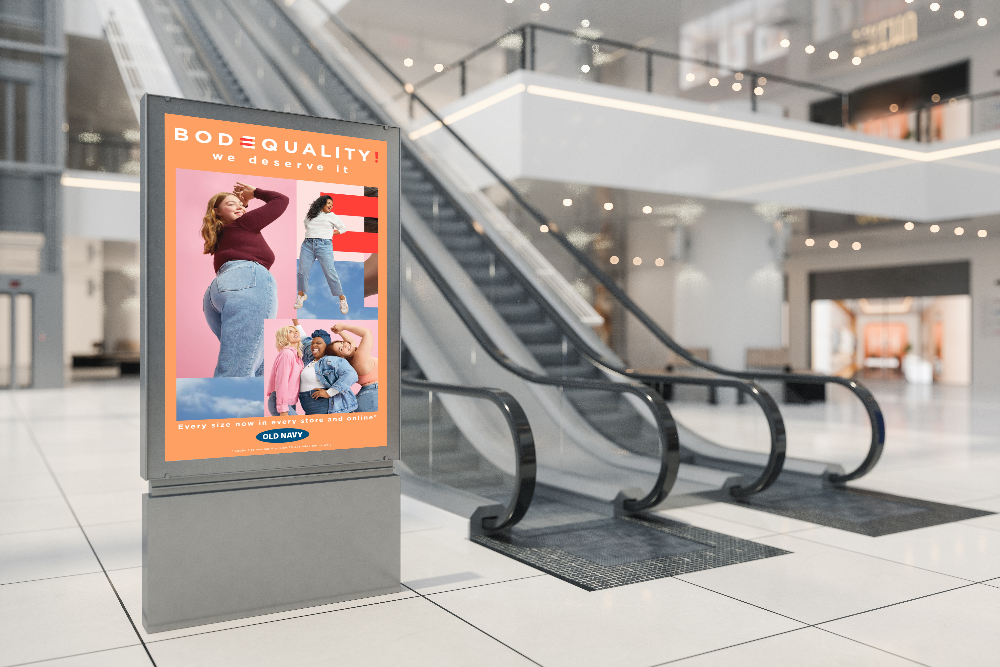 Everyone's body is different, and we love creative that shows it!

To promote the launch of BODEQUALITY – a commitment to offering a fully inclusive shopping experience in stores and online through a human-centered design approach – clothing brand Old Navy created a fun and bold DOOH campaign featuring a vibrant and inclusive cast in their creative.

In this campaign, Old Navy wanted to highlight its new in-store and clothing experience and bring women in to see what BODEQUALITY meant. To do this, the brand leveraged a combination of static and video creative and activated OOH screens in malls that were within 500 meters of a store location. This allowed Old Navy to reach its target audience when it mattered most, with high-impact creative.


Church's Chicken – everything's bigger in Texas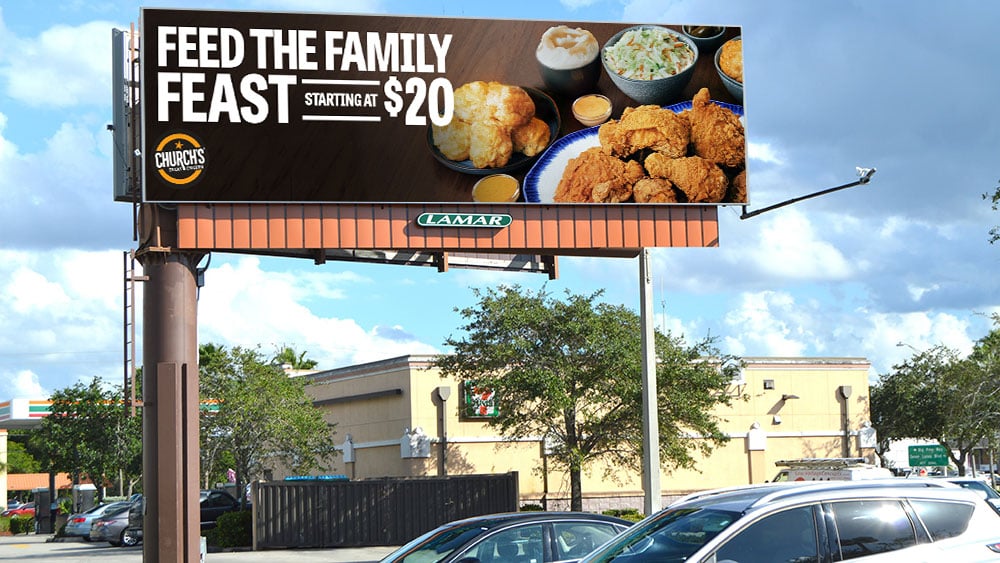 Everything's bigger in Texas, and Church's Chicken is no exception. For this campaign, the San Antonio-founded fried chicken chain went BIG on DOOH.
Church's Chicken wanted to drive foot traffic to its restaurant locations across multiple states and markets. To achieve this goal, the brand targeted consumers who visited competitive QSRs and leveraged point-of-interest (POI) targeting to amplify its messaging within close proximity to its restaurants. Church's partnered with out-of-home agency, Kinetic to purchase DOOH media across sports entertainment venues, outdoor billboards, bus shelters, urban panels, convenience stores, gas stations, malls and more. In addition, the brand tactically leveraged device ID passback in this campaign, to identify customers who were exposed to DOOH ads and re-engage them across other media channels.
But this was just half the battle for the brand. Church's wanted to make sure their DOOH efforts were actually making a difference and ultimately driving more people into their restaurants. Using Vistar Media's partnership with Foursquare, the brand conducted a foot traffic study that measured the uptick in restaurant visitors to exposed audiences throughout the entire flight.

And if that wasn't enough, this campaign was named a Drum Awards finalist for best campaign/strategy!
Visit Scotland – excellent use of coo-r codes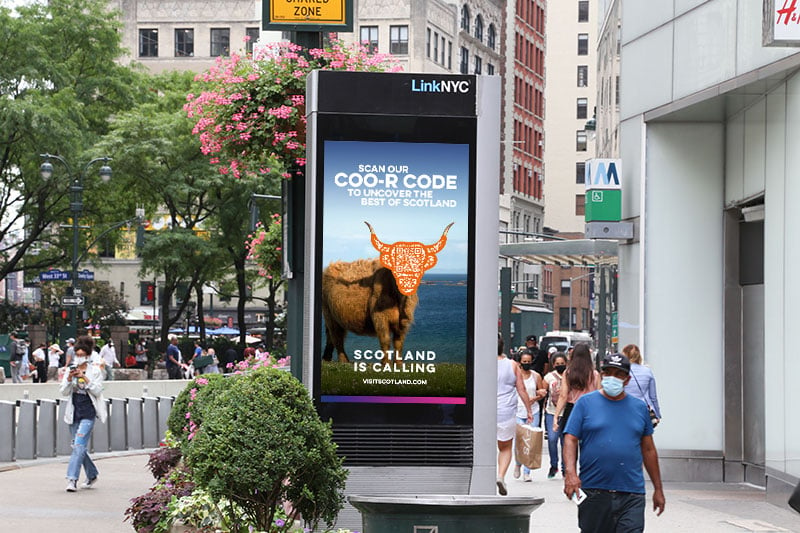 If it wasn't clear already, we're suckers for creativity, and this ad knocks it out of the park!
Visit Scotland really leaned into the art of high-impact creative on this one. Not only did they reference the cow-related imagery within their ad copy – encouraging people to scan their "coo-r code", but they also incorporated the QR code in a colorful way that makes the ad stand out against its surroundings.
This ad shows that a QR code doesn't have to be just a tiny box stuffed into the corner of an ad; when done right, it can be a creative centerpiece that drives engagement and makes an ad pop!
Another major reason this ad is so effective is that Visit Scotland was strategic in selecting an appropriate venue type for this creative. While QR codes aren't a good fit in many OOH venues (like highway billboards), being that this is a street-level venue with high foot traffic and relatively high dwell time, it is a perfect opportunity to leverage a QR code to encourage direct engagement from viewers.
NBA Playoffs – full-court press on dynamic creative

Who doesn't love playoff season?!
Celebrating the 75th anniversary of its playoff season, the NBA wanted to ignite fans' brand love and increase its viewership numbers for the games.
To reach consumers with relevant, tailored content at opportune moments throughout their day, the NBA built a DOOH campaign leveraging dynamic creative on an unprecedented scale.
First, to increase excitement before the games started, the NBA ran a variety of creative messages that highlighted local matchups and game-time countdowns.
In addition, to create cultural resonance and compel players, fans, celebrities and influencers to tune in, the NBA integrated Twitter data feeds into their DOOH ads. These ads pulled in vetted Twitter posts and displayed them in relevant markets to increase the sense of community surrounding this special event.
To keep their messaging highly relevant, the NBA also activated DOOH screens in Playoff team markets as they advanced while deactivating markets immediately after a team's elimination.
Finally, to further amplify the impact of its campaign, the NBA incorporated takeovers on key game days – activating spectaculars in Times Square leading up to tipoff to drive maximum awareness.
All of this hard work and planning paid off as NBA Finals TV viewership was up by 24% compared to the previous year. See the full results here.


Hoka – fly human fly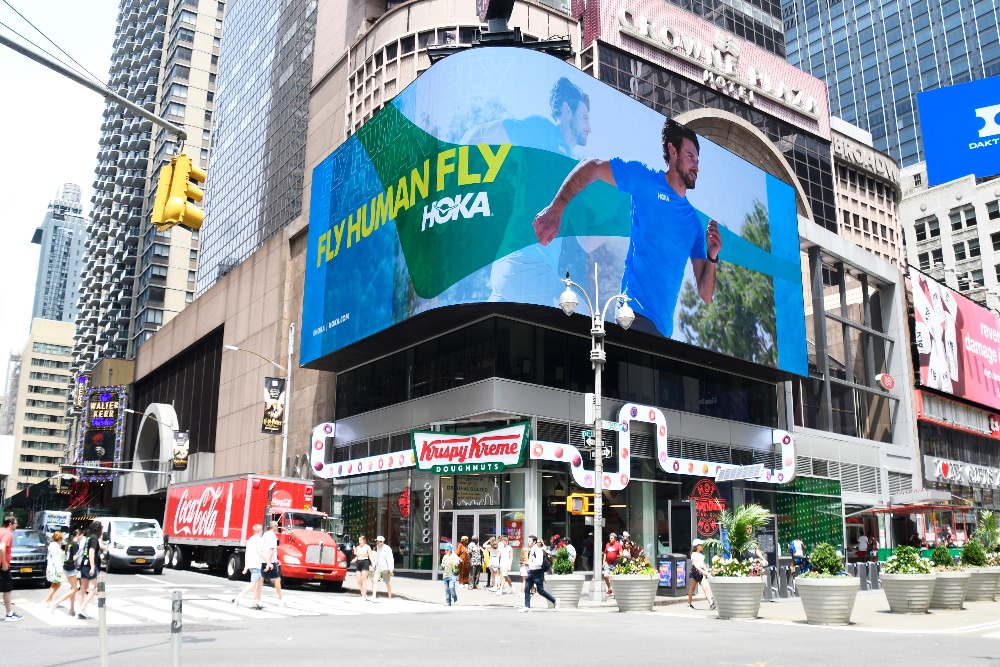 Believe it or not, comfy running shoes aren't just for elite athletes – they're for everyone!

As part of its first-ever global brand campaign, athletic footwear brand HOKA wanted to drive awareness, consideration and purchase intent of its footwear in the U.S. and Europe.
The main theme of its FLY HUMAN FLY campaign was to invite people of all abilities to participate in the joy and power of movement, whether beginner or elite athlete, so a big emphasis was placed on casting a wide net to reach as many people as possible.

To deliver on this goal, Hoka activated screens in high-traffic locations including billboards, train stations and airports. Going deeper, Hoka activated screens in contextually relevant environments in places like gyms and outdoor urban panels to ensure people would most likely be on their feet when they saw the ad – making footwear comfort more top of mind. Hoka also leveraged POI targeting throughout the duration of the campaign to activate high-impact placements across key cities surrounding flagship stores.

Finally, to maximize the campaign's impact and drive greater awareness, Hoka used day-parting to only show ads between 9:00 am–9:00 pm.

There are SO many reasons to love this ad campaign – from the use of real people instead of professional athletes to the expert use of contextual targeting this campaign had it all!


Staying on the cutting edge of DOOH
These five examples demonstrate that when brands combine high-impact creative with intelligent media planning and targeting, DOOH can be one of the most effective ad channels out there.

If you're interested in taking your DOOH ads to the next level, download our free Advertiser's Playbook and who knows, your ad could be featured next!