For this month's Media Owner Spotlight, Vistar spoke to Davy Makimian, CEO of Alternative Media Group (AMG). This interview spotlights the unique value proposition the place-based network brings to the out-of-home (OOH) industry and how AMG's partnership with Vistar Media is driving value across Indonesia.
Please describe your network in 2 sentences.
AMG is the pioneer of place-based digital out-of-home (DOOH) media in Indonesia with an
expansive network across four major cities in Jakarta, Bandung, Surabaya, and Bali. We
offer a variety of digital solutions to deliver advertising that goes beyond awareness.
What types of screens do you have, and where can they be found?
Our LCD screens can be found in various place-based environments across Indonesia such
as office buildings, apartments, hospitals, retail stores, gyms, lifestyle buildings, and digital
large format roadside Videotron sites. This positions AMG as the perfect network to reach
urban audiences with high buying power as they move throughout the day.
What do you wish more digital buyers knew about OOH?
We wish more digital buyers knew about the measurement and targeting capabilities of OOH. Today, the channel is actually one of the most measurable advertising channels across the entire marketing funnel. By leveraging data and automation, advertisers can seamlessly reach their target audiences and measure their campaigns' effectiveness.
How do you see digital out-of-home evolving over the next year?
The DOOH landscape in Southeast Asia is growing rapidly, and with this momentum we expect to see an increased adoption of pDOOH and more comprehensive audience data capabilities. This will enable DOOH to compete with other digital channels and increase its market share of media spend, especially in Indonesia.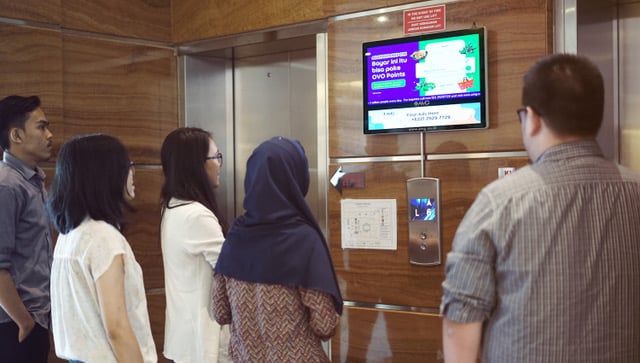 Is there anything else you'd like to highlight about your network?
We are also a part of the consortium members of Otego, the outdoor media provider of Monorail Train Jakarta. As members of Otego, we are part of a one-stop solution for all outdoor advertising needs, providing premium quality end-to-end outdoor advertising services while creating an attractive and engaging outdoor experience for consumers.

Additionally, we have a network of static media in the Commuter Line Train of Jakarta, Bogor, Depok, and Tangerang (Greater Jakarta), as well as billboards and static branding throughout various building platforms and retail stores.
Why did you choose Vistar as a partner?
We chose Vistar as a partner because they are the biggest pDOOH company globally. Vistar offers a credible programmatic platform that not only acts as a supply-side platform (SSP), but also as a demand-side platform (DSP), which provides a great opportunity for us to connect with buyers from around the world.
What has been Vistar's most valuable contribution to your business?
We value our partnership with Vistar and appreciate the opportunities they have provided us to enhance our pDOOH capabilities and grow our business further. Vistar has been our first partner to provide practical insights and education to enhance our programmatic knowledge through their support and training, which has been incredibly valuable to our business.