Marketing for cannabis brands, in a new and fast-rising space, can be particularly challenging, as they must find legal, yet powerful and innovative ways to elevate their new found status as essential businesses and get their messages out to consumers.
With several states legalizing marijuana, adults 21 and over can now purchase cannabis products, and more companies are introducing licensing processes to ease the delivery to consumers. Within this post, we'll break down why digital out-of-home (DOOH) screens are an essential part of this industry's marketing mix and how to set up a robust campaign for success.
Cannabis Advertising: Why DOOH?
In today's era of information overload, it's essential to get your message out in an exciting, eye-catching way and reach people who will actually benefit from seeing your content. Digital screens in the physical world deliver flashy creatives that are relevant and engaging across multiple locations that span the consumer journey — something that other channels simply can't offer.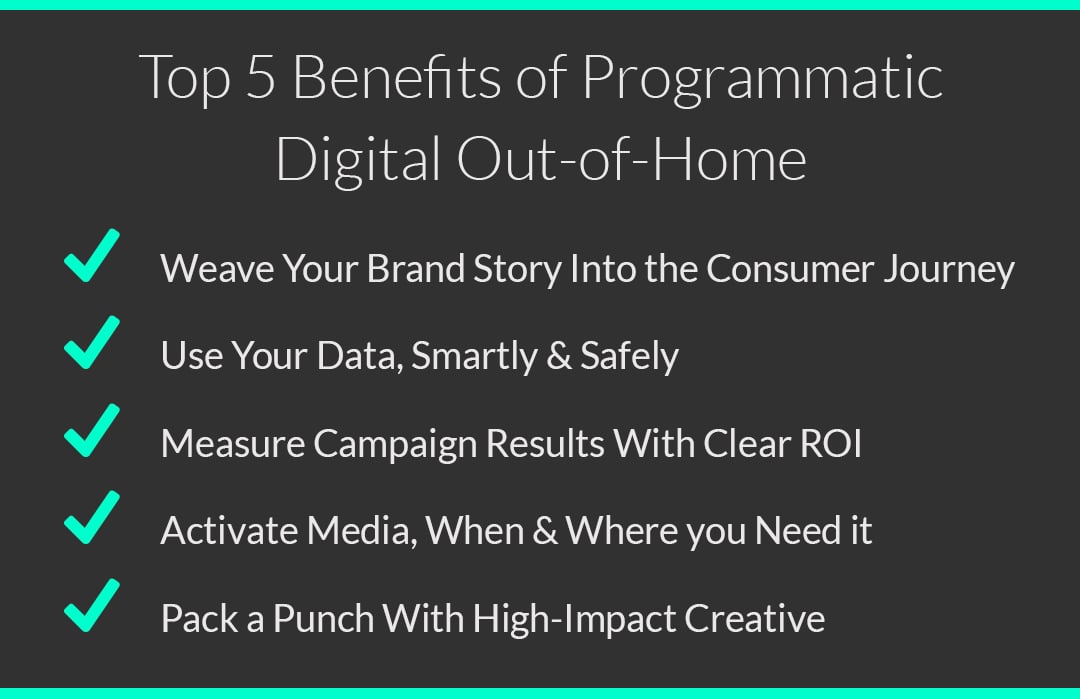 Advanced Targeting Capabilities:
Data-Driven Audiences: Create a custom behavioral audience to consumers who've demonstrated industry interest or visited a dispensary. Alternatively, utilize your first-party CRM data or preferred 3rd-party audience partners to target segments from Vistar's partners, such as Foursquare, PushSpring or those in the LiveRamp Data Store.
Points of Interest: Activate radius targeting around key dispensaries or cannabis retailers.

Contextual Relevance: Leverage proximity targeting around strategic lifestyle venues, such as parks, sports entertainment centers, bars or restaurants, to enhance your cannabis advertising.



Geo-Targeting:

Target market regions where products are legalized, such as by DMA or zip code. Further, implement day-part targeting to only activate messaging when your company is open for business.
Legal Compliance for Cannabis Advertising:
Vistar Media has proven experience working with brand's legal teams and our media owner partners to ensure complete campaign compliance. With our expertise and experience in the space, we can help cannabis advertisers identify the legal DOOH venues available and eliminate all locations that are within 1,000 feet of schools, rehabilitation centers and additional conflicting points of interest.
Learn the ins-and-outs of how Eaze, a leading cannabis delivery service and marketplace, partnered with Vistar Media to connect adult consumers with the latest cannabis products and specific promotional offers using programmatic DOOH.



Cannabis Campaign Best Practices:
Pre-Campaign:

Check with your Vistar representative to better understand market inventory coverage, state-level legal implications and overall program feasibility.




Venue & Budget Fluidity:

We always recommend including multiple venue types on your plan to reach in-market consumers at multiple touch points throughout their day.




Self-Service Buyers:

Consider exploring private marketplace deals (PMPs) with select media owners, so they can navigate creative restrictions and prioritize delivery for your brand across premium OOH properties.

Note: Cannabis OOH advertising rules vary from state to state. All venue types and creative messaging are subject to approval by each media owner.


Creative Recommendations:
Creative messaging should speak to the general audience and focus on brand promotion.
If applicable, indicate that medical marijuana is for patients only.
DO NOT: make false claims, entice children or encourage underage consumption, or advocate for ingesting product or show product image usage in ads.

The team at Vistar Media has a wealth of experience and can walk you through everything you need to know to start your cannabis campaigns. Reach out today for a free DOOH consultation.