Consumer packaged goods (CPG) make up one of the largest vertical segments in the retail industry. Stretching from the snacks on grocery store shelves to the cosmetics you find in the drug store, CPG products are everywhere – and in heavy abundance.
But because there are so many different brands vying for consumer attention, CPG is a challenging vertical to market. Products that meet consumers' wants and needs, available to them at the right time and place, are often those that are able to break through the noise.
DOOH Research for CPG Brands
To help brands better understand CPG consumers, Vistar Media partnered with MFour, a mobile research and location analytics company, to collect data-driven insights that will enhance marketers' media strategies. Some of the topics covered in the report include brand loyalty, decision-making factors and shopping planning patterns. Additionally, we further examined four sub-categories within CPG: grocery, over-the-counter (OTC), beverage and personal care.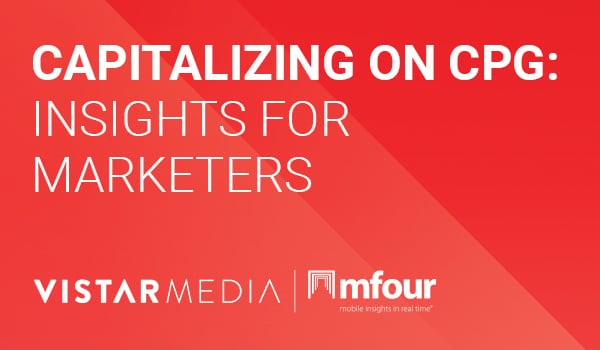 The resulting report reveals some surprising information on consumers' shopping behaviors, brand preferences and their trust in different advertising mediums. Among some of the report's learnings, we validated that, among consumers shopping in-stores, 91% report valuing being able to bring purchases home immediately, saving money and being able to see and touch products in person. Given these priorities, all signs point to the importance of brick-and-mortar shopping and sophisticated marketing strategies – both of which benefit from the inclusion of digital out-of-home and mobile in the media mix.
Reaching Shoppers with DOOH
DOOH and mobile media offer an unparalleled opportunity to reach CPG shoppers on the path-to-purchase and at the point-of-purchase. In fact, gas stations, grocery stores, retail shops and convenience stores are reported as some of the venue types where consumers are most likely to notice digital signage – all locations with DOOH inventory available. Ultimately, to effectively engage consumers, marketers need to consider leveraging DOOH media when and where their target audience is already likely to be and in the shopping mindset.
To learn more, download the full report, "Capitalizing on CPG: Insights for Marketers," below: