Mobile is a natural companion to digital out-of-home advertising — both reach on-the-go consumers with contextually relevant messaging as they move throughout the day. Pairing DOOH and mobile allows you to build on your established connections and create additional touchpoints with target individuals who are highly likely to have already seen your ads.
While DOOH ads allow you to reach your audience more broadly at scale, wherever they are in the physical world, mobile advertising delivers a more personal, one-to-one connection. Adding mobile to your DOOH campaigns is a great way to deliver a sequential touch point with your targeted consumers — serving up a more deliberate call-to-action, thus driving them further down the purchase funnel.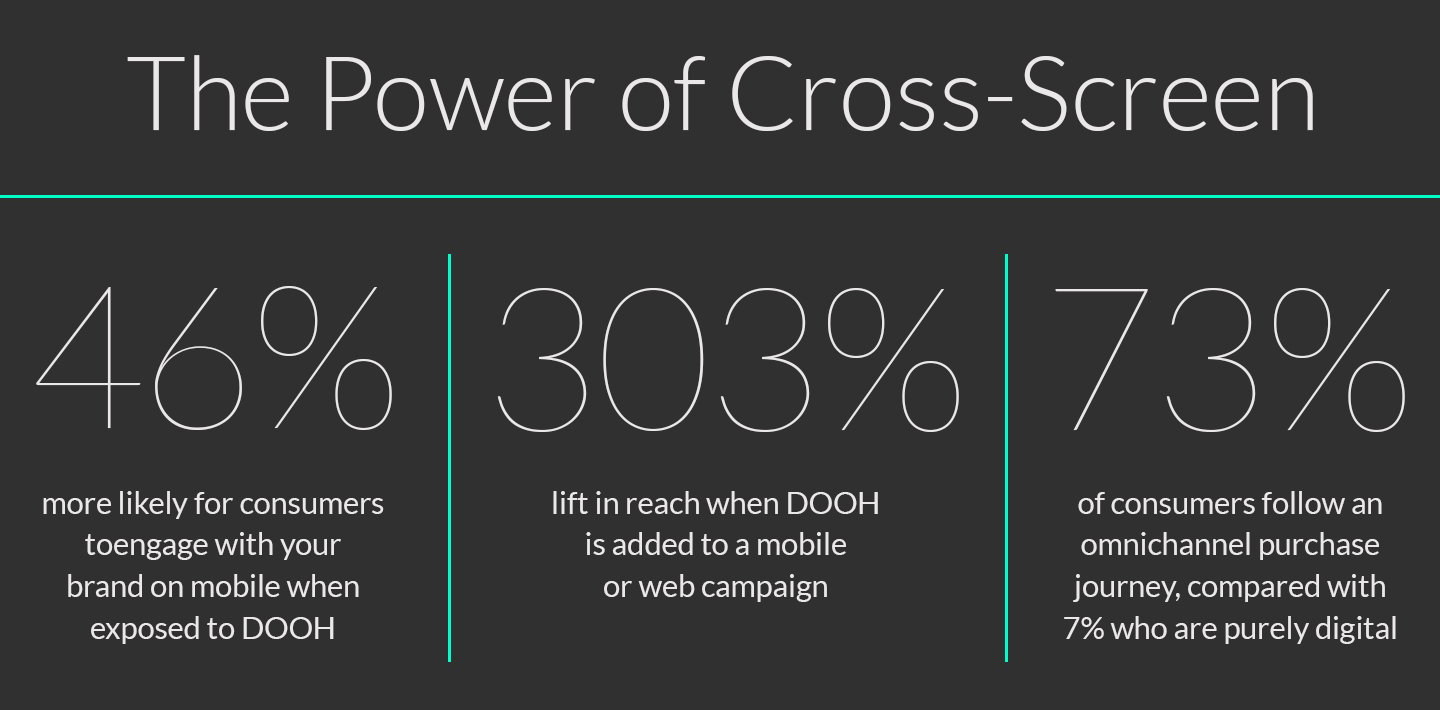 Creative Ways to Advertise
Combining mobile with programmatic DOOH is the perfect match, offering invaluable benefits to marketers. Let's take a closer look at how marrying these advertising channels makes for an ultra effective duo.
Sequential Messaging: Keep the conversation going with your target audience using sequential messaging — first driving top of mind awareness and consideration with DOOH, then following up on mobile with a continuation of your creative or specific call-to-action. For instance, if you're a D2C brand, you may leverage outdoor media to spread the word about a special promotion, then activate mobile ads to share a promotion code or drive consumers directly to your website.


Proximity & POI Targeting: Activate your campaign only where it counts, by targeting your audience within the proximity of your out-of-home (OOH) campaign. Geofencing the locations that matters most — whether that's your store locations, competitive locations, or key retailers — you can re-engage your audience surrounding these POIs on their mobile devices. This innovative approach is great for brands looking to steal market share or drive in-store purchases from consumers who are nearby.


Device ID Passback: Through Vistar's device ID passback offering, we can identify the device IDs exposed to your DOOH campaign and pass them back to you for further retargeting. Vistar's technology platform identifies exposed consumers — based on when and where the OOH ad was shown and device proximity at the time — and works with a leading industry onboarding provider, to anonymize them for safe utilization. Using the anonymized IDs, brands have the ability to retarget consumers exposed to your DOOH campaign across the channels of your choice, including mobile, display, CTV, social, audio, etc. This is a great way to bring OOH into your multi channel marketing mix, seamlessly tying your presence in the physical world to your overarching digital strategy.
Client Success Stories
Programmatic DOOH and mobile go hand in hand, and we have a plethora of client success stories to prove it. Vistar has executed countless campaigns combining these two channels, and the results across KPIs are often stronger when DOOH and mobile are combined.
Financial Services: Enabling Australians to easily access the US stock market, Stake, a leading digital brokerage company, partnered with Vistar Media to execute an impactful, cross-channel marketing campaign deeply rooted in DOOH and mobile advertising. Learn more.


CPG: Jägermeister sought to increase awareness, consideration and purchase intent for the Jägermeister brand and Jägermeister Cold Brew Coffee. The goal was to get in front of the right audiences and drive reach and positive disruption in the marketplace for this unique product — and they did just that using DOOH and mobile. See what Jägermeister's CEO has to say about the standout campaign.


Entertainment: A major leading broadcaster wanted to drive tune-in to a nationally televised collegiate sporting event. In order to raise awareness and encourage consumers to watch the broadcast, the brand enlisted Vistar Media to execute their campaign across both DOOH and mobile media. See the results.
Interested in planning a DOOH + mobile campaign? The Vistar team is here to help. Reach out today to get in touch with our squad of programmatic out-of-home experts, who will be happy to provide an in-depth, customized strategy for your brand.

Want to learn more? Request a demo.