When it comes to digital signage there are two main types of networks - a digital signage network and a digital signage advertising network. While you may consider your company as a digital signage network, you have the potential of becoming an advertising network as well. Let's dive into how these networks work and what you need to succeed.
What is a Digital Signage Advertising Network?
A digital signage advertising network is any group of digital screens whose primary or secondary function is to increase revenue through advertising. If a company only uses their screens to display information about their own services and does not work with advertisers, they are be considered a digital signage network, but not a digital signage advertising network. The keyword here is advertising.

A digital signage network is made up of a group of digital screens that are used to convey a message to an audience. For example;
Retailers use digital screens to let customers know about discounts or promotions.

Entertainment venues use digital screens to display important information to patrons.
As companies increase their number of digital screens, they shift towards becoming a fully-functioning digital signage network. There is a huge opportunity to increase overall company revenue when networks take the extra step of working with advertisers who are relevant to their audiences. When a network starts bringing in money through advertising, they can consider themselves a digital signage advertising network.
What technology do you need in order to operate a Digital Signage Advertising Network?
To create a network that can operate to its full potential, a company needs three pieces of software:
A Supply-Side Platform: Connects the network to the open exchange, where advertisers can have access to display ads programmatically
An Ad Server: Manages media buys to ensure all campaigns deliver to plan, while still meeting any campaign business rules and/or targeting requirements.
A Content Management System (CMS): Monitors devices, curates the customer experience, and gives access to network diagnostics.
A Supply-Side Platform
Maybe your company has digital screens, and you want to become more of an advertising network, but you're not sure where to get started. This happens a lot. One great place to start if you have not worked with advertisers before is to work with a supply-side platform (SSP) to connect your network to an open exchange. There are many open exchanges to choose from so you want to make sure you are choosing the right SSP partner. You should work with one who has years of experience working with advertisers and can automatically set you up with advertisers that are looking to programmatically buy digital out-of-home inventory. To ensure the advertisers are a good fit for your screens, you can set parameters around the types of ad content you would like to see on your screens. You can also restrict certain types of ad content that are "off limits'' if it would not be appropriate for your given audience. We'll touch more on programmatic advertising in the next section, How do you make a profit with digital signage advertising?
An Ad Server
Whereas programmatic ads from an SSP allows media owners to run data-supported, impression-based campaigns. An ad server can manage all DOOH campaigns including those sold based on impressions, share of voice, hourly frequency, or run-of-network. These are commonly known as loop-based ads. Programmatic is the future of DOOH, but loop-based advertising can still be beneficial. That's why you should consider a solution that has the capability to run both ad types in one central location. Vistar's solution, unified ad serving, offers media owners full control over when specific creatives will appear on their screens, while eliminating the complicated, manual scheduling work.
A Content Management System (CMS)
If you are already operating a somewhat sophisticated digital signage network, you most likely already have a CMS or Content Management System that you use to set up loops of content on your screen. Most likely, the exchange you work with will be able to integrate with your existing CMS. However, if you don't have a CMS in place or you are planning to expand on your current network and need something more flexible than the CMS you're already using, there are several content management systems that are built with scale in mind.
How do you make a profit with Digital Signage Advertising?
Operating digital signage advertising can be very lucrative, but it can also be a fragmented marketplace, which means monetizing to its full potential is tough. Even if your network is fully up and running existing ad campaigns with brands or agencies, there's a strong chance your network of digital screens has unsold inventory—in which case, you're missing out on key marketing dollars from buyers who value the audience that your screens serve. That's where programmatic DOOH comes in. With programmatic DOOH, an SSP allows media owners to connect their digital screens to additional sources of automated demand.

Additionally, with Vistar's new mediation tool, media owners can create a unified auction for inventory across all of their supply-side platform (SSP) partners through a single integration. This reduces operational complexity, and ensures that ad impressions are sold at the best possible price.
There are several ways to implement programmatic DOOH:
Passive approach: With a passive approach, you plug in your inventory and see what revenue you can generate purely by making it available.
Programmatic specialists: Have one or two dedicated programmatic specialists in-house that sell programmatic versus direct.
Full team alignment: Every seller is empowered to sell both traditional as well as programmatic.
To better understand how to fully monetize your digital signage network, download our guide, Are you Fully Monetizing Your DOOH Screens?

Taking a network of screens to the next level and becoming a digital signage advertising network may seem daunting at first, but can be a great way to increase revenue and provide your audience with relevant ads based on what type of company you are. There are several networks that have been through this process before and have seen success with monetizing their screens.
Topgolf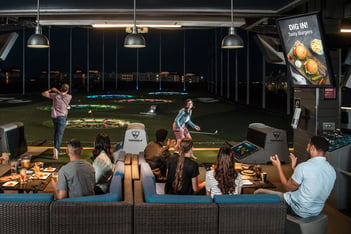 Topgolf is a great example of what can happen after investing in the right software. The company was running its out-of-home network on an online ad server with a separate CMS to manage content. With separate platforms, the ad server didn't properly optimize for digital out-of-home and the network quickly began encountering issues. After starting with Vistar's full-stack solution and soon saw results, including increasing its monthly revenue by 250%.
Coinstar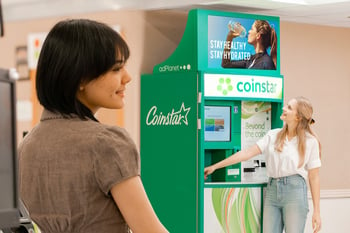 Coinstar, a kiosk operator located in retail stores, is another success story. The company wanted to launch a new digital signage advertising network but needed the right software and technical support to make it successful. After turning to Vistar for an enterprise full-stack software designed for the complexities of DOOH. Coinstar deployed its network and generated $1 Million in programmatic revenue.
Interested in learning more? Meet with one of our team members to get a free demo of all of our solutions.