Advertising in the healthcare industry faces a number of restrictions that can present significant roadblocks for marketers. Dealing with privacy regulations galore and stringent rules against targeting specific individuals, many healthcare marketers may see data-driven advertising as too complicated to include in their media strategies.
But digital out-of-home (DOOH) advertising, which has the capability to combine regulation-friendly targeting with contextual locations and measurable effects, can be a viable solution for restrictive industries like healthcare.


Tap into privacy-safe audience targeting for effective healthcare marketing.
As a one-to-many medium, DOOH is focused on reaching groups of people rather than tracking down specific individuals. Below are a few different privacy-safe audience strategies that marketers can feel confident about activating.
Personas
Behavior in the physical world indicates a lot about consumers' interests, preferences, and characteristics. The widespread availability of anonymized GPS location data unlocks the ability to understand consumer behavior, how consumers move throughout the day, and where they spend their time. Brands can use this to identify different groups based on the locations they visit and then strategically activate media to reach a particular group of people.
Some examples include:
Medical Professionals
Healthcare Patients
Frequent Pharmacy Shoppers
Health & Wellness Advocates
Vitamin or Pain Medication Purchasers
Outdoor Enthusiasts




First- & Third-Party Data
Many healthcare advertisers cater to highly specific customer segments. Luckily, there is a wealth of third-party data available in the marketplace. These segments are built and curated by industry experts, and they can be activated to hone media spend in DOOH advertising to deliver messages to the exact right audience at the right place and time.
For instance, brands can leverage one or more of Vistar's trusted data partners, including Epsilon, Crossix, NCS, IRI, among others, to reach their desired audience segments based on patient conditions, specific product purchasers and health providers.
Chronic Migraine Sufferers
Cold, Allergy & Sinus Purchasers
Parents with Children Under 12
Multiple Sclerosis Patients
55+ Aging Demographic
[Specific Brand] Loyalists

A SUCCESS STORY: Learn how HBF, a prominent health insurance company, partnered with Vistar Media and Foursquare to create and target an audience of consumers who previously showed interest in health insurance products online. The award-winning campaign ultimately measured the direct association between OOH advertising exposure and the online conversion (5.5%) of the target audience.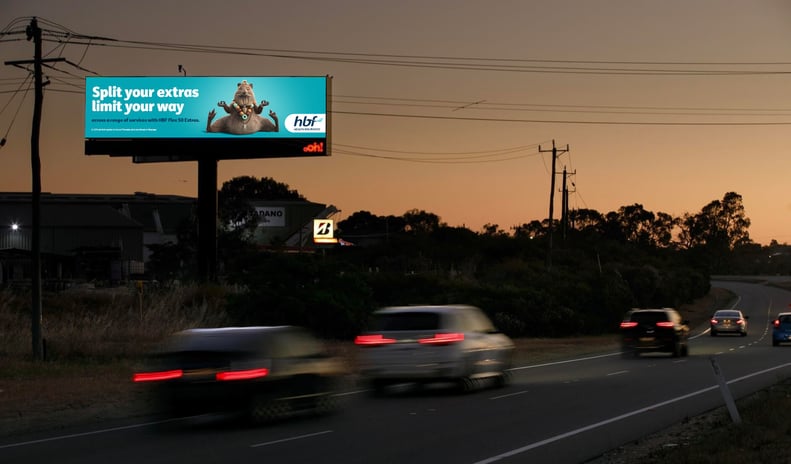 Alternatively, healthcare marketers can utilize their first-party audience data to target move-alike audiences with DOOH — reaching people who move similarly to their current customers, in the physical world.
Take advantage of contextual locations.
If audience targeting isn't for you, DOOH allows advertisers to reach the right people in the right places by just placing their ads in the right contextually relevant physical locations. With digital screens seamlessly incorporated into so many environments across the consumer journey, healthcare marketers can reach their audience by activating their message at different out-of-home venue types.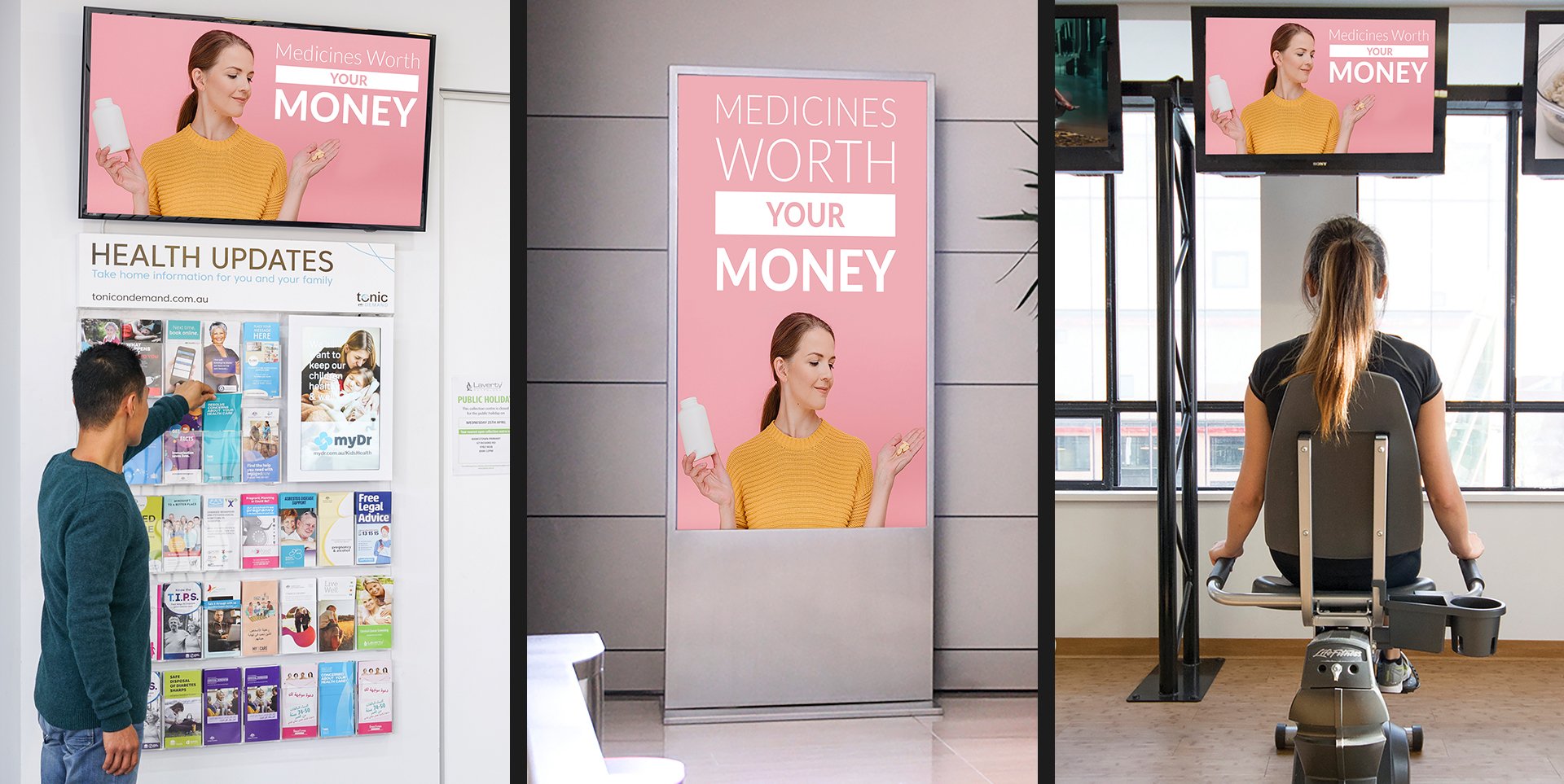 For instance, grocery stores, convenience stores, pharmacies, doctor's offices, gyms and beauty salons, among other health-related or point of care locations, can offer up audiences that may be primed to respond to messaging about wellness, fitness, medication or patient care. This is an excellent targeting strategy for brands that 1) are highly sensitive to privacy concerns, 2) don't have access to first-party data or 3) are running campaigns with limited budgets.
DOOH delivers reach to target audiences at multiple touch points throughout the day, reinforcing campaign messaging in relevant environments to keep your brand top of mind. Vistar Media's supply footprint includes a number of venues that allow for high dwell times, such as doctor's offices, gas stations and beauty salons – to account for scrolling important safety information (ISI), indications of drug benefits, efficacy and potential side effects.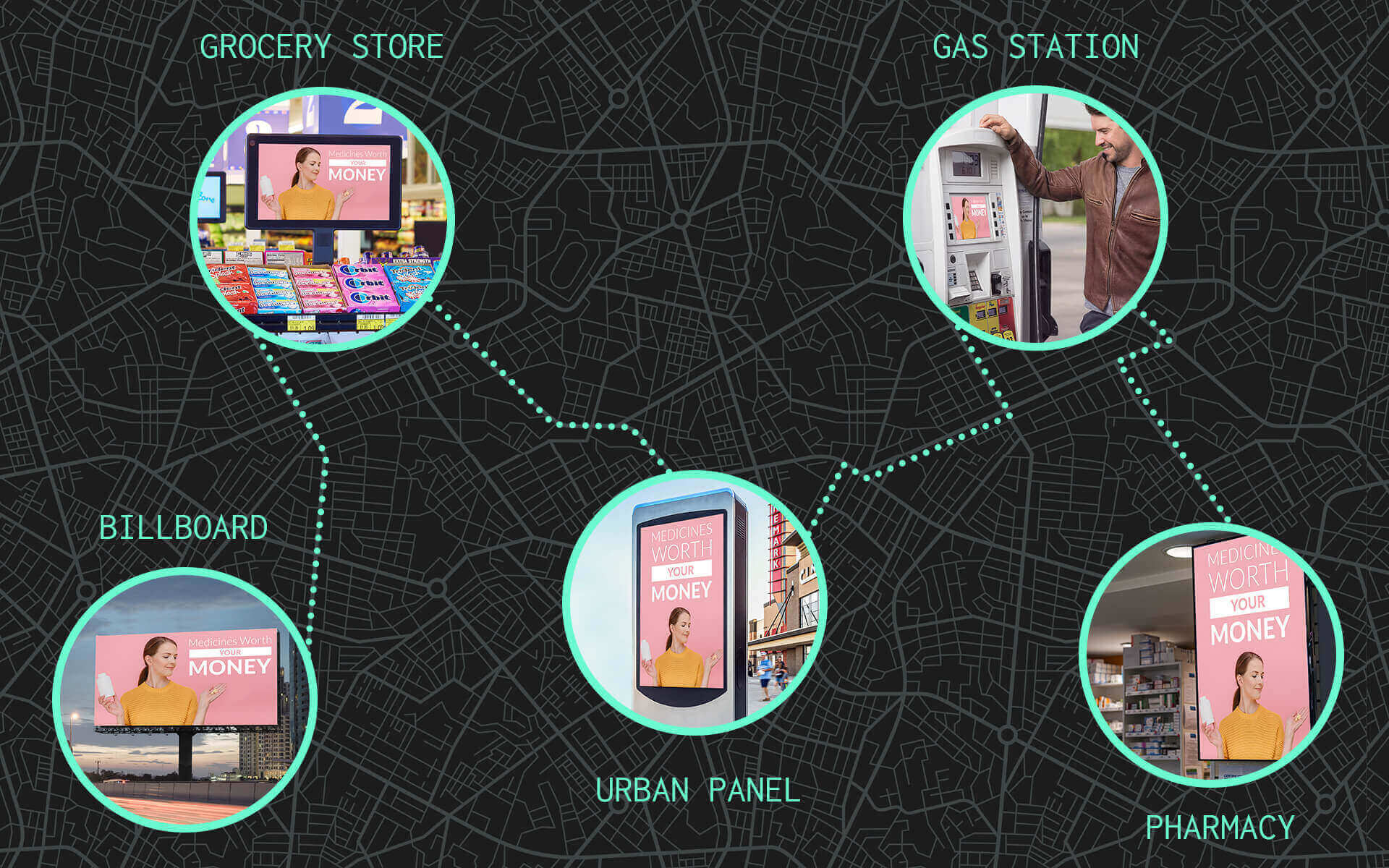 A SUCCESS STORY: A well known over-the-counter immune booster wanted to drive consideration, purchase intent and sales of their product across multiple markets. The brand worked with Vistar Media to launch a DOOH media campaign around contextually relevant "germ hub" locations.


Measure the performance of your DOOH efforts.
Evaluating the true ROI of out-of-home media has historically been a challenge for the industry; however, recent advancements in both data and technology now allow brands to understand the performance of their campaigns. Vistar's time- and location-based platform enables marketers to not only enable precise audience targeting but also evaluate the impact of DOOH advertising on both upper and lower funnel KPIs, like brand health, foot traffic and even HCP and prescription lift studies.

A SUCCESS STORY: Dive into how a leading children's hospital partnered with Vistar Media to drive awareness of congenital heart defects through a measurable, cross-screen activation strategy across DOOH and mobile.

Lean into programmatic DOOH for healthcare marketing.
In short, brands are leaning into this emerging medium and leveraging the power of programmatic DOOH to activate impactful, FDA-compliant healthcare or pharmaceutical marketing campaigns. Vistar's proprietary technology enables marketers to effectively reach and engage consumers as they move throughout the day, and ultimately drive desired results for either branded or unbranded initiatives.
For a more in-depth overview of everything DOOH has to offer,
check out our Ultimate Guide to Digital Out-of-Home.
To dive in further, reach out today to get in touch with one of our programmatic OOH experts, who will be happy to provide a customized strategy recommendation for your brand.