Outdoor advertising has existed for centuries, but with recent technological advances, the channel has evolved to compete within modern advertising standards. Digital signage is making its way into more places and spaces in our everyday environments, and improvements to data capabilities available enables more sophisticated out-of-home media activations.
Understanding the DOOH Landscape
With all of these developments, including cutting-edge programmatic solutions from industry leaders such as Vistar, it's hard for individuals - even in the DOOH industry - to stay up to date. To help you catch up to speed, we compiled a one sheet of the "7 Digital Out-of-Home Statistics You Should Know."
In this DOOH fact sheet, we've pulled together the most important trends in outdoor advertising, digital signage and programmatic. We hope to provide you with the latest insights, including how DOOH fits into the overall advertising landscape and how consumers are engaging with this unique medium.
Some Unexpected Facts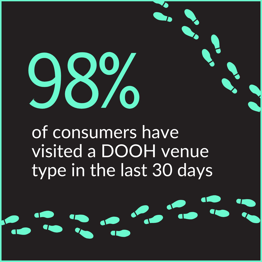 In 2010, DOOH made up only 6% of out-of-home revenue. Yet by 2026, DOOH market is expected to grow 10.35% and reach a market size of $33.372 billion, according to ResearchandMarkets.com. Investments by media owners have been a major driver of this growth, as the number of global digital ad units has grown tremendously in a short timeframe. This does not even include the rapid growth we've seen in some of the more unconventional place-based advertising, such as screens in entertainment venues or signage at gas stations that was once just used for way-finding.
Ready to check out our full roundup of out-of-home statistics?