According to Think with Google research, 87% of travelers are organizing international trips that last five days or longer, putting considerable thought into planning. With limited vacation days, leisure travelers want to make the most of the trips they take. On the other hand, business travelers adhere to a busy schedule of mid-week flights, with different needs than people planning a vacation.

So how can travel businesses, like hotels and airlines, as well as tourism boards reach consumers during the course of their everyday routines? Let's explore what makes digital out-of-home (DOOH) an essential marketing channel for your travel and tourism marketing campaigns.
Strategies for a Successful Travel & Tourism Marketing Campaign
Travel and tourism encompasses a broad variety of businesses – including regional to international airlines, major hotel groups to boutique resorts, and city visitor groups to country tourism boards. However, there are a number of strategies that can be effectively applied across them all:
Co-Op & Regional Marketing: Take advantage of your partnerships, such as tourism boards and airlines or local attractions. Boost awareness of both the destination and business in one fell swoop.

Weather Triggers: Leverage weather conditions in your favor. Snowing in New York? Sunny Aruba sounds even more appealing…

Seasonal Promotions: Create custom messaging based on the time of year, whether that be winter holidays, spring break or summer family vacations.

Reach Travelers at the Right Place & Time
More and more, DOOH is being used by travel and tourism brands because of its unique power to reach audiences as they move from the awareness to decision-making stage. Whether you're looking to reach leisure or business travelers, or another segment altogether, DOOH offers a variety of audience targeting strategies to help you make the most of your campaign. Through Vistar Media's geospatial technology, we are able to create targeted audience profiles and activate DOOH and mobile media based on consumers' real-world movement patterns. Examples include:
Frequent Business Travelers

Leisure and Family Travelers

International Travelers

Budget Hotel Visitors

Outdoor Enthusiasts

Food and Cultural Aficionados

Business Decision Makers
CLIENT SUCCESS STORY: Learn more about how a state tourism board leveraged Vistar's data-driven targeting solutions to reach an audience of leisure travelers and foodies, leading to impressive increases in awareness (94%), consideration (104%) and purchase intent (179%).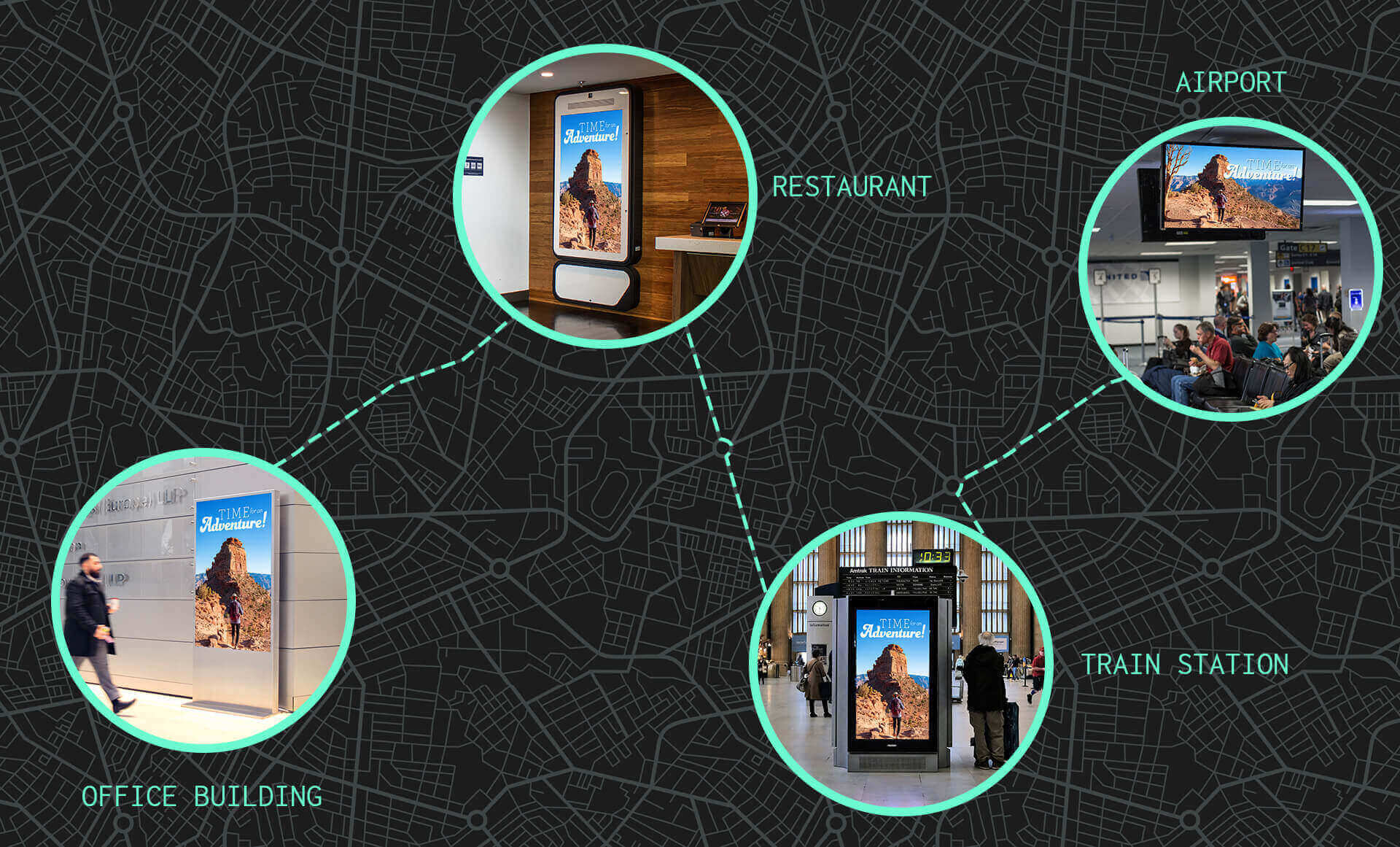 The Value of First & Third Party Data
Looking to target your existing customers – or the customers of a competitor? Vistar's vast selection of first and third-party data partners enables marketers to take a sophisticated approach to data use. Consider an all-inclusive resort – whether the brand is looking to engage with repeat visitors or attract vacationers who stayed at a resort nearby, marketers can find this perfect-fit data solution through Vistar.
CLIENT SUCCESS STORY: Utilizing Vistar's sophisticated targeting capabilities, Tourism Tasmania was able to identify and analyze the movement patterns of two distinct audiences and activate strategic campaign creatives. To learn more about their successful DOOH targeting strategy, read the full case study.



Utilizing Advanced Data Activations
In addition to data-driven audience targeting, there are a variety of advanced targeting tactics that marketers are using to maximize their DOOH campaigns.
Proximity Targeting: Does your travel brand want to drive engagement at specific locations, such as airports, hotels or travel agencies? Activate DOOH and mobile screens near these key places of interest to stay top-of-mind at opportune moments.


T

ime-Parting & Day-Parting:

Forget always-on outdoor advertising. Utilize time- or day-parting when it makes sense for your messaging to run only during certain times of the day or days of the week.


Mobile Extension: Activating on DOOH? Re-engage consumers exposed to your outdoor campaign on their mobile devices to amplify the impact.


Device ID Passback: Take your cross-screen campaigns a step further. Safely receive the device IDs of travel consumers exposed to your DOOH campaign, and then re-target across additional advertising channels using your preferred DSP.


Leveraging Contextual Relevance for Travel Promotions
Much like traveling, DOOH is all about location! Once you settle on an audience targeting strategy, think about the locations that best fit your travel or tourism campaign. Vistar's expansive DOOH footprint spans a variety of contextual indoor and outdoor venue types for reaching your desired audiences. From transit hubs to airports, office buildings to rideshares, marketers are now looking beyond just billboards to amplify their OOH messaging. With programmatic technology, brands can easily activate their creatives across multiple screens and networks in a single and streamlined plan.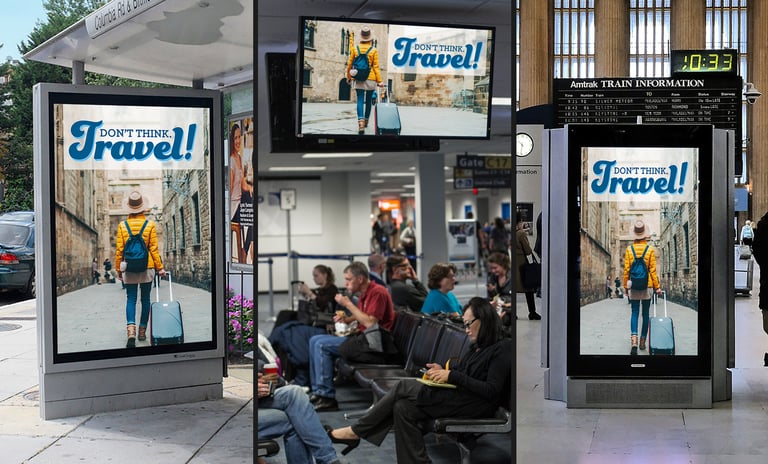 CLIENT SUCCESS STORY: An airline, seeking to gain awareness among both leisure and frequent business travelers, activated DOOH media in transit and office venues, as well as on billboards — resulting in a 48% lift in awareness and 40% lift in consideration. Read the full case study here.
Make Your Metrics Matter with DOOH Measurement
With the availability of today's sophisticated measurement solutions, brands are not only able to measure the impact of their DOOH campaigns but can also gain valuable consumer insights for their future marketing initiatives. Vistar's exposure-based brand studies can report on a variety of metrics, such as:
Awareness

Consideration
Purchase/Booking Intent
Preferred Brand Attributes
Customer Loyalty
Creative Effectiveness
Message Association
Competitive Awareness
Destination Preference


Additionally, Vistar's partnership with Arrivalist allows brands to gain a deeper understanding of campaign performance with a detailed view of the entire consumer travel journey — including to, within and back from a travel or tourism destination. These insights enable marketers to measure the performance and ROI of their programmatic DOOH campaigns, including:
Arrival Rate (campaign efficiency)
Arrival Lift (incremental visitation)
Stay Lift (incremental duration)
Days to Arrival (time between exposure & arrival)
Origin Markets (location of media exposure)
Distance to Arrival (travel time to visit)



If you'd like to learn more about how you can use DOOH for your next advertising campaign, download The Travel & Tourism Marketer's Guide to DOOH today!