Consumers are getting back to enjoying the things they loved pre-pandemic, including spending more time outside, in restaurants, at retail locations, to name a few – there's a timely opportunity now for marketers and media owners to reach consumers in more targeted and strategic ways. Enter – digital out-of-home (DOOH).
Vistar recently moderated a panel discussion at DigiMarCon Canada, a premier digital marketing conference in Toronto, on the evolution of DOOH, and the opportunities that exist for brands in 2022 and beyond. Scott Mitchell, Managing Director, Vistar Media; alongside our partners, Charlie Aikenhead, Vice President of Marketing at BitBuy; and Sarah Kim, Vice President of Partnerships, at Novus shed light on this important topic. Here are some of the top takeaways: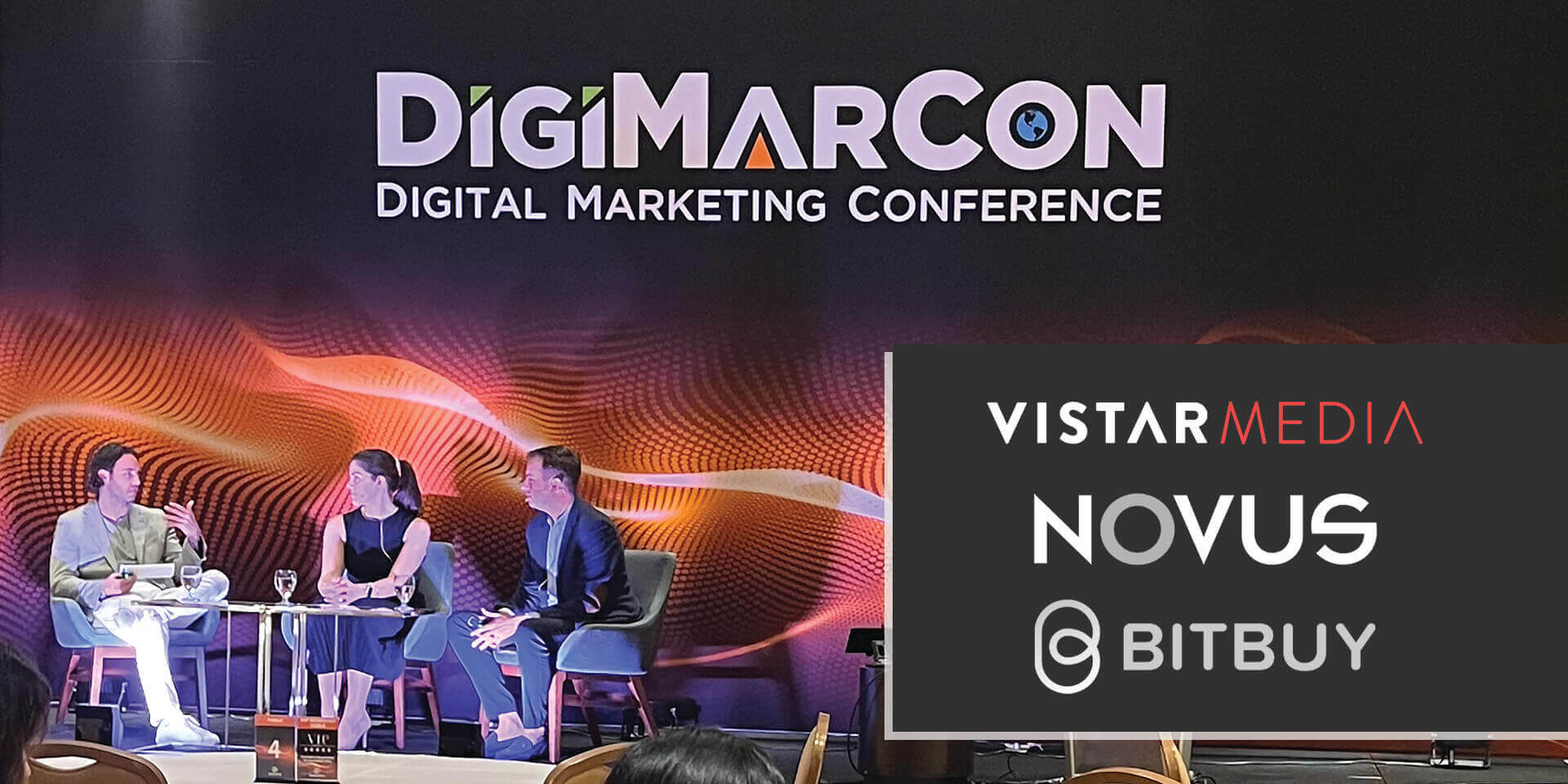 Education on DOOH & measurement capabilities is critical to advancing DOOH investment.
As Sarah Kim highlighted, "everyone knows about OOH (out-of-home), but there's a lack of understanding around lower funnel measurement, techniques, and strategies that go into it – and an overall general lack of understanding around what DOOH is vs. what it's not. It's our responsibility to educate our clients on all of these trends."
For Charlie Aikenhead, when his team was starting to assess whether or not it would invest in DOOH as part of its omnichannel marketing strategy, finding a platform that would give them insight into understanding how customers behaved over a long period of time was a key factor in deciding that DOOH investment was right. "It all came down to measurement – we just needed to understand what was possible vs. what wasn't – and DOOH hit the mark," said Aikenhead.
As Kim continued, great client relationships – ones that are open, honest, and collaborative — are key to getting the most out of any marketing campaign. When it comes to DOOH, it's essential to gather more details on what results a client is really trying to drive - and therefore have conversations around the benefits, strategies and measurement capabilities that are most relevant for them. that are most relevant for them. This also includes taking the time to give clients a solid education on what data is available, where it comes from, and how it can be used to help drive their business objectives.
DOOH can help brands scale in the moments that matter most.
"As cryptocurrency moved into more of the mainstream, we knew that as a brand – competing with other larger financial institutions meant that we needed to make an investment where they were, and where our consumers were looking. With that, we knew DOOH would help us demonstrate our growth and scale, and ultimately – reach and encourage more Canadians to explore Crypto," said Aikenhead.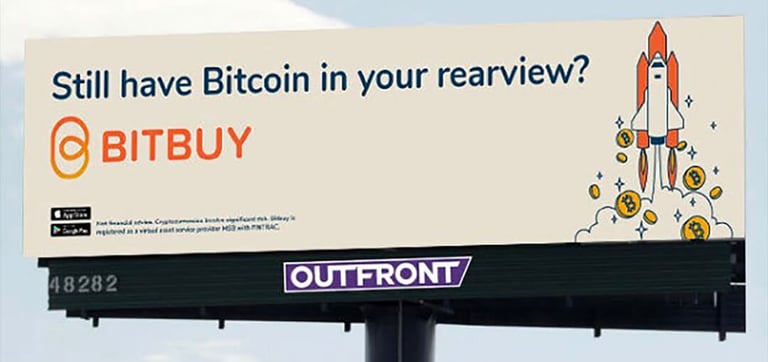 Learn how and why Bitbuy buys into DOOH to get its cryptocurrency platform to stand out.
Access to real-time data is critical in today's landscape.
Kim highlighted that over the course of the pandemic, access to real-time data became incredibly important – and DOOH offered great insight and capability around this. For example, as Canadian cities entered and exited different phases of lockdown, brands could measure in real-time as conditions shifted and gain insight into specific cities, audience trends, etc. that helped to inform them on how/if they needed to pivot campaign tactics. Kim anticipates that this trend won't go away anytime soon.
Marketers make promising predictions about the DOOH marketing landscape moving forward.
As we look towards the future of the marketing industry, and key trends that are likely to emerge, Aikenhead believes that experiential and branded environments, which OOH has a big part in, will be a place that generates high engagement among prospective audience targets. Today's consumers are savvy, and this type of creative touchpoint is critical to piquing their interest.
Kim shared that, in her view, with the decline of marketing investment from more traditional spaces like linear TV where less consumers are spending time, there's an even bigger opportunity for OOH activations in 2022 and beyond. Giving clients insight into the channel's capabilities will be the key to taking advantage of this opportunity in the most creative and efficient ways.