Whether you're stealing someone's thunder, taking a rain check or you're on cloud nine, it seems like the weather has worked its way into nearly every facet of our language. And for good reason – the weather is one of the biggest factors that influence the decisions we make every day.
As marketers, tapping into this phenomenon should be of high consideration as weather can be a driving force behind the creative inspiration, clever targeting and highly effective messaging strategies that captivate your audience, boost product awareness and drive sales lift.
To give you a little inspiration on how to use weather-based targeting in your next digital out-of-home (DOOH) campaign, we've compiled a list of some of the creative ways brands are doing it.
Aperol Spritz – Together we joy
Already a well-known brand, Aperol launched a weather-based DOOH campaign to maintain its presence in a crowded market by creating a connection between the brand and summer fun with its refreshing Aperol Spritz drink.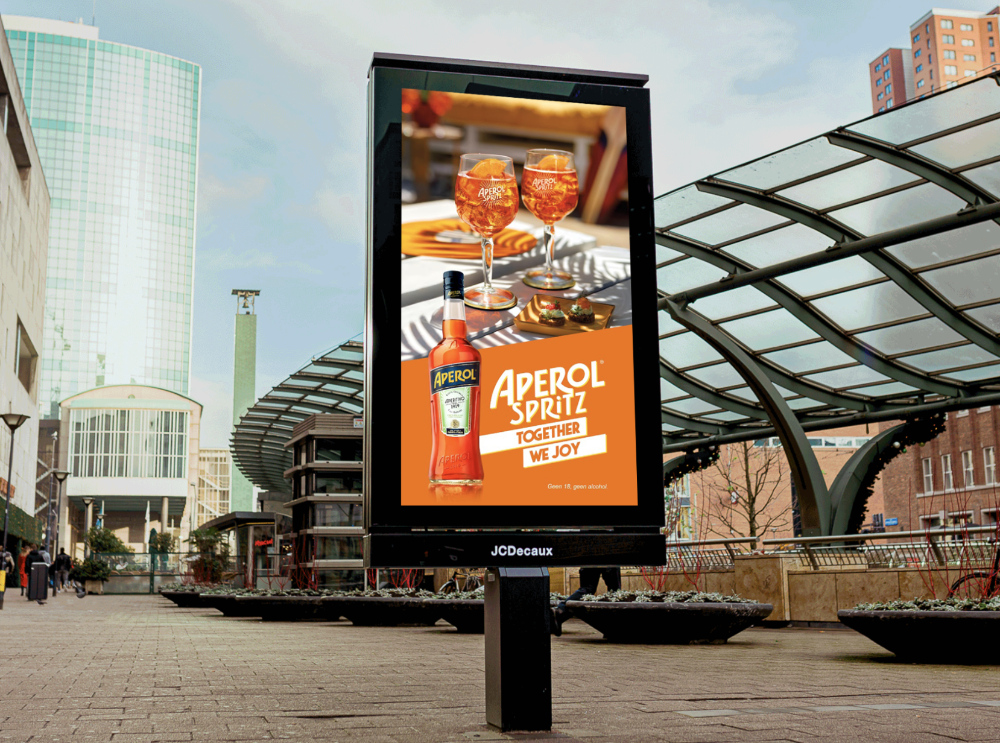 What we like about it:
To expand on the correlation between its brand and warm weather refreshments, Aperol used its programmatic DOOH platform to automatically show its ads only when temperatures rose above 66°F (19°C)
In addition, Aperol strategically leveraged day and week parting to only show its ad in the days leading up to the weekend (Thursday through Sunday) and only from 1 pm – 8 pm when social gatherings were more likely to be top of mind.
Finally, Aperol cleverly tapped into weather's effect on consumer behavior by targeting social hubs and high foot traffic outdoor locations, where people would most likely be in response to warmer weather.
Carhartt – We've got your back 24/7
Understanding that its products are worn by people who often work outside, and thus face inclimate weather regularly, Carhartt wanted to highlight its weather resistance in their DOOH campaign.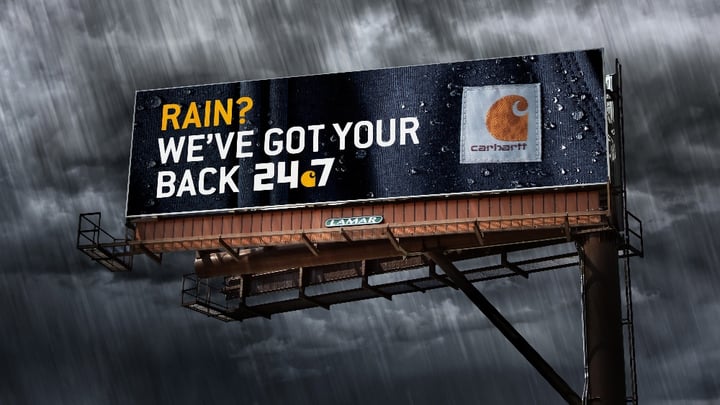 What we like about it:
This ad is great because it is relatable to what the consumer is experiencing at that point in time and displays a very clever use of its product in its creative. The entire background of the ad is a close-up shot of water beading off of its fabric, which subtly demonstrates the tough, weather resistance of its clothing and ties the ad back to the current weather conditions (in this case, rain).
Nature's Way – Immune support when it matters most
Nature's Way, one of the most recognized and trusted dietary supplement brands, sought to promote its line of Sambucus cold and flu products by reaching consumers at "immune risk" moments.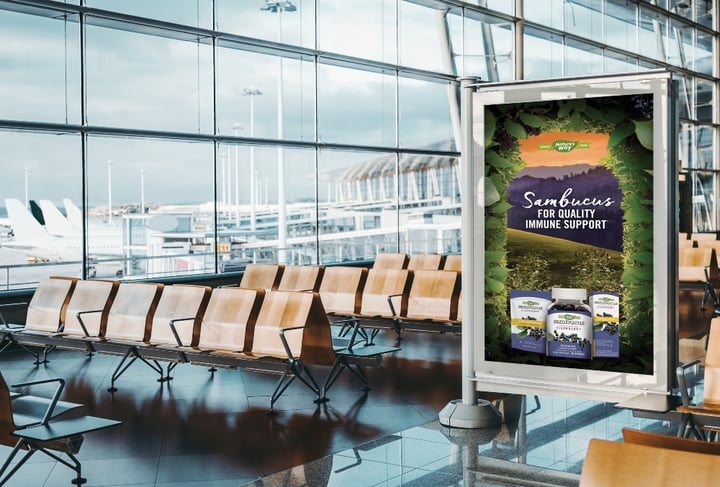 What we like about it:
Nature's Way activated its creative messaging only when conditions showed a higher prevalence of seasonal cold and flu symptoms – like the stormy weather we can see in the background.

They also brilliantly combined weather triggers with the contextual relevance of airport screens to drive consumers to make in-the-moment purchases by reaching them precisely when immune-support products are top-of-mind (right before or after getting on a plane).

Finally, the brand used impactful creative – displaying nature scenes with bold colors that stand out amidst the relatively bare surroundings of an airport terminal.
Dulux – Take on any weather
Seeking to showcase the durability of its paints during different weather conditions and ultimately drive foot traffic to its retail locations, Dulux, a prominent paint brand, prominently used weather trigger along with day-parting and point-of-interest targeting in its DOOH campaign.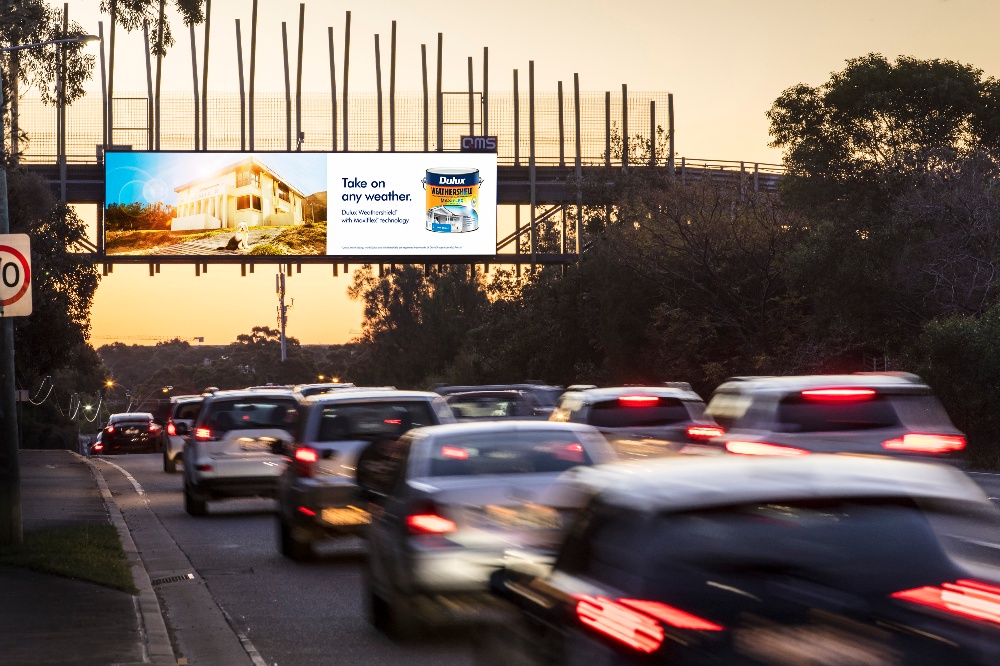 What we like about it:
This ad does a great job of matching the conditions of the ad with the weather patterns the audience was experiencing at the time (showing sunny weather creative on a sunny day).
In addition, for this campaign, Dulux used Vistar's integration with IBM Watson Advertising to deploy specific creative messaging when local conditions indicated sun, wind and storm patterns.
Dulux also used proximity targeting to selectively activate screens within a roughly 1 mile (1.5km) radius of retail stores that carried its paints to encourage immediate response and ultimately foot traffic among its audience.
Rain-X – No matter the weather
To increase awareness, consideration and purchase intent for its ClearView windshield washer fluid, Rain-X launched a weather-triggered DOOH campaign for the winter months across Canada.
What we like about it:
This ad does a great job of bringing attention to a product that is often overlooked by consumers (windshield washer fluid) and showing why it should be a front-and-center priority for drivers in any weather situation.

Rain-X built different creative variations of its ad messaging for rain, sleet and snow conditions to enhance the relevancy of its messaging. Although not pictured, Rain-X also built an "any weather" variation to play when the specific weather conditions were not present – demonstrating the versatility of weather targeting capabilities using programmatic DOOH technology.
Ready to put weather targeting in your brand's forecast?
We're really only scratching the surface when it comes to the capabilities of weather targeting in DOOH ads. If you're looking to push the creative boundaries and reach buyers with highly relevant messages, weather targeting should absolutely be in your brand's forecast.

If you'd like to learn more about how you can integrate weather targeting into your next campaign, contact one of our DOOH experts today!