Vistar Media has released a new comprehensive ebook on the basics of the digital out-of-home for financial services marketers. Dive deeper into the industry's advanced data capabilities and get simple strategies for success.
Whether you're a financial brand looking to generate account sign-ups, increase awareness of a specific credit card promotion, drive foot traffic to a retail bank location or garner mobile app downloads and engagement, programmatic digital out-of-home (DOOH) enables you to effectively reach target consumers along their daily routines with advanced targeting and impactful messaging.
Thanks to the geographic nature of Vistar's audiences, and the 1:many nature of the medium, individuals are never targeted directly, which is crucial for the regulations of the financial services industry. Below, we'll outline a number of effective strategies and solutions that can help achieve success for your next financial service campaign.
Audience Capabilities
Today's advanced data solutions for out-of-home (OOH) are enabling brands to take a closer look at consumer movement patterns and create a deeper understanding of behavioral trends. When looking to maximize your financial services DOOH campaign, there are a variety of privacy-safe audience strategies that should be taken into consideration.
1. Personas:
Define your target consumers by their lifestyle characteristics and behaviors, based on the locations they visit. These personas are looked at in aggregate - for instance, a brand can target: Luxury Seekers, Business Decision Makers, or Insurance Agencies and Brokers.
2. 1st or 3rd-Party:
Use your first-party data or preferred third-party segments from Vistar's trusted partners, such as Envronics, Foursquare, or those in the LiveRamp Data Store to reach your audiences in the physical world. Financial data that could be beneficial to your strategy may consist of: Bank or Card Loyalists, Competitive Customers or Mobile Banking App Users.
3. Demographics:
Brands can target OOH audiences based on their demographics, such as household income, DMA, age or gender or amount in investable assets.
Effective Marketing Strategies
Today's advanced data solutions have enabled financial service brands to take a more detailed and customizable approach into their marketing strategy. No matter what the campaign's goal is, Vistar's enhanced programmatic DOOH technology can support it.

1. Retail Banking:
Increase market share or support new branch openings by activating media in certain DMAs, when and where you need it.

2. Mobile Banking
Leverage your DOOH and mobile campaigns to encourage consumers to download and use your mobile banking apps.

3. Account Sign-Ups
Activate strategic DOOH and mobile campaigns to boost brand affinity and new account sign-ups, from checking and saving accounts, to credit cards and insurance plans.

4. Rewards & Promos:
Generate activity around co-branded initiatives and point programs by running in relevant venues, such as airports, restaurants and cinemas.



Activation Tactics
Leveraging different activation tactics, such as audience affinity targeting, mobile extensions, proximity targeting and device ID passback, can amplify how your brand is engaging with its audience.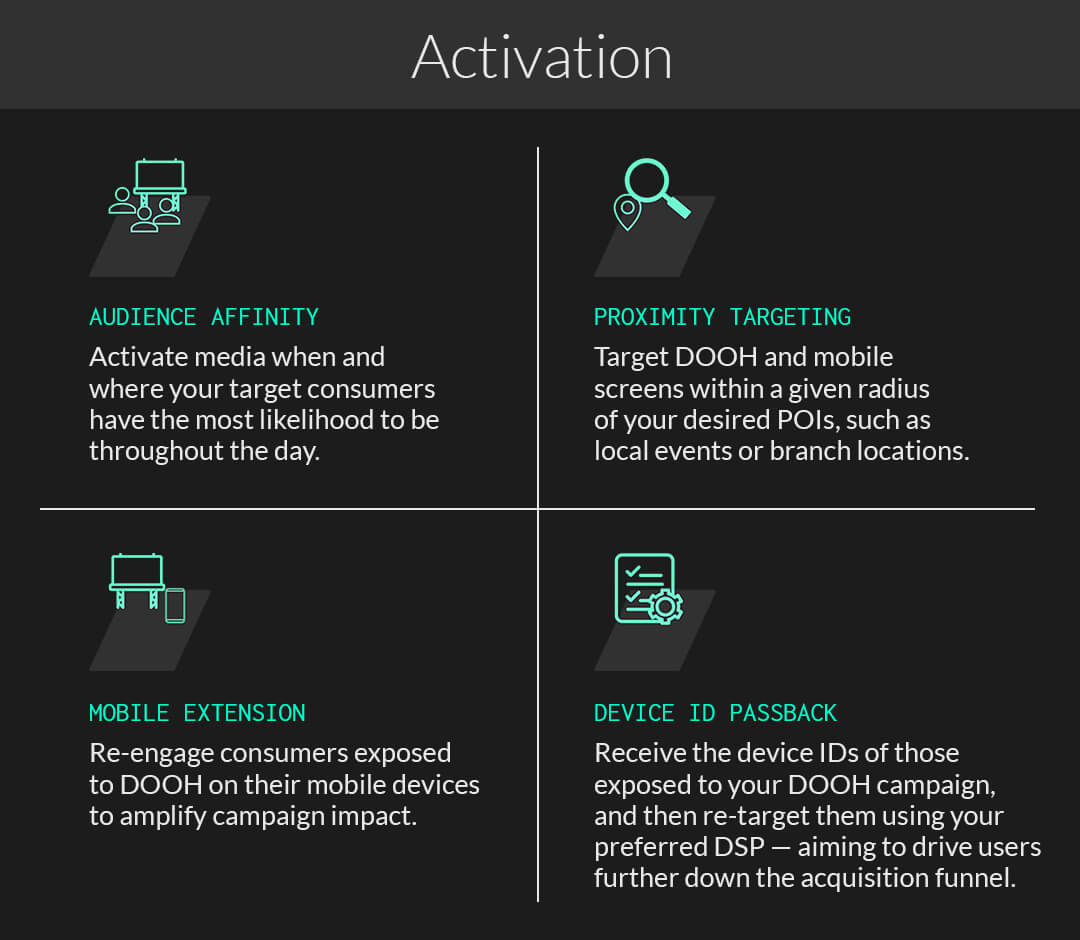 Learn how Stake leveraged Vistar's Device ID Passback to drive new customers to its mobile app and increase engagement with current customers.
Additionally, there's a unique opportunity for marketers to attract consumers' attention throughout their daily routines, using video creative in addition to static imagery. Financial brands can easily extend their video investment and digital programs by repurposing existing assets across a variety of DOOH screens for a seamless omnichannel consumer experience.



Measurement and Consumer Insights
With the addition of measurement to your DOOH campaign, marketers can analyze consumer behavior indicators and understand ROI on ad dollars spent.
1. Brand Study:
By utilizing a brand study, marketers can understand campaign effectiveness on overall brand health - including awareness, consideration, intent, favorability and recommendation. Additionally, taking advantage of custom questions within the brand study helps gain additional consumer intel for optimizing your future campaigns.
2. Foot Traffic Study:
With a foot traffic study, brands can measure the actual lift in store visits to a bank or or other financial institution driven by real-world DOOH campaign exposure.
3. Online Conversion:
With online conversion measurement, brands can gain insight to the effectiveness of DOOH campaigns across a variety of digital KPIs, including web conversions and behaviors, app downloads and in-app engagement. See how Betterment took advantage of this offering, proving out a 56% lift in website visitation from their DOOH and mobile campaign with Vistar.



DOOH Venue Types
The use of contextually-relevant DOOH screens can be critical to a campaign's success. Vistar's scale and wide variety of inventory delivers reach to target audiences at multiple touch points throughout the day, reinforcing campaign messaging in critical environments to keep your brand top of mind.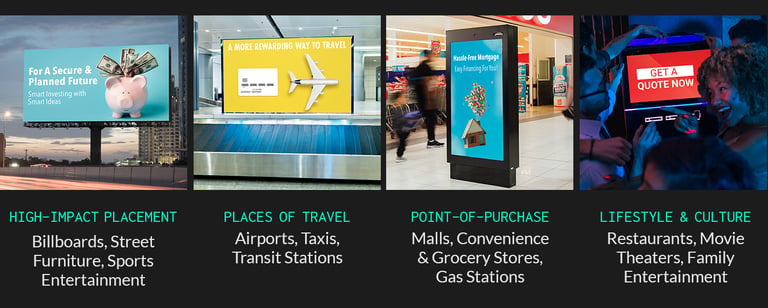 Learn how BitBuy leveraged DOOH screens - including billboards, apartment buildings, condo units, urban panels and bus shelters - to reach consumers during their daily routines with organic messaging about its emerging cryptocurrency platform.
By leveraging advanced audience data, unique activation tactics, measurement solutions and selecting the right mix of OOH venue types, financial brands can expect to drive real-world results, more efficient media placements, and ultimately less wasted campaign spend. To learn more about how you can implement these strategies for your next campaign, please reach out to us today.
Interested in learning more? Check out our ebook, Facilitation for Financial Services: Digital Out-of-Home Strategies for Success. We walk through the basics of the digital out-of-home medium, dive deeper into the industry's advanced data capabilities, and outline some simple strategies for success.