Over the past few years, PepsiCo, a global beverage and snack industry leader, has masterfully harnessed the power of data, personalization and creativity in digital out-of-home (DOOH) advertising.
At this year's Programmatic I/O event, Lucy Markowitz, SVP of Demand at Vistar Media, sat down with Megan Richardson, Associate Manager, Global Media Innovation at PepsiCo, to explore the innovative ways in which the powerhouse brand leverages programmatic DOOH across its portfolio. The two also discussed best practices that marketers can use to effectively integrate the unique capabilities of DOOH into their larger media mix.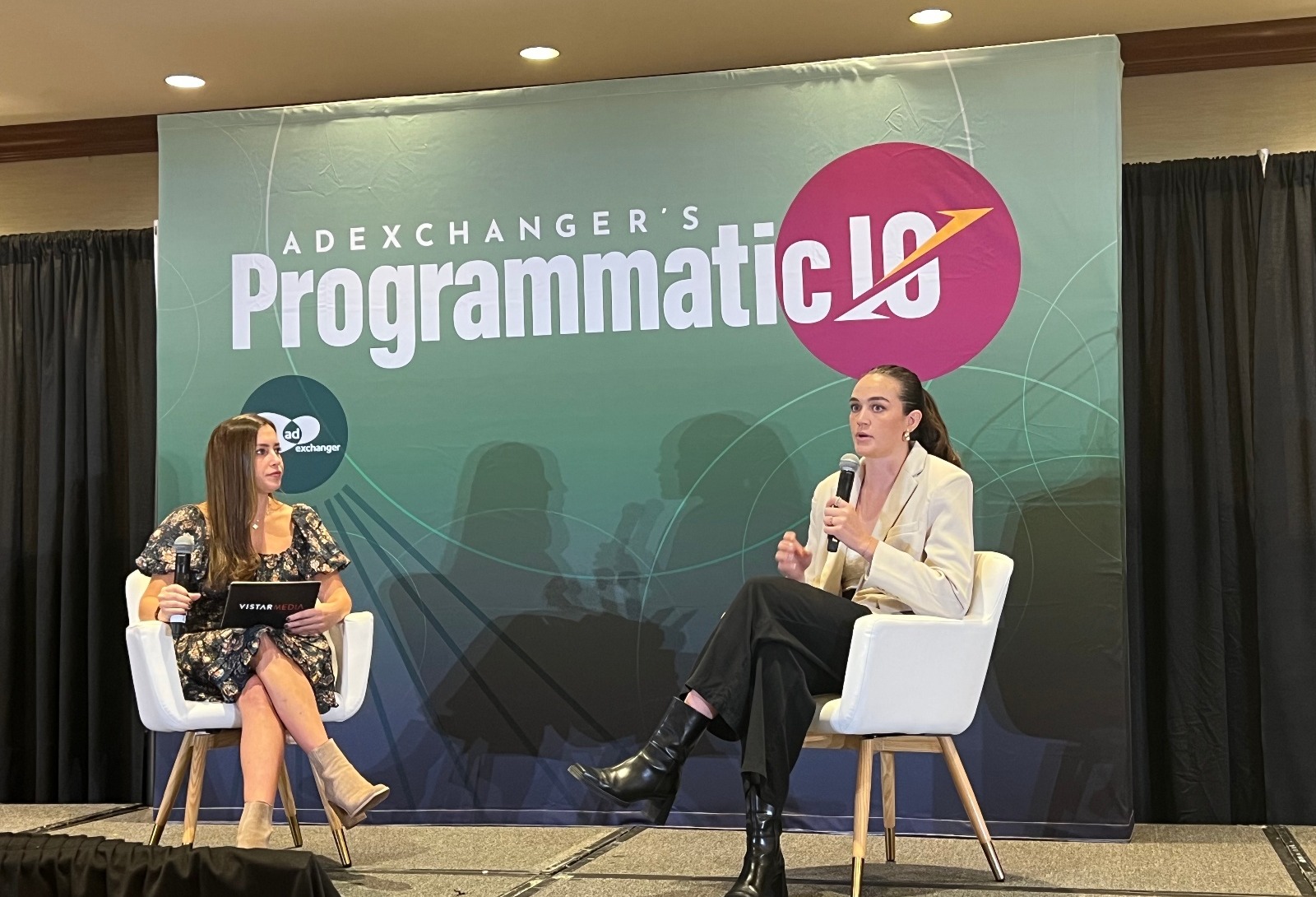 Leveraging proprietary data to optimize DOOH
The session began with a discussion about PepsiCo's broad portfolio and the role its own customer data plays in optimizing its advertising strategies:
"CDNA, or consumer DNA, is PepsiCo's proprietary first, second and third-party data profiles that we've created for consumers. It's at the heart of everything that we do… we leverage [our] CDNA throughout the entire process. So when it comes to campaign ideation and the actual creation of what our campaigns are going to be, we want to build them with an understanding of the consumer." — Megan Richardson
Megan explained that PepsiCo's CDNA consists of sales, interest and demographic data as well as where shoppers are consuming media and other proprietary elements. PepsiCo uses this information to build a holistic profile of different brand consumers and then target them in the real world through DOOH.
"We build that [data] into our campaign strategy from the actual idea and inception of the campaign to the actual execution — where the media plan is going to play out…knowing where those consumers are going to be and trying to figure out how we can meet them with the right message at the right time." — Megan Richardson
"A lot of what we've worked together on is the actual processing of [customer] data. Vistar — being able to onboard that data through a partner like LiveRamp, connect it to GPS data and then really understand where those consumers are going throughout the physical world." — Lucy Markowitz


Using DOOH to drive personalization at scale
The next topic covered was the concept of personalization at scale — what it means and how this concept translates to out-of-home (OOH). PepsiCo sees personalization at scale as one of its key transformational pillars — aiming to lean on its wealth of CDNA to deliver tailored messages to consumers and make every interaction meaningful to the audience at hand.
"[We are] trying to serve consumers [creatives] that are actually tailored to them. We have so much data about them, and we want to be giving them messages that make sense for them at that moment in time — not using generic campaigns that'll target big groups of people." — Megan Richardson
To showcase how DOOH provides a unique opportunity to use CDNA to deliver personalized experiences to consumers, Megan highlighted the "Better with Pepsi" campaign. This campaign aimed to promote situational salience — driving consumers to think about having a Pepsi with a slice of pizza.
Tapping into the flexible nature of DOOH, PepsiCo was able to show different creatives highlighting regional pizza varieties in places like Chicago and New York — where pizza is a point of pride. This allowed the brand to personalize its ads to a large group of consumers by increasing relevance within each city and conveying the message that PepsiCo recognizes the importance of the different pizza styles.
"I think just the ability to unlock creative changes so frequently is a huge win in this space when we're thinking about media planning." — Megan Richardson

"I think if you can show [consumers] aspects of their city or activities that they love and associate that really positive moment or favorite food with a product within the PepsiCo family, it's organically going to create an association with nostalgia or just positive moments in their life." — Lucy Markowitz


Reaching consumers with the right message at perfect moments
Megan also touched on how PepsiCo utilizes the unique characteristics of DOOH to reach consumers at multiple touchpoints throughout their day with relevant and engaging messages on the path to purchase and at the point of sale.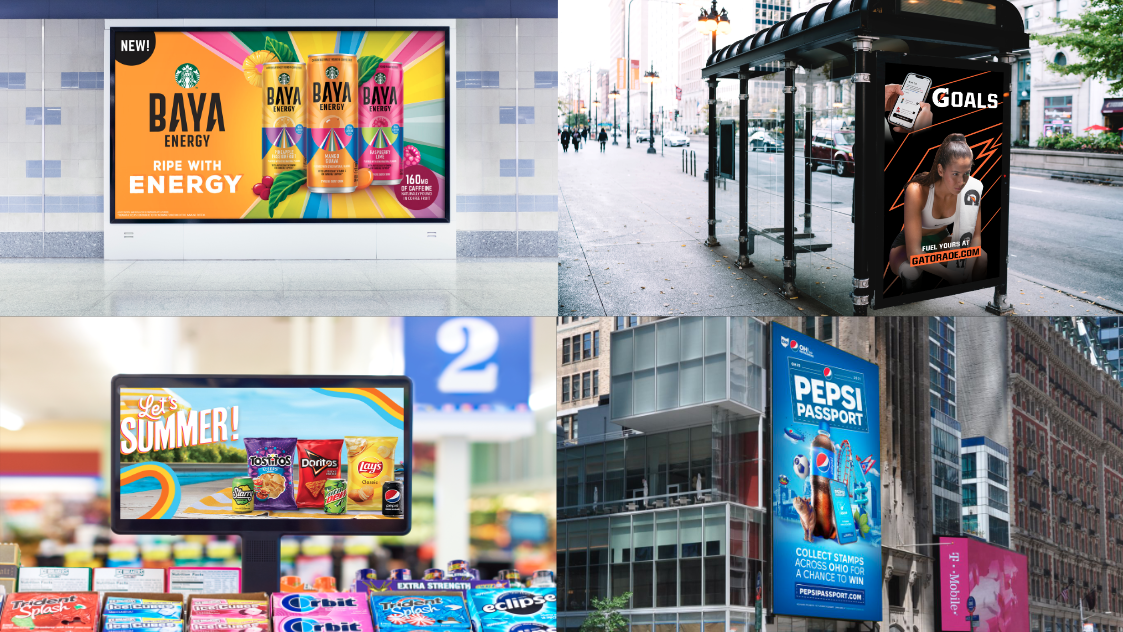 Proximity targeting: "We can put our [DOOH] in spaces where we know there are retailers that we're trying to drive to close by. So that's huge for lower funnel metrics and getting actual sales out of these media placements." — Megan Richardson


Day-parting: "With [DOOH], we can change the product itself based on the time of day and remind consumers of those different consumption occasions that are more likely to make sense for them at that time of day based on the product that's being shown." — Megan Richardson


Variety of placements: "Whether that's bus shelters, in the office, in a gym or at the point of purchase, there are so many ways that we can continue to be a part of the consumer journey from start to finish." — Megan Richardson


Bringing unique voices and moments to distinct brands
With such a large portfolio, it's important for PepsiCo to ensure each of its brands maintains its own identity. Megan shed some light on the different personalities of two distinct products and how they translate into OOH.
bubly: "bubly is built around adding a pop of positivity to consumers' days and encouraging them to crack a smile in moments that may not typically be moments of happiness or positivity. This means activating DOOH screens in places like the DMV — places people may find less than enjoyable." — Megan Richardson


Pepsi: "...with Pepsi, we're positioned around this whole notion of unapologetic enjoyment. So trying to be yourself unapologetically and love what you love and love it out loud. When it came to out of home, our ads were showing people truly, unapologetically and messily enjoying the food that they were eating, which I think is a pretty unique space to be playing in." — Megan Richardson


Enhancing DOOH with creative best practices
Throughout the session, Megan and Lucy shared some of the creative best practices that have helped PepsiCo stand out and ultimately drive successful DOOH campaigns.
Video in DOOH: "Video allows us to show the beauty of [our] products. We create such beautiful ads…and being able to put them in [OOH] creates a really powerful visual experience for consumers. — Megan Richardson


Clear CTAs: "It's really important to make sure that you're not just creating awareness, but you're suggesting for someone to do something with the message that you're giving." — Lucy Markowitz


Tailored messaging: "One thing that's really cool about the [DOOH] medium is that we can tailor the creative itself to be relevant to the group that we're targeting or the region." — Megan Richardson


Avoid "the creep factor": "...you don't ever want a consumer to feel that they've been targeted, especially not personally targeted. It's more about creating a relationship between a brand and a consumer." — Lucy Markowitz


Real-world DOOH case study: Nitro Pepsi
Rounding out this session, Lucy and Megan discussed a recent campaign in which PepsiCo tapped Vistar Media to help bring awareness and sales to a brand new drink category with the launch of Nitro Pepsi — the first-ever nitrogen-infused cola.

"[There was] a lot of education work to be done on this product. It's super unique and people want to understand what it is before they buy it. I think one of the interesting things about Nitro Pepsi is that you're supposed to pour it like you would pour a Guinness, so [we] needed to show that in the creative as well." — Megan Richardson

With a four-week exclusivity window within Walmart stores, driving traffic to retail locations where consumers could purchase the product was key to the success of this campaign. This heightened the need to strategically activate DOOH media when and where it would make the greatest impact.
"We were able to partner with Vistar with our cDNA data to make sure that we were putting these ads in places that made sense for consumers to act against." — Megan Richardson
Seeking to understand the real results of DOOH on product sales, Vistar Media and PepsiCo partnered with Circana Ansa measurement solution to accurately compare Nitro product sales among test stores and control stores.
"At the end of the day, the results proved that in markets where we were running this campaign versus ones that didn't include the OOH portion, [DOOH] drove an increase in sales in comparison to the control markets." — Lucy Markowitz


A refreshing approach to DOOH
PepsiCo's tremendous success lies in its ability to combine data-driven insights, personalization at scale and creative excellence within its DOOH campaigns. As the CPG giant PepsiCo continues to push the advertising envelope, its accomplishments in DOOH serve as a valuable lesson for marketers looking to craft memorable experiences for consumers and drive bottom-line results for its business.
Check out the full case study to learn more about Pepsi's powerful DOOH campaign tactics.