If the past few years have taught us anything, it's that as marketers, we must be adaptable to change. Market fluctuations, changing consumer behavior, and yes, global pandemics have all wreaked havoc on many of the long-standing pillars of our marketing strategies.
For advertisers constantly on the hunt for the most effective strategies to reach consumers, programmatic digital out-of-home (DOOH) advertising offers powerful capabilities that provide brands with flexible ways to approach campaigns based on their needs. Whether you're a brick-and-mortar store looking to increase foot traffic, a distilled spirit company aiming to boost awareness and intent among your target demographic, or a tech company wanting to gain more app installs, programmatic DOOH advertising can help you adapt your programs on the fly to better resonate with your target audience, drive higher awareness, and increase conversions.
Here are a few ways you can leverage programmatic DOOH to stay flexible in the face of changing market conditions, consumer trends and more.


Launch Campaigns in Minutes, Not Weeks
Traditional OOH billboards require massive amounts of input from cross-functional teams from those building and printing the creative, to the folks in charge of actually installing the new banner. Furthermore, once a design is approved, it can take 2-3 weeks for the new vinyl billboard to be installed. However, as consumer tastes change at an ever-faster rate, waiting weeks to launch a new OOH campaign can feel like an eternity.
Programmatic DOOH technology changes this. It allows you to upload assets electronically and launch, optimize or pause campaigns in just minutes — making changes seamlessly as consumer behavior, demand and situational contexts evolve.


Adjust Messaging Based on Changing Conditions
Static OOH ads are usually geared toward one general audience. However, they only allow one specific creative to run at a time and don't take into account circumstances that may have an impact on consumer behavior.
For example, an ad for a cool, refreshing iced coffee may work well during a heat wave, but what happens when the weather changes? That same ad would likely fall flat in a snowstorm or even summer rainstorm. Programmatic DOOH campaigns allow your brand to be nimble and run different versions of your messaging based on location, time of day, demographics, movement patterns, behaviors, venue types, weather and other factors. This enables you to tailor your messaging to reach potential buyers at the exact right time to drive maximum impact and influence their purchasing decisions. Even further, using your programmatic DOOH platform, you can leverage dynamic creative to swap out the content of your ads based on real-time information to display a much more enticing offer as conditions change.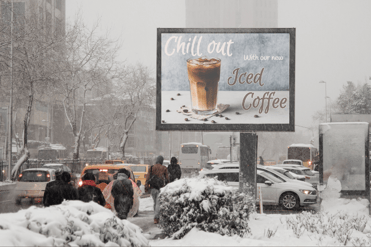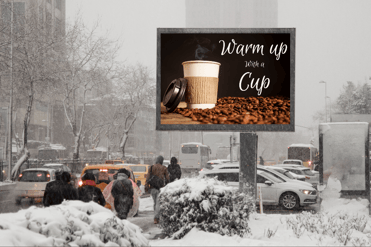 Shift Media Dollars to High-Performing Tactics
Because digital screens are everywhere, programmatic DOOH advertising offers an incredibly wide variety of inventory across any given geographic area. This means you can shift your media dollars to target specific audiences in areas that are most likely to resonate with your messaging. Furthermore, you have the ability to pivot your spend to high-performing or new venue types to maximize the effectiveness of your creative.
For example, let's say you launch a DOOH campaign for your brand's newest workout shorts. You want to make a large splash in the market, so you run ads on large highway billboards, gym tvs, bus shelters, etc. Halfway through the campaign you notice that your bus shelters are underperforming, while the gym tv ads are resonating incredibly well. No problem, you can use your programmatic DOOH platform to selectively move budget away from one venue type and purchase more share of voice on another (perhaps even expand your reach to different areas).
Finally, because programmatic DOOH gives you the ability to control activation and pacing within your campaigns, you can respond to changing trends, tastes and buying habits in near real-time. Whether that means shifting budget to different locations, adding new venue types, or choosing to quickly pause or reactivate a campaign, programmatic DOOH has you covered.
Closing Thoughts
In a constantly changing world, the ability to adapt can mean the difference between the success or failure of any ad campaign. Programmatic DOOH allows you to activate campaigns quickly, adjust messaging and change locations to match shifting consumer behavior — all without any long-term or fixed commitments.
If you're ready to take your OOH campaigns to the next level, contact us today to see how you can stay nimble and ready for what's next.