As published by Alarice Rajagopal in Consumer Goods Technology
Mast-Jägermeister US is heavily involved with the Distilled Spirits Council of the United States (DISCUS), which has strict guidelines as it relates to legal drinking age compliance, within the out-of-home (OOH) space.
Additionally, the Jägermeister brand was looking to drive specific reach to create positive disruption in the marketplace with a unique and new-to-market product. As such, a challenge for encouraging consideration via out of home was ensuring that Jägermeister would reach the right audiences at the right times and places.
However, the CPG brand's CMO Chris Peddy was up for the challenge. Peddy has been integral in overseeing Jägermeister's new brand identity launch. He supervises all aspects of the U.S. marketing platforms, brand strategy and innovation, digital marketing, customer marketing and public relations. With more than 20 years of experience in consumer-packaged goods and spirits in both commercial and global marketing, Peddy made his mark at Jägermeister early on by contributing to the growth and execution of new creative marketing platforms, just like this one.
See the full Jägermeister case study here.
Getting in Front of the Right Audience
To increase awareness, consideration and purchase intent for the Jägermeister brand and Jägermeister Cold Brew Coffee, Jägermeister and its agency ENGINE tapped end-to-end programmatic digital out-of-home (DOOH) company, Vistar Media, to activate a DOOH campaign with data-driven targeting and measurement. The goal was to get in front of Jägermeister's target audience (adults ages 21 to 34 and spirits/liquor, coffee/tea/liquor purchasers) and drive reach and positive disruption in the marketplace for this unique product.
Prior to media activation, ENGINE and Vistar performed a detailed check of all inventories to ensure that any potentially activated screens were DISCUS-compliant at the time of campaign launch. Vistar Media was able to work with OOH media owners to identify which screen locations were DISCUS-compliant, clearing stipulations such as being at least 500 feet away from exclusionary zones that prohibit advertisements of products illegal for sale to minors like elementary and secondary schools, public playgrounds, and established places of worship, and where at least 71.6% of the audiences attending those venues would be of legal purchase age.
"With ENGINE's lead, Jägermeister took a data-driven, audience-first approach — activating DOOH media against three distinct audience segments," Peddy says. "ENGINE and Jägermeister utilized Vistar Media's geospatial technology to create an audience of Cold Brew Enthusiasts to reach consumers who had recently visited high-end coffee and roastery venues. This audience was built in 2019 during an early Jägermeister Cold Brew Coffee DOOH effort and carried through to 2020 so as to avoid being skewed by COVID-19's effect on foot traffic to coffee shops."
Vistar's partnership with IRI was also leveraged to create and target an audience of previous spirits/liquor purchasers and coffee/tea/liquor purchasers. A third audience strategy was also deployed, targeting a demographic audience of adults ages 21 to 34 from Vistar's location-intelligence partner Foursquare.
Using these audience parameters, the campaign was activated in California, Florida, Illinois, New York, Ohio, Pennsylvania and Texas, as well as within designated market areas in Atlanta and Boston.
Spilling The Campaign Across Country
The creative went live across billboards, urban panels and place-based venue types including convenience stores, gas stations, liquor stores and grocery stores to reach consumers on their path to purchase and at their point of purchase. "Again, with the effects of COVID-19 in mind, ENGINE and Jägermeister wanted to ensure that screens would be seen, targeting an essential errand path instead of a more typical OOH screen spread," explains Peddy.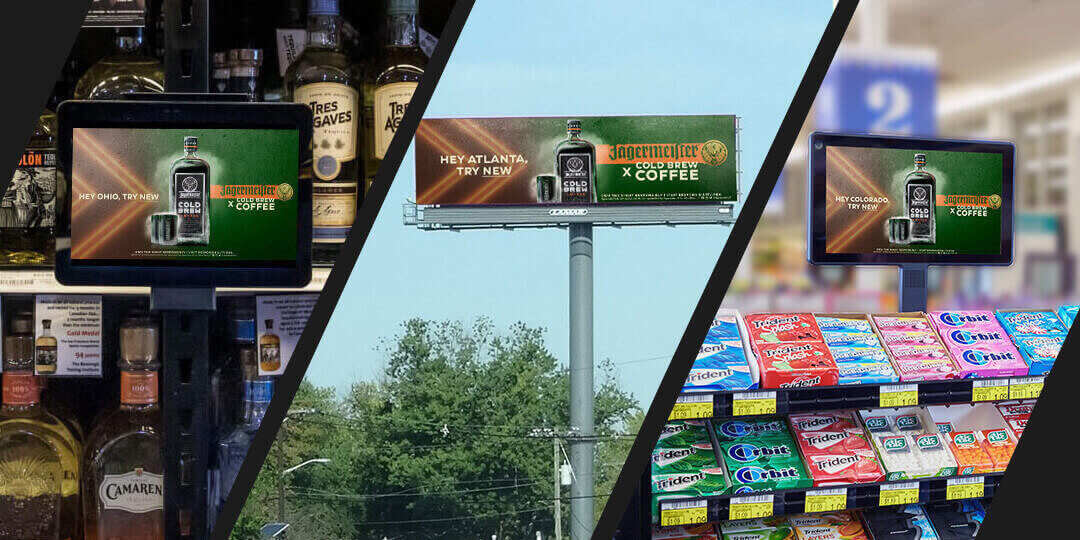 To further ensure Jägermeister's target audiences were reached at scale, Vistar then utilized its mobile retargeting solution, which identifies exposed anonymized device IDs based on when and where the advertisement was shown (as well as device proximity at that time). This allowed the ENGINE and Jägermeister to confirm exposure to the high-impact DOOH screens and re-engage consumers with sequential touch points across their mobile devices.
"ENGINE Media has been Jägermeister's AOR since 2019 and has been a tremendous partner in developing a media strategy with Jägermeister's target consumers at its core," says Peddy. "In following this strategy, when the opportunity arose where Jägermeister could be more strategic than traditional OOH placements through Vistar's comprehensive DOOH targeting and mobile retargeting, Jägermeister was eager to test and learn."
Drinking in the Benefits
ENGINE and Vistar were able to quickly activate the campaign due to previous work done together, as well as the flexible, customizable and transparent nature of programmatic DOOH.

"With OOH being a one-to-many medium, alcohol brands can safely activate impactful messaging, indoor and outdoor, across the entire shopper journey under thorough legal compliance," Peddy explains. "Furthermore, data-driven audiences allowed us to ensure precision targeting at scale, enabling us to reach the right consumers at the right times and places, so we absolutely plan to continue leveraging DOOH as part of our larger omni-channel marketing programs."

Peddy and his team have also found many other benefits to utilizing programmatic DOOH for a campaign like this one, such as the ability to retarget via mobile and across CTV, as well as the available measurement capabilities.
Not only was Jägermeister able to increase brand awareness by 73% for Jägermeister Cold Brew Coffee and achieve a 66% lift in consideration and intent to purchase the product from our DOOH campaign, but the brand was also able to gain further intel about customers' perception of its Cold Brew Coffee product.
Measured through a brand study by Vistar, DOOH venues generated lift in Jägermeister Cold Brew Coffee awareness over the control group (urban panels performed the highest, followed by screens in liquor stores), and nearly all consumers who would consider Jägermeister Cold Brew Coffee also said they would purchase it in the next six months, according to Peddy.
"Jägermeister's commercial sales team is excited to talk with distributors about DOOH in their markets," he adds. "It is a more tangible piece of advertising that can be seen day to day by the teams that put Jägermeister top of mind."
What next for Jägermeister? It has continued to leverage Vistar's DOOH offerings in 2021 through a five-month-long Jägermeister Cold Brew Coffee campaign expanding to additional key sales markets since the original 2020 campaign. "DOOH has become an important channel in Jägermeister's media mix moving forward," Peddy notes.