For this month's Media Owner Spotlight, Vistar spoke to Sam Hannaford, Programmatic Director at JOLT. This interview spotlights the unique value proposition their sustainable network of Electric Vehicle (EV) charging stations bring to the out-of-home (OOH) industry and how JOLT's partnership with Vistar Media is driving value across Australia, New Zealand and beyond.
Please describe your network in 2 sentences.
JOLT is a purpose-driven business on a mission to make Electric Transport more accessible to Australians through zero cost, fast charging. Our digital out-of-home (DOOH) network allows us to reach highly desirable audiences within busy urban metropolitan areas and community hubs, whilst also directly powering our free fast charging.
What types of screens do you have, and where can they be found?
Our OOH network is 100% digital and features best-in-class high resolution screens. All JOLT screens are 75 inches (with the small exception of some early 55 inch screens in Adelaide) and are located roadside, within high traffic areas. These placements allow us to capture both foot and vehicular traffic.
What regions do you operate in?
JOLT currently operates in the majority of Australia's major cities - Sydney, Melbourne, Brisbane and Adelaide, as well as in New Zealand - with ambitious plans to further expand in the near future.

We also have growing operations in Canada and the UK.
What audiences do you reach?
Given our presence within high density urban metros, JOLT is engrained in the daily lives of communities. This enables us to deliver broadcast reach across a range of high value audiences; urbanites, socialites, professionals, high net worth individuals, socially conscious consumers and many more. JOLT is also inherently creating 1:1 engagement with EV audiences through our charging proposition.
What sets you apart from other digital channels?
JOLT is third-party verified both locally by Climate Active, and globally by the United Nations Sustainable Development Goals, to have a positive environmental impact by reducing carbon emissions. There is a huge opportunity for brands to leverage this contextual alignment and we've already seen some great examples of this; Who Gives A Crap, Woolworths & Telstra to name a few.

JOLT is helping to build critical infrastructure within communities and, by enabling free and fast EV charging, is the only DOOH network providing a direct value exchange with the public.

Unlike our traditional OOH competitors, the JOLT app enables us to capture actionable first-party data, as well as create direct and impactful engagement with our charging customers.
What is your network's main value proposition?
The JOLT network allows brands to achieve broadcast reach, all whilst leveraging our social credibility as an environmentally responsible brand. Our urban metro locations allow us to reach a wide variety of highly sought after audiences and capture both foot and vehicular traffic as they go about their day-to-day life. JOLT also drives direct engagement with our growing customer base, both at the charger and within the app.

Our programmatic-first model means that 100% of JOLT's inventory is available to trade programmatically and buyers can access via their preferred method - guaranteed and non-guaranteed.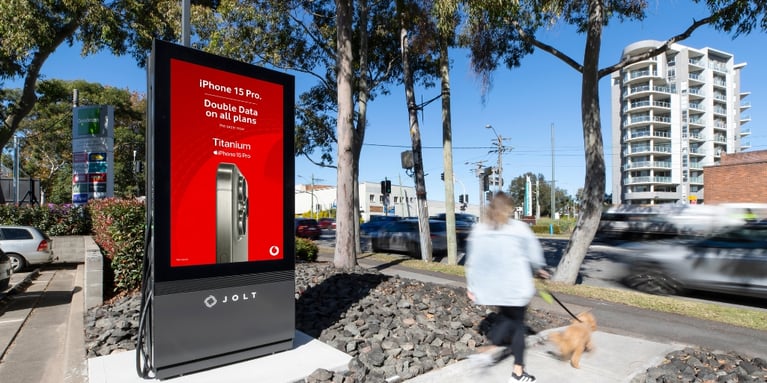 What do you wish more digital buyers knew about OOH?
The oldest form of advertising is still one of the most effective when it comes to driving awareness and desirability. OOH is still the only medium with the ability to immerse itself in people's real world experiences and create an organic form of engagement with brands.

The mass digitisation of OOH has significantly increased advertisers ability to get more creative with their campaigns. The introduction of pDOOH has further enabled brands to develop more sophisticated targeting strategies, with buyers now able to target based on audience and environmental signals, in real-time.
How do you see digital out-of-home evolving over the next year?
We expect to see further growth in pDOOH as the channel continues to gain maturity. That means, media owners making more inventory accessible to programmatic demand, and buyers better understanding the opportunities to deliver more effective OOH campaigns.
The pDOOH industry has made great strides in standardisation when it comes to platform integration and audience measurement over the past couple of years, and we expect to see momentum continue to grow off the back of increased market confidence and literacy.
Why did you choose Vistar as a partner?
Vistar brings sophisticated technical capability and sizable demand to our business, all within an easy-to-use platform.

We feel that Vistar is well placed to support our substantial growth aspirations as we rapidly scale our network.
What has been Vistar's most valuable contribution to your business?
JOLT prides itself on creating a flexible trading environment for buyers, and Vistar's seamless integration with most DSPs has directly powered our ability to realise this.

Vistar enables JOLT to simultaneously manage multiple demand sources within a singular environment and more efficiently streamline our reporting requirements.
What Vistar software capabilities do you find most useful?
Vistar's user interface is intuitive and easy to use - from creative approval to deal setups to reporting.

For example, the ability to directly download a creative within the reporting tool. This allows us to easily reference each delivered creative within a reported list.
What benefits have you been able to leverage by working with Vistar during these challenging times?
As a more recent entrant to the DOOH market, Vistar has helped JOLT to streamline our workflows and lighten the workload on what was initially a very lean team.