Since publication, Adspace has relaunched as Lightbox OOH Video Network.
In our new interview series, Media Owner of the Month, we will be featuring a different network operator and showcasing the unique digital out-of-home inventory they have to offer. This month, we spoke with Pete Miles, SVP, Ad Platform & Operations at Adspace Networks. Below is our Q&A with Pete where we got to know a little bit more about Adspace and what makes them such a valuable network.
Could you describe your business – the types of screens in your inventory, where you can find Adspace screens, regions in which you operate, etc. – and what your network offers brands?
"Adspace offers 100% viewable, brand-safe and fraud-free impressions to consumers who are on-the-go, with money to spend, and in a transactional, decision making mindset. With nearly 5,000 screens with audio, throughout +300 of the premier shopping and lifestyle destinations in +78 top DMAs, Adspace's premium video network reaches 80 million unique consumers monthly."
Where do you see the digital out-of-home industry moving in the next 12 months?
"We see the continued proliferation of video screens driven by marketer recognition that video is the most effective way to influence consumers. Also likely to play an increasingly important role are the emergence of advanced audience profiling and location-based attribution tools."
What has been Vistar's most valuable contribution to your business?
"Working with Vistar has opened up new opportunities to connect with buyers interested in transacting on our inventory digitally that have not been available historically through traditional channels. [Vistar has] done an amazing job evangelizing programmatic OOH and the availability of our premium video inventory within the exchange and are always on hand to provide support and guidance, acting as a true partner to our sales and technical teams. The incremental revenue is nice too!"
What Vistar software capabilities do you find most useful?
"The ability for buyers to choose how to transact, whether it be on the open exchange or through a preferred deal, plays a key part in removing barriers to entry for advertisers new to programmatic. Added to that, the ability to layer audience data for advanced targeting and easily leverage off-the-shelf measurement and attribution tools, and the platform really does provide an end-to-end solution for digital out-of-home buyers."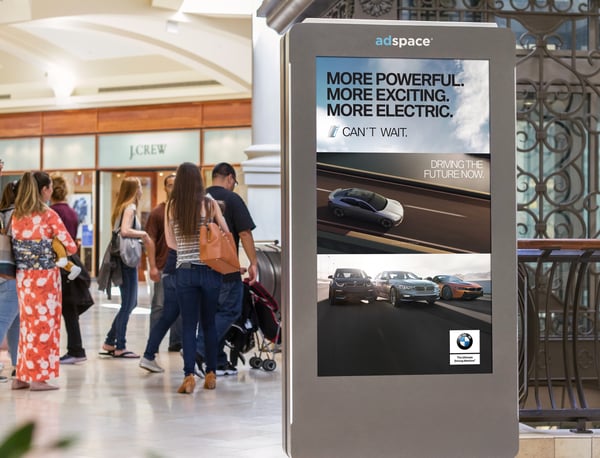 What is the one thing that you wish more digital buyers knew about out-of-home?
"OOH has been transformed, driven by connectivity, video, audience-targeting and measurement. This is OOH's time!"
Ready to find out how you can buy unique inventory from networks like Adspace?
Or do you want to learn more about how Vistar can support your digital signage network?
Click here to read our other Media Owner of the Month posts.