Nestlé, one of the largest food conglomerates in the world, was tasked with encouraging existing Perrier purchasers to add Perrier Fusions, its new beverage product sold in Walmart stores, to their cart, and to convert current juice drinkers to Perrier Fusions. To do this, Nestlé partnered with the leading end-to-end programmatic ecosystem for digital out-of-home (DOOH), Vistar Media, to reach consumers along their path to purchase and increase awareness, consideration and purchase intent for Perrier Fusions.
Nestlé's Digital Out-of-Home Campaign Strategy
Using a data-driven, audience-first approach, Nestlé Perrier leveraged Vistar's proprietary technology platform to activate an 8-week DOOH media program across Chicago, Los Angeles, Miami and New York. The campaign also landed a spot as a finalist in the "The Best Use of Digital OOH" category for The Drum's Digital Advertising Awards.
DOOH Audience Targeting
Vistar created a custom behavioral audience of "Millennials & Walmart Shoppers," based on consumers' age and visitation patterns in the physical world. We then analyzed the movement patterns of these consumers over a period of time to understand how they move throughout the day and activated DOOH media when and where they had the highest likelihood to be.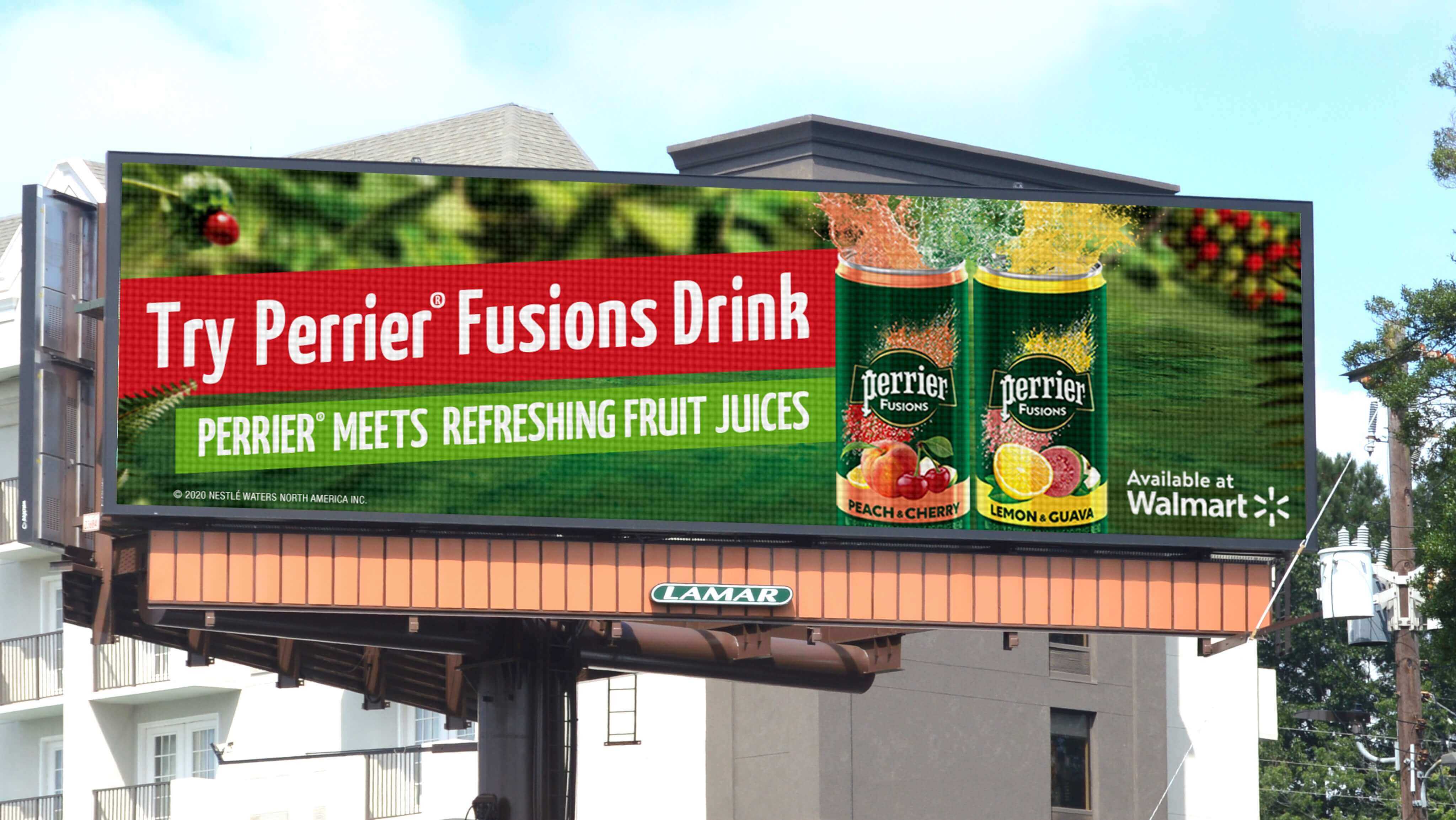 Venues Along the Path to Purchase
Nestlé Perrier took full advantage of buying DOOH programmatically through Vistar by tapping into our unparalleled supply footprint to buy relevant out-of-home screens across a variety of media owner networks. Utilizing a multitude of venue types, Nestlé targeted DOOH screens across large format, place-based and point-of-purchase inventory — including gyms, office buildings, billboards, urban panels, doctor's offices, convenience stores, gas stations, liquor stores, pharmacies, transit and taxis.
Brand Study Measurement
To bring the campaign full circle, Nestlé Perrier invested in Vistar's first-to-market "Opportunity to See" measurement solution. Similar to a brand study, our Opportunity to See study measures lift in brand metrics such as awareness, consideration and consumer intent by comparing results across a control group and a test group in the markets where media is live.
DOOH Campaign Results
The campaign successfully drove lift in awareness, consideration and purchase intent for the brand's new product line. The Opportunity to See study enabled the beverage brand to better understand the health of its brand and new product line within its target markets. Further, taking advantage of custom questions within the Opportunity to See study provided the brand with further intel about product familiarity, past purchase history, juice brand preference and more.
Access the results from our brand study and more details from this standout CPG campaign by downloading the case study below.