Out-of-home advertising has long been seen as a great driver of awareness and top-level audience reach, but tying OOH campaigns to lower-funnel metrics like sales lift and ROI has traditionally been difficult. However, the introduction of programmatic technology into the digital out-of-home (DOOH) space is revolutionizing the way advertisers build, manage and track their DOOH ads.
Advertisers can now leverage Vistar Media's partnership with IRI's Ansa to plan, target, optimize and measure the impact of CPG shopper marketing campaigns with daily store-level point-of-sale data. This first-of-its-kind partnership enables brands to accurately measure and report on sales lift directly tied to programmatic DOOH campaigns — giving advertisers insight into the lower-funnel metrics that have historically eluded the DOOH industry.
Ansa Methodology in Programmatic DOOH
Adding Ansa's measurement solution to a programmatic DOOH campaign is a seamless five-step process:
Plan: Vistar and Ansa work together to gather store location lists and establish campaign reach based on top-performing store locations for the brand's product.


Target: Ansa's platform identifies the best stores to target based on those with the greatest sales potential and determines which stores should be in the test and control groups. The test group is then used to inform DOOH targeting.


Activate: Advertisers run programmatic DOOH campaigns near select test stores while keeping control locations ad-free to measure an uptick in sales as a result of their ads.


Optimize: Campaigns can be optimized in-flight based on store-level sales data. Then DOOH targeting can be honed in to reach the most successful stores.


Measure: Once a campaign has ended, advertisers can see a side-by-side comparison of overall and incremental sales among test stores compared to control stores.


Real-World Example:
To illustrate the effectiveness of programmatic DOOH and Ansa measurement, let's take a look at how Pepsi built a successful campaign and measured its direct impact on product sales.

In a recent campaign, Pepsi wanted to drive sales of its new Nitro product line at Walmart locations across the United States.

Based on historical sales data and specific campaign requirements, Ansa chose 3,790 Walmart test stores across the United States to launch DOOH Pepsi's campaign.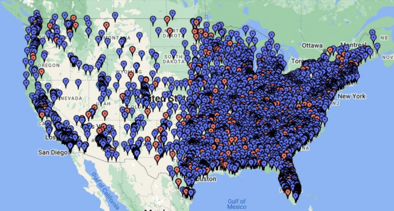 Pepsi collaborated with Vistar Media to build a programmatic out-of-home campaign targeting consumers within a 3-mile radius of the designated test store Walmart locations. In addition, Vistar was able to utilize Pepsi's first-party audience data to activate digital screens based on the movement patterns of existing customers who had previously purchased a similar type of beverage within the brand's portfolio.
Vistar activated DOOH media across a variety of place-based, outdoor and transit venue types — including billboards, bus shelters, urban panels, apartments, grocery, train stations, subways and taxi tops to reach consumers at multiple touch points throughout their day.

Pepsi utilized both video and static creative with big, bold messaging containing clear and immediate calls-to-action, scannable QR codes and co-branding for Walmart stores to make a big splash in the market.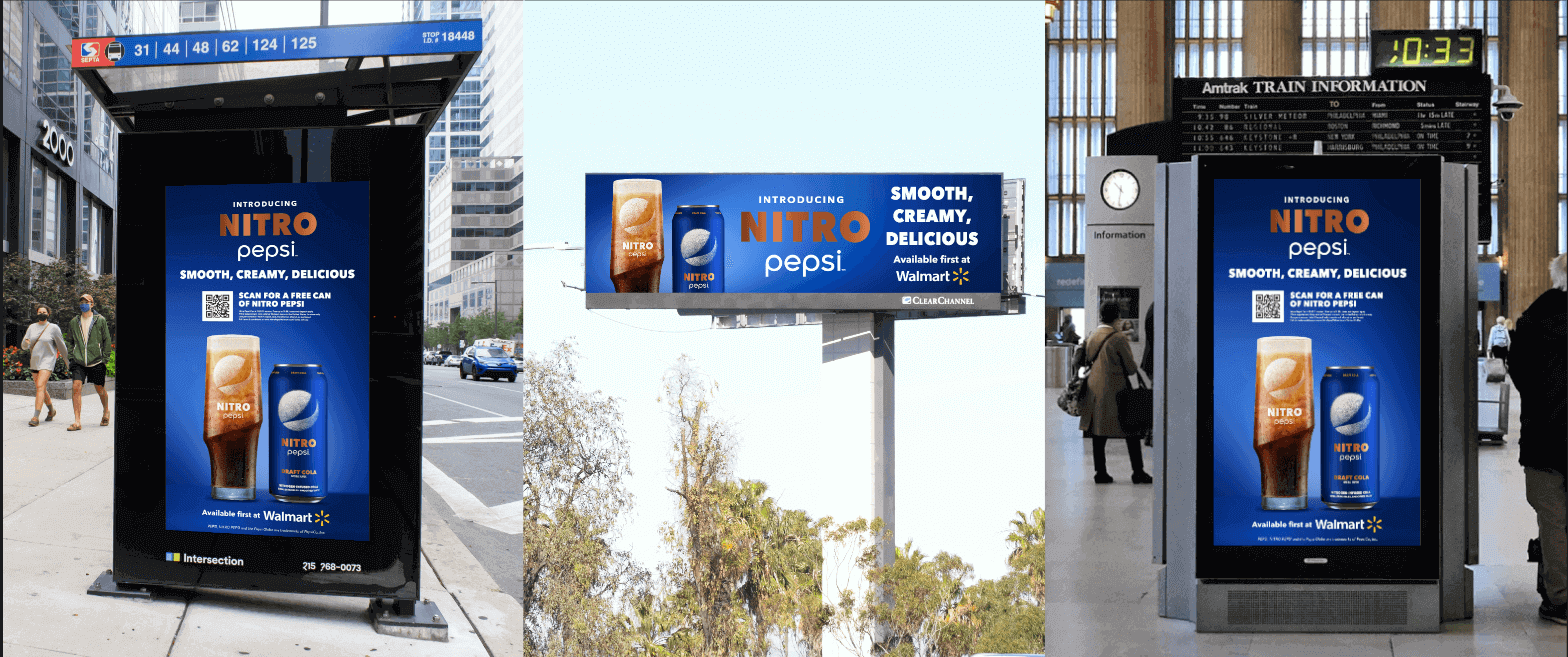 To further amplify campaign impact, Pepsi leveraged Vistar's Device ID Passback solution to re-engage consumers on their mobile devices after they were exposed to DOOH ads.

Finally, using Ansa's measurement solution, Pepsi compared Nitro product sales among test stores and control stores using daily store-level point-of-sale data from Walmart retailers.

This study showed a statistically significant lift in Pepsi Nitro sales at test stores as well as an uptick in halo product sales against the control stores — indicating the increase in sales was a direct result of the DOOH ads shown near the test locations.
Learnings and Best Practices
As this revolutionary partnership grows, the targeting, optimization and measurement of these types of programmatic DOOH campaigns will expand as well. Here are some of the learnings and best practices that contributed to the success of Pepsi's campaign.
Retargeting is key
Pepsi found retargeting audiences that were exposed to DOOH ads increased their overall campaign performance. For brands looking to maximize their audience impact, we recommend running programmatic DOOH alongside mobile retargeting media to continue saturating the market and bolstering sales around the featured and halo items.
Clear CTAs drive urgency
DOOH creative that has a clear/urgent call-to-action will create urgency among the target audience. Additionally, if using a QR code, ensuring that the offer mechanics are easy to redeem will increase the likelihood that consumers will ultimately follow through with the desired action.
Iterate on GTM with Vistar and Ansa
Many factors can influence a DOOH campaign's success. Using Ansa's technology, advertisers can gain a deeper understanding of historical performance, current market dynamics and shopper behavior to develop a more robust go-to-market approach for future campaigns.


Interested in learning more about how to build a highly-effective programmatic DOOH strategy? Download The Advertiser's Playbook for OOH in 2023.