With summer right around the corner and the country reopening, consumer activity is on the rise! Now more than ever, it is essential for media buyers to incorporate place-based media into their digital out-of-home (DOOH) advertising strategies.
For the last two years, buyers may have been leaning more heavily towards billboard and outdoor- venues due to the onset of the global pandemic and shifting consumer behaviors. However, now that restrictions have been lifted and the majority of locations are fully open, people are returning to their normal activities - highly overlapping with place-based DOOH venues.
Place-based media venues provide marketers with a unique opportunity to engage with consumers as they go about their everyday activities. These screens are typically found in contextually relevant environments, including office buildings, malls, gas stations, gyms, taxis and rideshares, restaurants, bars, universities and more.
Canada has reached market maturity and the benefit of programmatic and data-driven campaigns has been proven robust for marketers. Vistar spoke to our Canadian media owner partners to learn more about their available inventory and understand how traffic has changed since local restrictions have lifted.
Adapt Media - Convenience Stores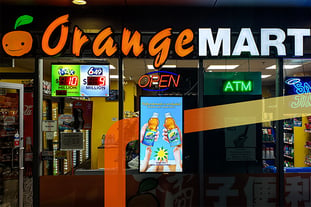 "The convenience and cleanliness of your local corner store proved soothing to a panicked Canadian populace during the pandemic. According to IRI/Forrester, the entire convenience store channel grew by 7.7% in 2021, fuelled by more frequent trips, more customers, and larger basket sizes. Ensemble IQ attributed the 15% increase in Canadian convenience store visits during the pandemic to the fact that consumers preferred the small size and geographic convenience of local c-stores to the long line-ups and possible queue-related infections of neighbourhood grocery stores. With DOOH placement in thousands of c-stores across the country, Adapt is the ideal way to reach those concerned and conscientious consumers." - Tatiana Abondano, Manger, DOOH Media, Adapt Media
Captivate - Office Buildings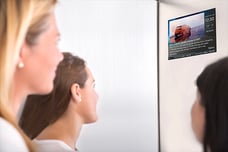 "For 25 years Captivate has been a trusted partner for brands to reach influential, high-value decision makers in a brand safe, contextually relevant environment. Captivate continues to connect advertisers to modern professionals. Captivate's office footprint is relevant today with 70% of professionals back in office. In Q1 2022, we've witnessed a 189% increase in traffic to Captivate buildings – with expectation that this will continue in Q2." - Barbara Huggett, GM Canada, Captivate
Cineplex Media- Malls and Cinemas
"With capacity restrictions completely lifted across the country, cinema attendance is beginning to return to near pre-pandemic levels. The pre-sales for the film Doctor Strange in the Multiverse of Madness,, have shown a very strong start to the summer blockbuster season. In fact, the title generated Cineplex's fourth highest total amount for pre-sales ever, in its first twenty-four hours of advance ticketing on Cineplex.com. With a strong movie lineup hitting the big screen, cinemas will continue to buzz with excited, highly engaged guests all summer long.
Shopping mall traffic has also steadily risen as capacity restrictions lifted. As of April 2022, Cineplex Media represented locations observed an average return of shopping mall foot traffic at 80% compared to 2019 levels." - Tom Woyzbun, Director - Programmatic Sales, Cineplex Media
UB Media - Resto Bars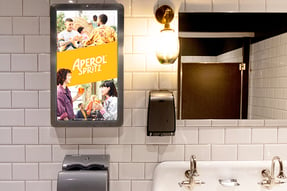 "There is much optimism among Canadian restaurants as the foodservice industry is expected to not only rebound but also grow more than originally predicted as consumers have shown an eager willingness to eat out again. Restaurants Canada's 2022 projections appear very promising, as foodservice sales are expected to rise to nearly $80 billion, 3.8% higher than before the pandemic began." - Enzo Loschiavo, Director of Sales, UB Media
Vertical Impression - Residential Buildings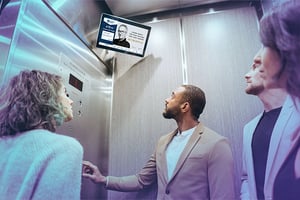 "Spring is here and residential traffic continues to grow in all cities. Seasonal and city variation exists, but the overall picture is that residential traffic is strong. Commercial traffic has seen a significant improvement recently with an 81.5% lift on average, as companies return to the office. As more companies return to work, both residential and commercial traffic will continue to surpass past years." - Nicolette Leonardis, Vice President & Co-Founder, Vertical Impression
Zoom Media - Gym TV - Gyms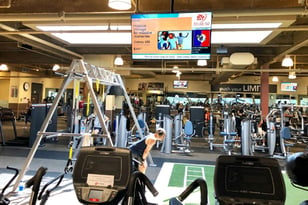 "Canadians are heading back to the gym! Rates of new memberships are exceeding pre-covid levels and our most recent data reveals that we have already reached 90% of pre-covid traffic levels at gyms. Driving these increases is a widespread desire to get back to a routine. But also in general, the pandemic has definitely brought about an increased awareness of the importance of a healthy and active lifestyle."
- Chris Corvetti, Vice President Sales & Marketing North America, Zoom Media - Gym TV
Interested in learning how you can run programmatic campaigns across place-based inventory? Contact our team today for more information.