A successful media plan can be complicated -- we get that. At Vistar Media, we aim to provide our media owners the tools necessary to make setting up even the most complicated plan a simple and manageable process. Vistar's new and improved inventory management tool allows media owners to seamlessly build multi-strategy proposals and launch them into single, ready-to-activate orders.
"This is a major improvement. The ability to separate by different goals - whether by DMA, budget, or others - is very valuable. Combining this flexibility while having everything in one place allows us to see our campaigns and planning more clearly." - Emma Finlay, Manager, Digital Partnerships, Adspace
With Vistar's new inventory management tool, proposals are made up of "Line Items", with each line item having its own individual budget, flight dates, and targeting strategy. As a media owner, you can now add as many line items to a proposal as desired and reserve that space on the targeted units in a single click. From there, you can simply book and launch your proposal as an order, and all of the proposal's line items will then directly translate into the newly created order's line items with the budgets, flight dates, and targeting already applied. Just assign the creatives and activate!
"The simplicity of the planning tool is accentuated by having the map of proposed inventory, line items and all details in one place. Planning even the most complex campaigns has become an effortless process. " - Emma Finlay, Manager, Digital Partnerships, Adspace
In order to get the most from Vistar's Inventory Management tool, we've compiled a list of best practices and guidelines to follow to help you through the proposal creation process.
Set your proposal's goal based on the available information
Flexibility is critical when handling RFPs. Every proposal will ultimately have an impression budget, CPM, and total price. However, at the time of creating your proposal, you may not have either an impression budget or total price available. For example, a client may ask for 20% of the screen-time on a selection of units and not necessarily know the impression count to which that corresponds. In that case, Vistar allows you to set a Share of Voice goal, and define the desired percentage of screen-time for each new line item you create. If the client does have a fixed impression budget or knows the dollar amount they wish to spend, you are able to set impressions or dollars as the goal.
Don't shy away from a complex RFP or contract
Clients often request multiple different buying strategies within a single RFP, ranging from market-level buys, to buying only units close to a list of specific points of interest, to delivering only during certain hours of that day or days of the week on a specific set of units. Any or all of these strategies could be used in a single RFP and each strategy may have its own unique flight dates or unique budget. With Vistar Inventory Management, media owners can create a single proposal containing all of the above strategies, while ensuring that no one strategy requires more inventory than is currently available or unsold.
The below example shows a proposal with 3 distinct targeting strategies -- based on DMA, point-of-interest and a custom Vistar audience. Each strategy has its own line item, and the 3 line items are displayed together on a single proposal-level map highlighting the units that qualify.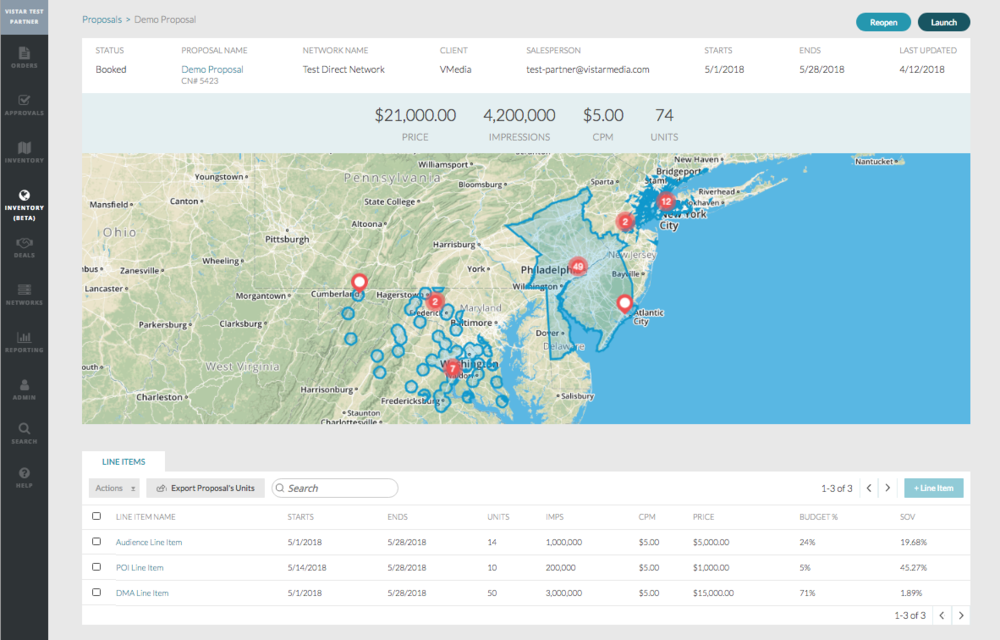 Need to tack on unpaid added value or bonus impressions? No problem. The tool also allows you to specify a priority on each line item, ranging from top-priority sponsorships to lower priority bonus or house line items needed to round out a proposal.
Trust the power of programmatic scheduling
Scheduling a complex DOOH plan can be a daunting task. With Vistar Inventory Management, scheduling worries are a thing of the past. Once the contract is finalized and the proposal is booked, you can launch your proposal into a single, ready-to-activate order with a single click! All budgets, flight dates and targeting parameters from your original proposal will automatically transfer over to the newly created order. Just assign the creatives, and your campaign is ready to deliver. The Vistar Ad Server with handle the rest!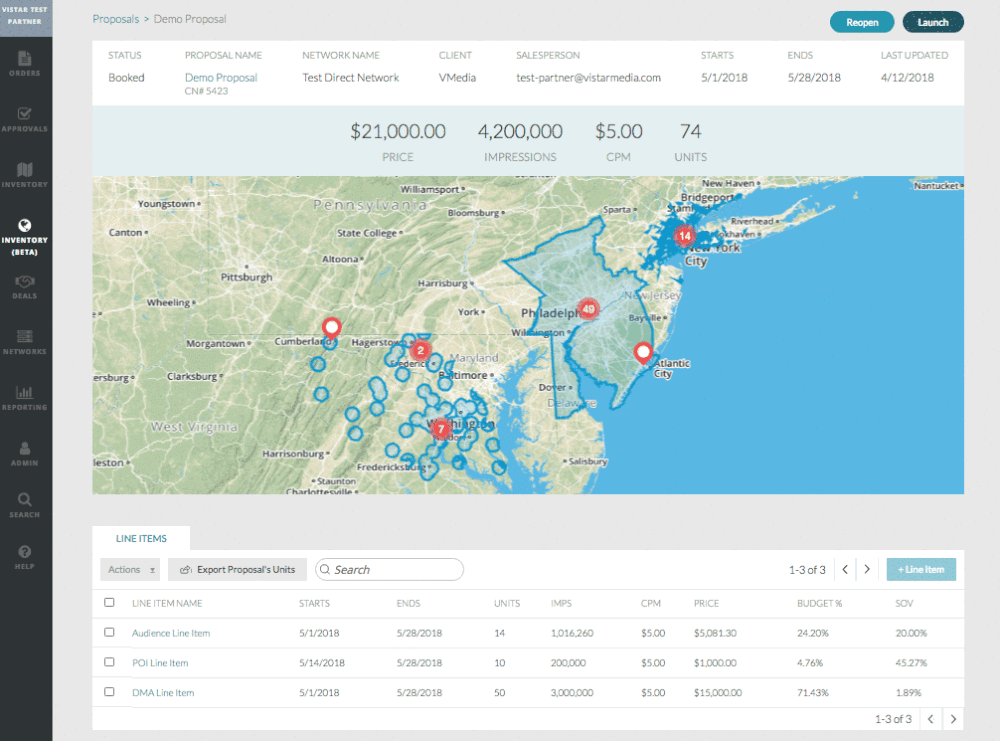 Managing and selling your inventory has never been this easy!
If you have any questions, please reach out to supply@vistarmedia.com.