Let's be honest: the majority of consumers rarely leave the house without their smartphones in tow. Whether for playing games, connecting with friends or browsing online sales from their favorite brands, it's estimated that the average American checks their phone 96 times each day. So it should come as no surprise that quick response (QR) codes have made a staggering resurgence in recent years with the average QR code usage rising by nearly 26% since 2020.

These digital barcodes (easily scannable by smartphones) are commonly used by businesses like restaurants, music venues and other entertainment outlets to streamline their operations and create seamless experiences for their customers. Not to be left behind in this technological rise, savvy marketers are now leveraging QR codes within their digital out-of-home (DOOH) campaigns to connect with consumers on multiple levels with interactive and engaging ad experiences that bridge the gap between the offline world.

That being said, while QR codes may (in theory) seem like a fantastic addition to any ad creative, there are several items to keep in mind when it comes to the unique characteristics of programmatic out-of-home.

This article will explore how to brilliantly incorporate QR codes into your DOOH campaigns to turn your creative into an effective conversion engine while maintaining regulatory compliance, the visual integrity of your ads and a positive consumer experience.


How to use QR codes in DOOH advertising
While the idea of integrating ability QR codes into DOOH campaigns is relatively new, everyone seemingly wants to get involved, we're sharing a few ways you can use this technology to meaningfully upgrade your next DOOH campaign:
Lead consumers to a website, landing page or social media
If you're looking to promote a particular product or service, QR codes may be a great way to drive potential customers to your landing page or business website directly from your DOOH creative. You can also use these codes to connect your audience to your social media accounts, giving you an innovative new way to engage with consumers and drive online conversions.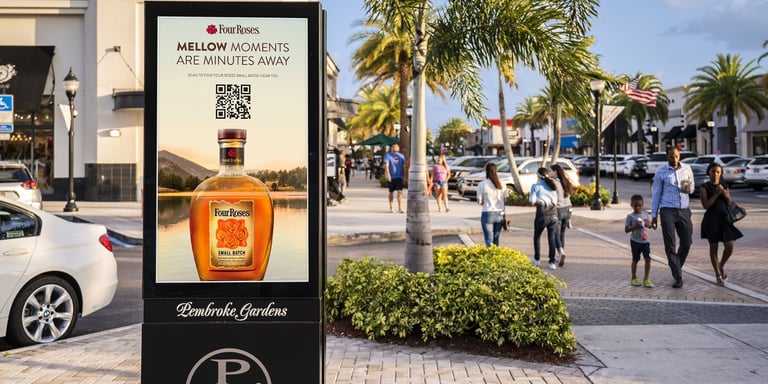 Generate quick and easy app downloads
For upper-funnel campaigns, focused on driving brand awareness and consideration, (even if you're not pushing a specific product), you can use QR codes to your advantage. These codes can be used to drive consumers to your mobile app, making it easier than ever to engage a new audience and grow your user base.
Direct viewers to a business location
Looking for a creative way to drive foot traffic to brick-and-mortar locations? Adding a QR code to your DOOH creative that provides directions to a storefront makes it easy for viewers to locate your business (or retailers where your product is sold) — encouraging on-the-go shoppers to visit the store.
Share special sales and promotions
Using QR codes to get consumers to unlock an exclusive offer or promotion is a highly effective way to generate awareness and interest for your brand's current sales — making it easier than ever to drive demand and incite immediate action.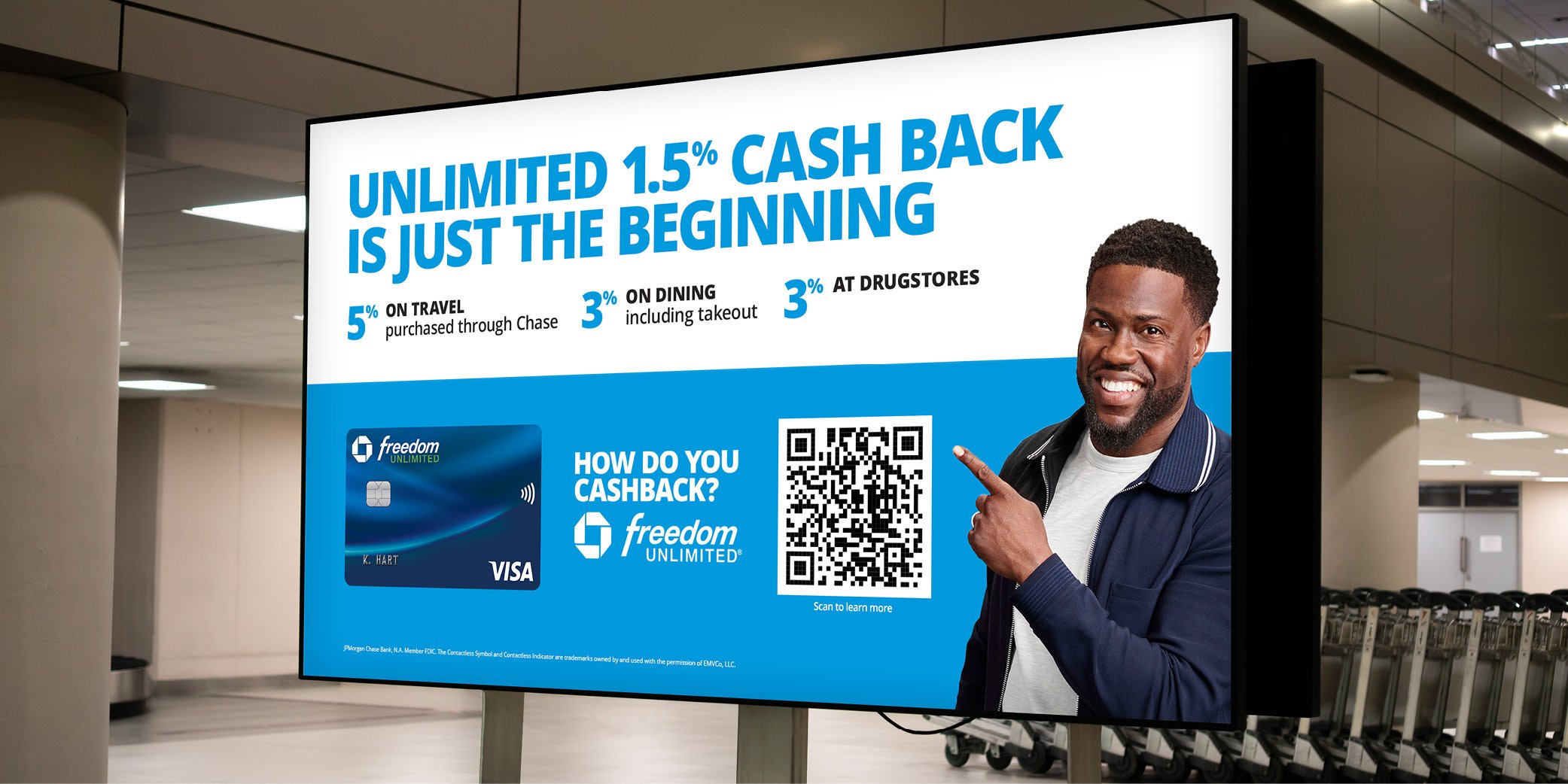 Cautions when using QR codes in DOOH
Of course, like with all advertising mediums, understanding the unique characteristics, strengths and requirements of the channel will greatly improve your ability to maximize the value of your campaigns. Here are a few important aspects of DOOH to keep in mind when including QR codes in your DOOH creative:
Choose your campaign wisely
Instead of trying to find a usage for QR codes in all your ad campaigns, we recommend using them only when you are trying to drive a specific action among viewers. For instance, if you want to promote an exclusive offer for a new product or drive mobile app downloads, QR codes can be highly effective. However, for campaigns geared toward general brand or product awareness, a QR code is likely unnecessary.
Steer clear of highway billboards
Think about it for a moment: QR codes require users to pause and interact with your campaigns wherever they are. They need time to stop, pull out their phone, open their camera and scan the creative. For drivers passing by a roadside billboard, taking their eyes off the road to scan a QR code would be highly dangerous — which is why most states have outlawed them on highway billboards. We urge you to play it safe and steer clear of QR codes in your highway creatives — and any other venue where there is a limited consumer dwell time.
Don't overdo it
Ultimately, a QR code should enhance the viewing experience of your DOOH creative, not detract from it. DOOH advertising is all about catching your audience's attention with alluring imagery, so be sure your codes don't draw negative attention or distract from your ad's visuals. For example, avoid making your QR codes so large or prominent that they become an eyesore in comparison to your ad's imagery.


Best practices for using QR codes in DOOH creative
Now that you have a better idea of when to include (or not include) QR codes in your DOOH creative, let's take a look at some of the creative best practices you can use to ensure that your ads yield maximum results.
Get creative
In our experience, QR codes are most effective when used as an extension of the artwork used in your DOOH creative rather than an arbitrary addition to its contents. Instead of simply placing the code on an otherwise normal creative asset, try to find interesting ways to connect it to the imagery in your ad. This provides conversion opportunities while enhancing the visual impact of your DOOH ad.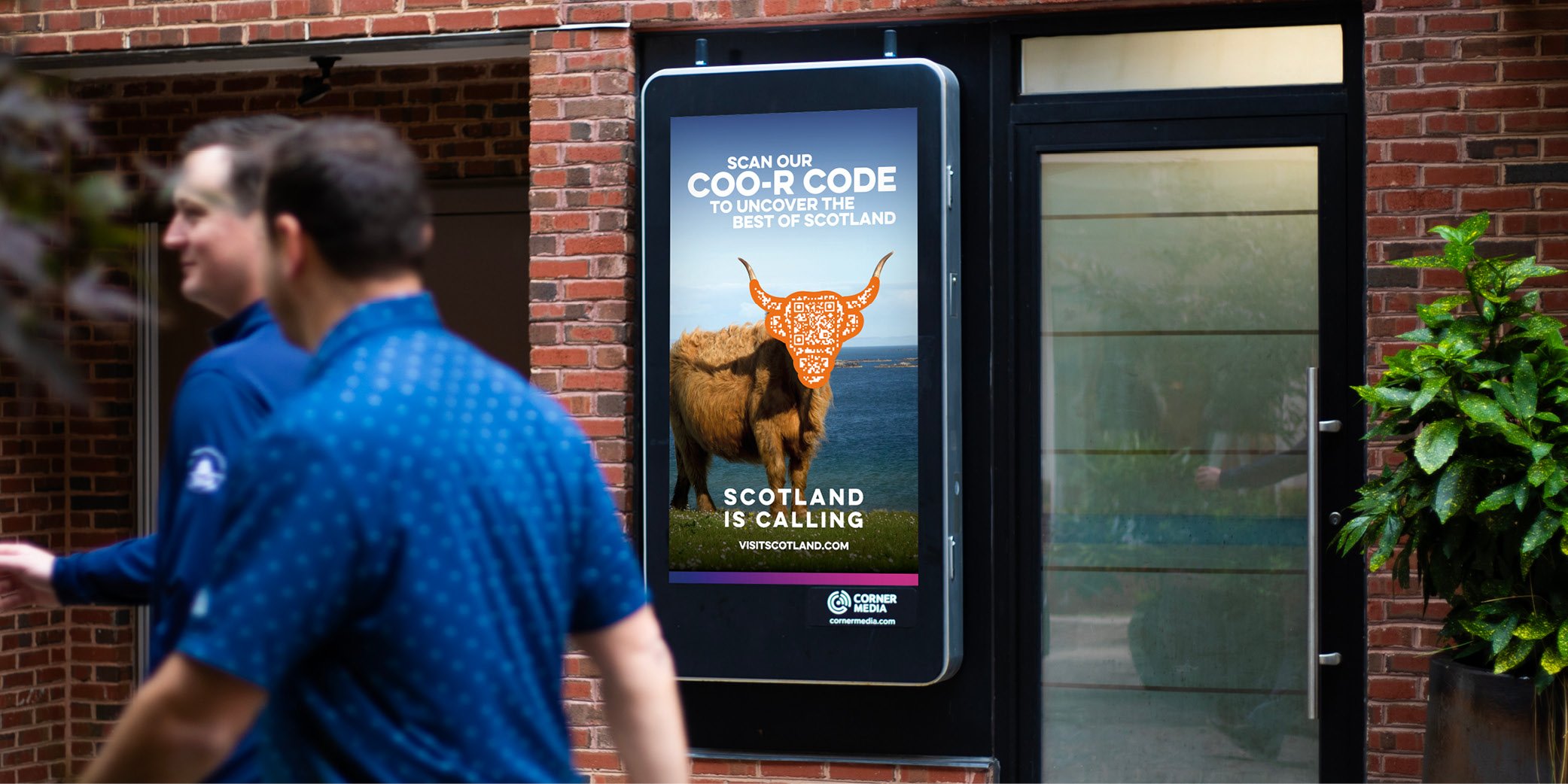 Choose an appropriate size
When it comes to QR code advertising, size does matter. If your code is too big, it can overshadow your messaging and imagery, but if it's too small, it can be easily missed. That's why it's essential to optimize the size of your QR code based on the size of the screens on which your ad will appear. For example, a larger-sized QR code could be used for urban panels and other larger outdoor screens, while a smaller version would be more appropriate for screens in elevators, taxis, bars and restaurants. A good rule of thumb is to use a 10:1 scanning ratio for your codes, where the length of the code is a 10th of the distance from which it can be scanned.
Incorporate a strong call to action
QR codes are made to help your customers take a specific action, like visiting your store, redeeming an offer or connecting with your brand on social media. That's why having a clear call to action attached to your QR code is critical. Incorporate phrases like "Shop Now" or "Download the App" to ensure that your visitors know exactly where your QR code will take them and what outcome they can expect when they scan.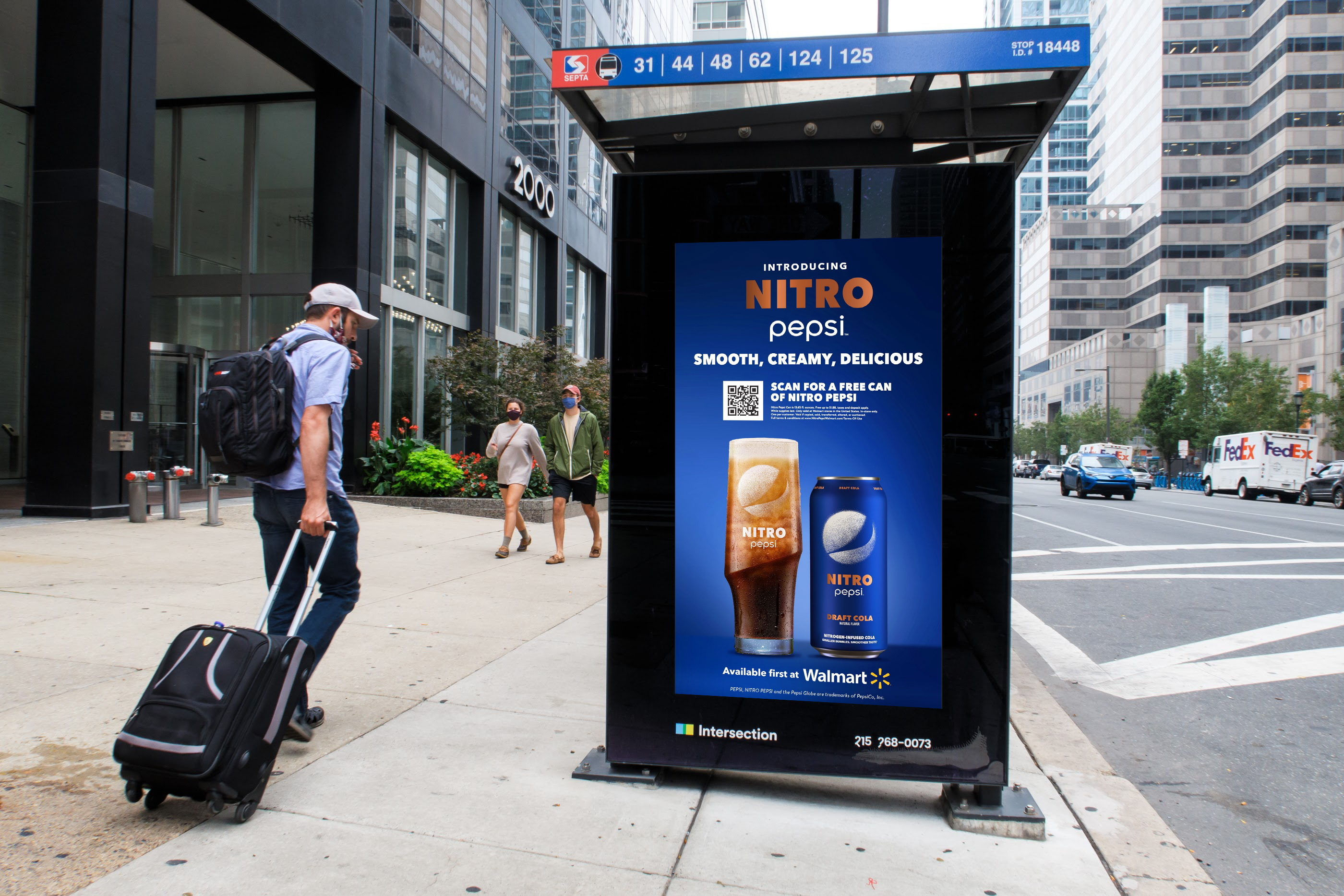 Position your QR code at eye (or camera) level
Believe it or not, the vertical angle at which a camera sees a QR code impacts the distance from which it can be activated. We recommend placing your QR code at eye (or camera) level to allow for smooth and easy scanning. For example, on screens installed low to the ground such as bus shelters, a QR code will be easy to scan wherever it's placed on the screen. However, in screens placed higher off the ground, like some interactive or gym TV screens, codes placed near the bottom and middle are more easily scannable.
Consider dwell time
DOOH ads are often part of a rotating series — meaning your ads may only appear for 15 seconds or less. Choosing locations that have a longer dwell time, such as a bus shelter, train station, restaurant or mall, will help ensure that viewers have repeated exposure to your ad and enough time to interact with your QR code.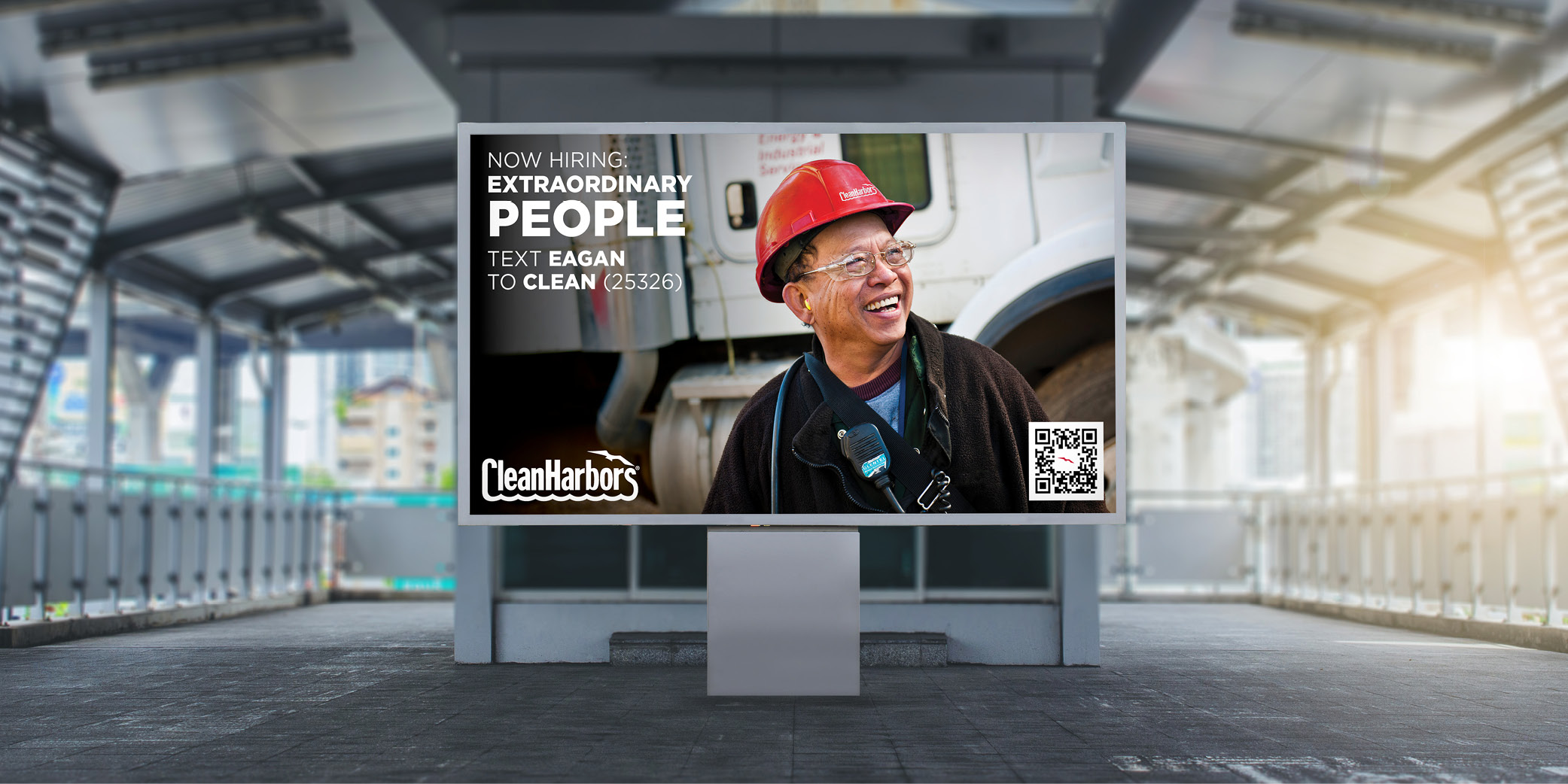 Cracking the (QR) code with DOOH
When done right, QR codes can be a highly effective addition to your DOOH advertising strategy — providing a unique opportunity to encourage online interactions, drive action for exclusive offers, generate traffic to real-world locations and more. By seamlessly integrating QR codes into your DOOH creative and selecting the right venues and screens for your ads, you'll be able to more effectively engage with your audience and encourage immediate response from passersby.
If you'd like to learn more about creative best practices for DOOH advertising, download our Mind the Gap eBook.