Restaurants are constantly evaluating their marketing strategies to remain top-of-mind among rising competition. As the variety of marketing channels increases, it's essential for restaurant marketers to find solutions that meet their unique challenges and put consumers in seats at the table. Digital out-of-home advertising offers brands a powerful platform for reaching consumers as they move throughout the physical world — and uniquely addresses some of the nuanced difficulties of marketing in the restaurant industry.
Frustrated with the complications of franchise marketing? A particular requirement for the restaurant industry, maintaining fair and equitable delivery of impressions among franchisors, becomes easy with digital out-of-home. As a brand, you have complete control of how and when your media is activated.


Planning a regional or store-level campaign? Digital out-of-home allows you to deliver customized messaging based on store, region, day of week, time of day or by target audience.


Looking to gain market share or make a splash in a new DMA? Tailor your competitive set and target strategies, per market, to increase brand presence and awareness where it matters most.
3 Easy Steps to Launch a Successful DOOH Restaurant Marketing Campaign
STEP 1: Define your target audience(s) based on brand and campaign objectives.
Using proprietary geospatial technology and location data, Vistar looks at patterns of past visitation to points of interest (POIs) to build accurate and precise audience profiles. The graphic below gives a snapshot of the most effective audience targeting strategies that other restaurants have had success with: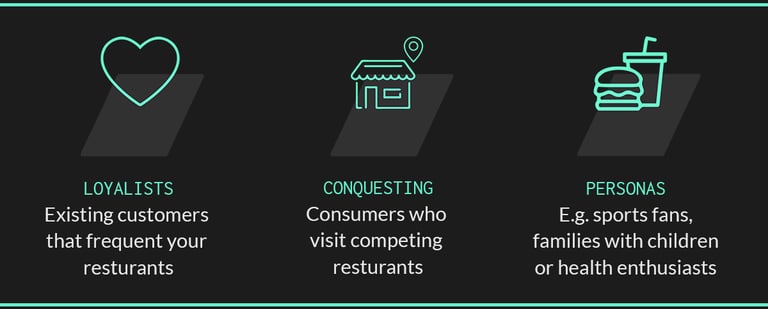 STEP 2: Activate media at the right place and right time.
We then analyze these movement patterns and apply statistical models to understand affinity for different locations at different times — ultimately revealing the best times and places to target your audiences. Vistar's scale allows restaurants to reach consumers in contextually relevant environments, such as airports, casual dining restaurants, gas stations, gyms, family centers, malls, movie theaters, office buildings, transit stations, universities and more.
Using 1st or 3rd-party data in other marketing channels? You can now utilize your preferred segments across all channels, including DOOH.

Have video assets? Extend your video campaigns by repurposing existing assets across DOOH screens for seamless omnichannel consumer engagement.
STEP 3: Understand the true ROI and real-world impact of your campaign.
Measuring the true ROI of out-of home media has historically been a challenge. Vistar's industry-leading measurement solutions evaluate the return on campaign objectives, for both upper and lower funnel KPIs, as reflected in lift of brand and foot traffic metrics generated by DOOH media exposure. Restaurants can further gain post-visitation insights into spend, in-store experience, visit frequency and likelihood to return.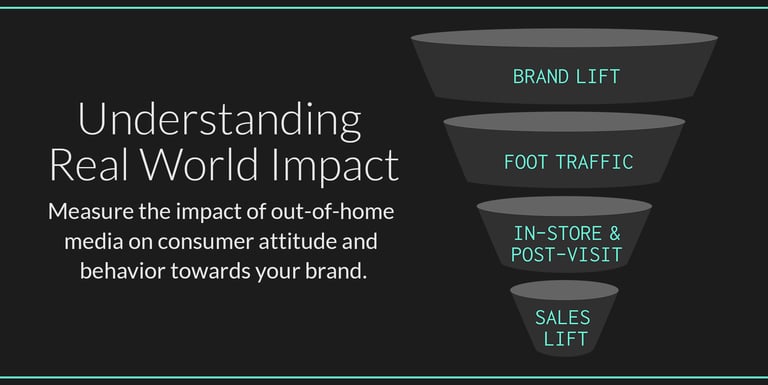 A SUCCESS STORY: Check out how this popular casual dining restaurant tapped Vistar's unique solutions to define a custom audience, leverage movement pattern insights and activate a high-impact cross-screen campaign amongst football fans.
Vistar helps its partners, from QSR to casual dining, incorporate DOOH and mobile as part of their broader marketing strategies to achieve key results, such as awareness, consideration, favorability and foot traffic, through custom and efficient targeting, messaging and measurement.
To dive deeper into how DOOH can help achieve your objectives, download our 'Ultimate Guide to DOOH' below. Ready to plan your campaign? Contact us!