Well, here we are - one quarter into a new year. I'll save you all from another rant on the unprecedented nature of 2020 and instead share my excitement to turn a page and begin an initiative sharing some of the work I am most proud of throughout the year ahead.
2020 hindered both innovation and progress for the OOH industry so we are making a concerted effort at Vistar to take our momentum coming out of Q4 and share it with the industry. I'll be sharing a series of posts throughout the year highlighting innovation, advancements and accomplishments across the OOH sector.
A Lingering Issue
One of the most important elements of the OOH format is the unique canvas it provides to creative talent. OOH comes in all shapes and sizes, most of which are built to integrate into the environment so it doesn't feel like an intrusion to the experience of the physical world.
Personally, I find this to be one of the most elegant attributes of the channel. My background is in online advertising, where the majority of advertising is simply a security checkpoint for content i.e. "watch this ad, and I'll let you get to what you actually want to see". It is disruptive to the content experience. The equivalent in OOH would be if a screen shot out of the sidewalk and said you must watch to continue walking down this street!
Instead, OOH provides a variety of ways to display engaging creative blended into the physical-world context.
However, this creative canvas comes at a cost when attempting to provide marketers a scalable channel of media to reach their customer with a consistent message and experience. In contrast, most online advertising is highly standardized with the IAB providing specifications for ad formats which has cleared the way for online advertising to continue unbound growth.
How Hard Can It Be?
To give you some perspective on the problem, I'll share some of the internal stats from Vistar. Currently today our SSP is surfacing inventory across more than 450 unique formats to reach more than 400,000 screens across 6 countries.
This is problematic at three levels - for a brand's resource allocation, for the day-to-day experience of executing an OOH campaign, and in comparison with other media channels.
Put yourself in a marketer's shoes. In the U.S., OOH on average is ~6% of a brand's ad spend. Are you really going to spend the resources ($$ + time) to build and maintain all of these different creative formats? Absolutely not! And nor should we as vendors in the OOH space expect this of marketers; we must give them something that is much simpler.
For the average agency account person, managing these multiple creative assets is a huge timesuck and headache, not to mention how much work is required if you want to change something about the creatives or flight multiple iterations. Ultimately the creativity of campaigns is limited by these logistics, and it leaves a bad taste in the account team's mouth.
Compare that with the experience of purchasing ads on Facebook or Google - they make it pretty easy to launch even fairly sophisticated campaigns in just a few minutes. As media providers, we need to do better.
Software to the Rescue
I'll be the first to admit that not every problem has a technical solution. However, when it comes to automating the creation of creative formats for OOH, software is exactly what is needed.
I remember when we started Vistar back in 2011 and one of the first hurdles we ran into was that not a single publisher at the time took the same creative format! We would receive creative spec PDFs from different vendors and even see folks attempting to aggregate this data into spreadsheets, massive (100+ page) PDFs and web interfaces. Needless to say, this disparate data and systems that all spoke different languages was not going to fly in a fully automated programmatic marketplace.
From day one we stuck to our guns on a commitment that we would not deliver a single ad / campaign manually - everything had to go through our platform. We sure didn't make many friends early on but we forced a crucial standard around asset delivery that has now become the default approach for all ad delivery in DOOH.
This software was not just a year 1 development; we have continued to upgrade and expand the capabilities of our creative pipeline technology every year. With 2020 being slower on the revenue side due to COVID-19, we decided to make some massive improvements that have truly put our partners on both the buy and sell sides of our platform in an advantageous place to all other methods of transacting.
Our process started with what I'll call the "explosion" phase - where we were focused on building a system that could support every possible format and combination under the sun. As the volume and variety of networks we connected into continued to scale, this transitioned into focusing on consolidation. We invested a lot of time in developing solutions that could standardize creative specs and better surface creative requirements in the planning phase for buyers. Finally, we've been refining the systems in place to unlock more reach for our buyers and make it easier for media owners with non-standard screen sizes to still capture significant programmatic spend.
So, let's take a look at what we actually built!
Multiple Solutions
One of the first creative issues we tackled early on was transcoding - the process of converting a video file from one format into another format. Vistar uses a third-party service, Zencoder, to transcode all creatives uploaded into the Vistar platform. Thanks to this process, buyers can upload any format of video (e.g. mp4, mov, flv, wmv, etc.) and Vistar can automatically make sure that all necessary video file formats are available and the proper format is delivered to each media owner based on what the screen supports.
Another area we've tackled is solving for smaller resolution screens while maintaining an asset's original aspect ratio. We use resizing to generate a new image or video files with a smaller resolution than the buyer originally uploaded, allowing large creative to deliver on smaller res screens. For example, a 1920x1080 image can be resized to be 960x540 without any visible changes to the creative itself.
Resizing is great for increasing the scale of screens that a creative can deliver on while maintaining the existing aspect ratio...but sometimes the aspect ratio itself needs to change. We've recently rolled out an updated process for letterboxing to allow us to deliver creatives to different aspect ratio screens without cropping, stretching, flattening or modifying the creative in any way. Letterboxing is the process of adding black bars to the top and bottom or left and right of an image or video. Once a creative is associated with a campaign, we identify the resolution and aspect ratio of the targeted screens and generate the necessary letterboxed assets.
Along with all of these "behind the scenes" processes to support creatives, for our buyers we've created a comprehensive, built-in creative specs tool as part of the Vistar DSP, where a buyer can view full creative specs based on their campaign targeting. We also provide a forecast of the impact each creative spec will have on available inventory for a campaign, and an indication of the specs that have been satisfied to streamline campaign setup. Every asset that we generate, whether through transcoding, resizing or letterboxing, can be viewed by the buyer so they maintain full visibility into their creatives.
Success Metrics So Far
Like I said, all of these changes didn't happen overnight - we've been building solutions for the creative hurdles of OOH since 2012, and continue to innovate and improve even today. The good news is that all this effort has paid off!
Ultimately, this advanced creative pipeline we built greatly simplifies the creative specs that are presented to buyers, regardless of what DSP they are transacting in. We're now able to support more than 200 distinct creative specs while still maintaining a streamlined workflow for a buyer. Currently, 99% of creative spec requirements can be met with just 5 standard-sized creatives!
Obviously this provides a massive benefit to buyers, reducing the creative work required to plan and launch a campaign. But these changes have also resulted in concrete wins for media owners as well. For example, when we implemented our letterboxing changes, independent billboard operators on our platform went from capturing less than 4% of exchange revenue to more than 12%!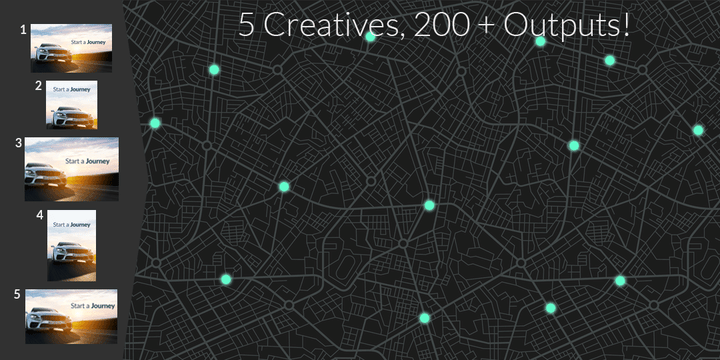 What's Next?
Our #1 goal is to help grow the OOH industry. By removing the blockage caused by creative format requirements, budgets can flow more easily into the OOH channel, and be accessed by a wider array of participants in the industry.
As mentioned, this is the first of a series of posts I will be doing this year. Stay tuned for how we built a unified measurement standard with our partners, merged the traditional OOH and online digital planning processes, and a few other big surprises for the year!