Vistar sat down with Solomon Misghina, the founder and CEO of Hilite Outdoor, to discuss their growing car-top digital out-of-home business in Canada.
Could you describe your business?
Hilite Outdoor is a fast-growing cartop DOOH network currently serving the Greater Toronto Area, with plans to expand to Montreal and Vancouver in 2021. We deliver eye-catching campaigns using our high-resolution LED smart screens and offer real-time measurement, time of day and geo-targeting, and attribution studies like web lift, in-store visitation and app download analyses.
What sets Hilite Outdoor apart from other digital channels? (audiences you reach, use cases for brands)
Because Hilite screens sit atop rideshare and delivery cars, we stand out from the competition, reaching audiences in every neighbourhood in the region, often in areas where a Hilite is the only screen they will see. With our advanced geo-targeting capabilities, we work with brands to understand who their audience is, and where and when we can reach these individuals for maximum impact.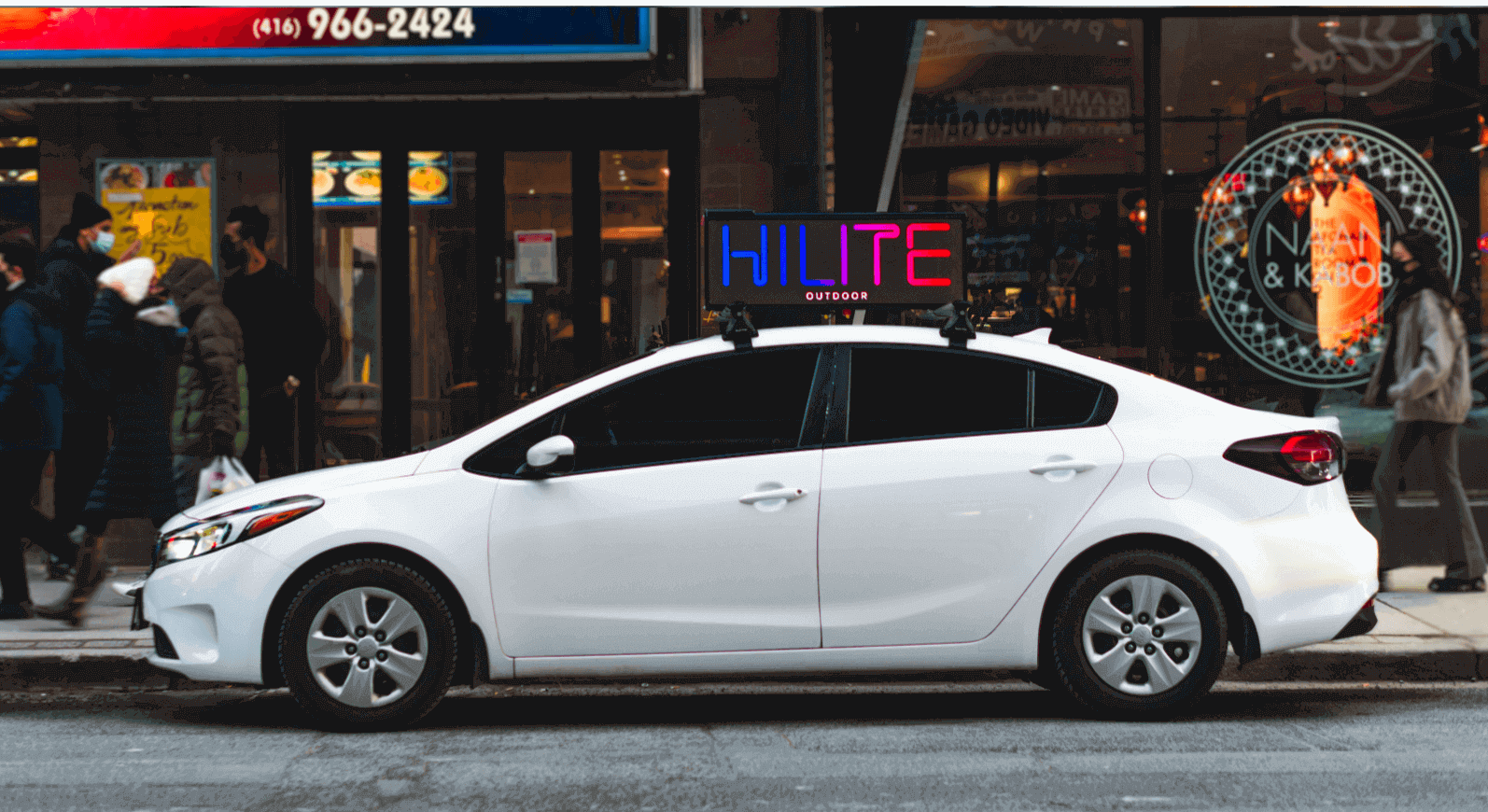 COVID-19 has undeniably impacted many businesses. How has Hilite Outdoor's foot traffic and customer set changed since the onset of the pandemic?
Hilite Outdoor launched during the pandemic, which means that we've learned to succeed in this challenging environment from the beginning, and we've managed to grow as a business and as a team through this adversity. We've been audited during the pandemic, and regularly update impressions counts, so buyers can be confident they are getting the impressions they pay for.
What is the one thing that you wish more digital buyers knew about out-of-home?
I think that digital buyers are beginning to understand that DOOH now provides the same targeting, measurement, and attribution that was once only available to digital buyers.
How are you working with Vistar?
Leveraging Vistar's massive network helps Hilite achieve our ambitious growth plans. At present, we deliver approximately 52 million 3rd-party verified impressions per 4-week period, and will reach 100 million impressions per 4 weeks by Q1 2021.
Why did you choose Vistar as a partner?
Besides the benefits of exposure to Vistar's network of buyers, the level of service and support we've received is second to none. Integration, marketing, and sales support are all top-notch at Vistar.