Natrian Maxwell is the GM of Emerging Channels at The Trade Desk, one of the world's leading independent demand-side platforms. Natrian discusses The Trade Desk's partnership with Vistar Media and how digital out-of-home can add value for omnichannel advertisers.
Q: Tell us about your career in adtech and the scope of your current role at The Trade Desk.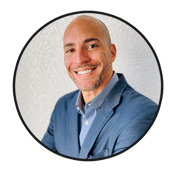 I started in Adtech years ago with a company by the name of Right Media Exchange. They were the first programmatic exchange created and would later be acquired by Yahoo. Over the years I have been lucky enough to be at the forefront of several innovative technologies that have now become table stakes for all things programmatic. Without dating myself too much, I remember receiving a signed insertion order on my blackberry when the fax was sent from the advertiser to publisher.

At the Trade Desk my focus is leading the charge across the Emerging Channels, such as DOOH, Audio, Gaming, Retail and Social. A large part of my focus is building and scaling emerging channels that drive value for advertisers across a variety of screens and surfaces.

Q: What are some of the recent updates to TTD's DOOH Product?
Over the past 12 months we have been hyper focused on creating channel parity between DOOH and alternative channels such as CTV, display and mobile. As part of those efforts we have focused on:
Developing audience-based forecasting and measurement
Creating the framework for various market types including Private Marketplace and the Open Exchange
Cross-channel retargeting and frequency capping


Q: How have you seen DOOH evolve and what are the current trends you're seeing in the market?
DOOH continues to evolve in new ways, and we continue to see examples of this firsthand when working with our advertisers. Over the past 12 months there has been a large focus across:
Omnichannel planning and execution.
A push for standardization across measurement and attribution
An acceleration of programmatic technology adoption across the DOOH ecosystem.
Q: What's your projection for the future of transaction types in DOOH?
Like several new channels, advertisers and publishers start with private marketplaces as a mechanism to control targeting, reporting, brand safety, ad copy and matchmaking. But once the industry builds up confidence and trust, the training wheels come off, and we start to see advertisers shift budgets into the open market to retain control and decision making across campaigns. While the future of pDOOH will always combine PMPs with open market buying, the economics and flexibility of the open market will incentivize advertisers to maintain a healthy balance between the two…especially in an environment where fraud is not a concern.


Q: Can you highlight a major challenge for the pDOOH space to grow?
Parity. Given pDOOH is one of the newer channels in programmatic, campaign setup and execution is reserved for specialty groups who have an advanced understanding of the channel's nuances. While it will take some time to create operational parity to some of the more mature channels in the space, we are not too far out from a single campaign workflow with consolidated reporting and insights. Nailing parity is important in an omnichannel world because advertisers expect to login to their platform of choice and execute their campaigns with as little friction as possible. The more pDOOH seamlessly plugs into their campaign workflows, the easier it will be for programmatic teams to build a comprehensive understanding of the channel and all of the promise it delivers.




Q: What can media owners do to make their network more attractive to you and your buyers?
The ecosystem is growing fast and it will be important for media owners to ask themselves, "What value does my offering create and how disruptive is the consumer experience?" As we begin to see the convergence of channels such as DOOH in retail brick and mortar locations, media owners will want to provide a strong value prop for the end consumer without disrupting the customer journey. The relationship between media owner, consumer and advertiser should all harmonize when done correctly.