Whether it's a tropical island getaway, a snowy ski trip or a weekend wedding out of state, it seems like we can't open social media without being inundated with vacation photos and travel stories that make us seriously consider buying a last-minute plane ticket.
And the numbers back this up. Last year, global passenger traffic for airlines reached over 6.6 billion people — making for the busiest travel year since 2019. Furthermore, with winter travel fast approaching, an estimated 88% of Americans are planning at least one trip this fall/winter season, meaning airports will be busier than ever and filled with travelers ready for new experiences.
If you're looking to tap into the surging demand for plane flights and engage your target audience at opportune moments throughout their travels, digital out-of-home (DOOH) airport advertising provides a unique opportunity to increase visibility, elevate your brand's reputation and foster engagement and action in a captive setting.
What makes DOOH airport advertising so powerful?
Here are a few reasons why airport advertising is quickly becoming one of the most sought-after venue types in DOOH:
Attentive and curious audiences
Because digital airport screens often contain important flight information, announcements and shop locations, airport travelers are pre-conditioned to notice screens around them as they move throughout their terminal. This results in a highly attentive audience that is ready to engage with screen-based content and take action.

What's more, whether you're targeting business travelers, leisure & vacation seekers, frequent flyers or families with children, airport goers are generally in a state of transition (i.e. going outside of their everyday routines) — allowing you to connect with consumers while they're open to new experiences.

Research from Clear Channel Outdoor found that 79% of frequent flyers would like to try new products at the airport, 63% are interested in signing up for a travel rewards program and 42% of frequent flyers will visit a brand's website or store after seeing that brand's airport ad.




Long dwell times
In a world where attention spans are fleeting, airports are rare places where people are forced to slow down and pay attention to their environments. It's estimated that the average traveler spends around 133 minutes in an airport before a departure. This presents a perfect opportunity for brands to build compelling stories and deeply connect with consumers without the distractions of daily life.


Strategic screen placement in high-traffic areas
It's no secret that airports are some of the busiest places on the planet — a trend that shows no signs of stopping.

From concourses to carousels and bars to baggage claim, there are tens of thousands of DOOH screens to choose from across the globe. Whether passengers are navigating through their terminal, relaxing in a lounge or waiting for their luggage to arrive, DOOH screens are strategically placed throughout airports in places people have to walk past and stand near. This prime positioning ensures that your advertisements stand out and receive significant recognition.
"As the holiday season approaches, we can expect record numbers of travelers to continue packing into the country's airports, as they have all year. Brands can leverage Lamar's dynamic and vast digital airport advertising network, consisting of more than 400+ digital screens in 25 airports across the country, to reach, engage, and influence captive consumers from the arrival halls to departure gates to the baggage claim and everywhere in between." — Ian Dallimore, VP of Digital Growth & GM of Programmatic, Lamar Advertising Company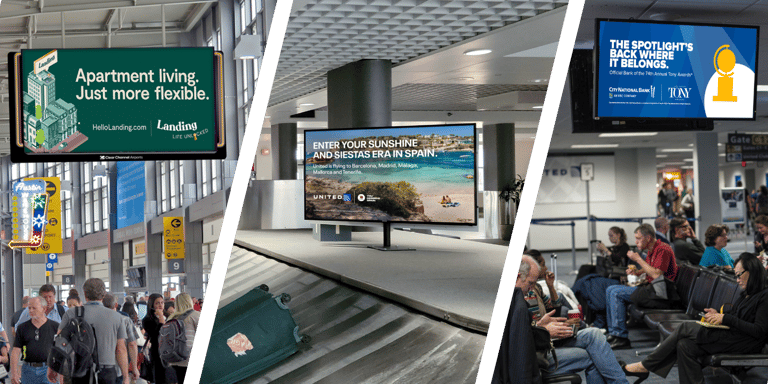 With over 4,800 screens available (and counting!), Vistar Media's DOOH demand-side platform offers unmatched access to high-quality DOOH airport inventory.


Increased brand perception
The positive emotional perception of travel and the secure nature of airports instill a sense of authority and status in brands that choose to advertise in this environment. A study by Nielsen found that 75% of frequent flyers associate airport advertising with high-quality brands. Additionally, whether it's cars or clothing brands, travelers view the products they see in airports as luxurious and high-quality. A study by JCDecaux found that airport advertising is seen by consumers as more valuable and prestigious than other advertising environments — which translates to a higher perceived value of the products shown.
"In five major countries across the world [China, France, Germany, UK and the USA], the study reveals that [airports deliver] the highest levels of price advantage and prestige compared to other major advertising channels." — Jérôme Lepage, Marketing & Business Development Director of JCDecaux Transport Division

Inside access to peak seasonal & holiday travel
Whether there's sunshine in the Caribbean or snow in Switzerland, the flexibility of DOOH allows you to quickly activate airport screens during peak travel seasons like summer and winter or holidays like Thanksgiving or New Year's when people tend to travel the most. This allows you to tap into optimal seasonal travel demand during the year to maximize the visibility and impact of your DOOH campaigns.


Use cases for airport advertising
One of the biggest advantages of airport advertising is the contextual relevance of airports in general. Using inferred information about your audience allows you to craft targeted ads that are more likely to resonate with them.

Here are a few of the many use cases for DOOH airport advertising:
Travel and tourism
From local attractions, destinations and hotels to travel rewards programs, rental cars, cruise lines and more, DOOH airport screens offer unparalleled access to connect with your target audience while they're in the traveling mindset.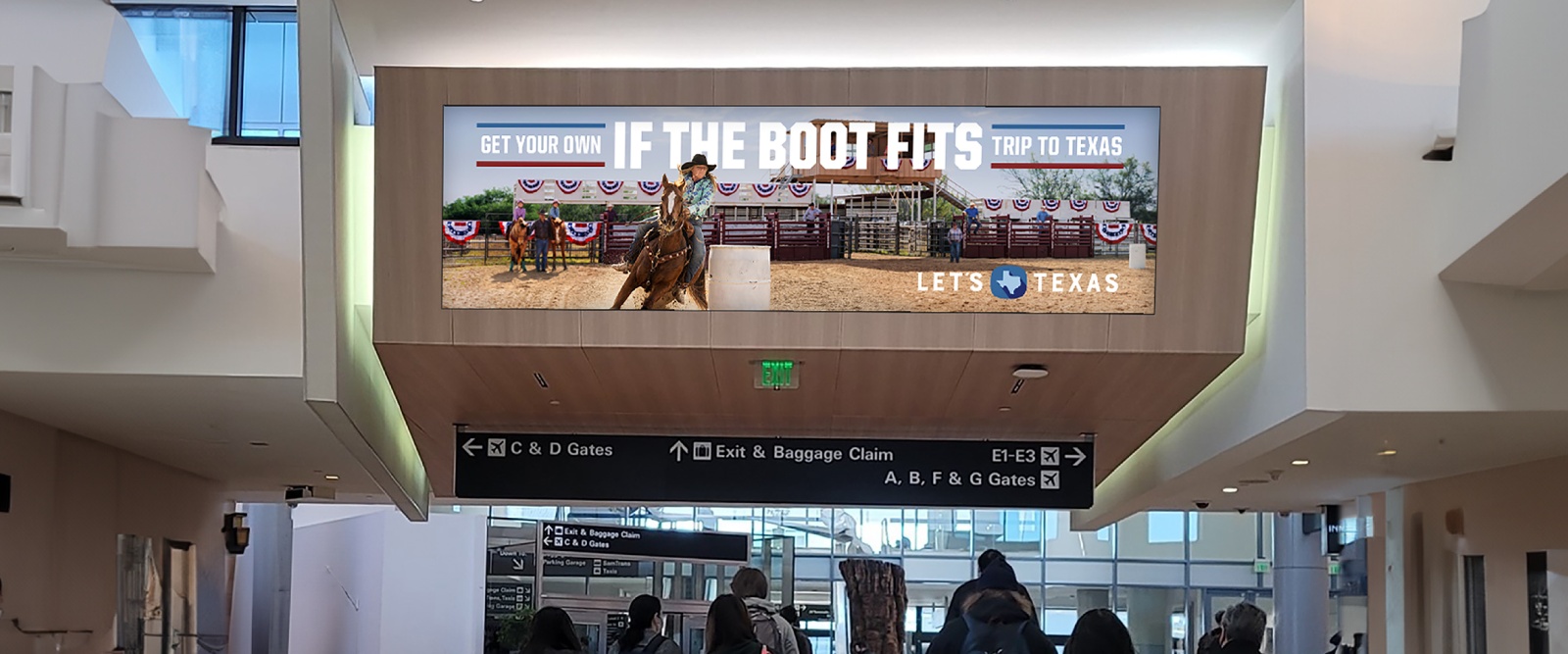 CPG
From skin care products and toiletries, to cough medicine and bottled water, CPG products are among the most popular items travelers purchase at the airport. Leveraging DOOH within airports allows you to reach consumers at critical moments before and after flights to encourage immediate purchases.


Bars and restaurants
Whether you're looking to encourage travelers to visit an exciting local restaurant in a particular destination, explore in-airport dining options or just stop in for a quick beverage before hopping on their flight, DOOH screens can provide a mouth-watering experience that draws attention and entices viewers to visit.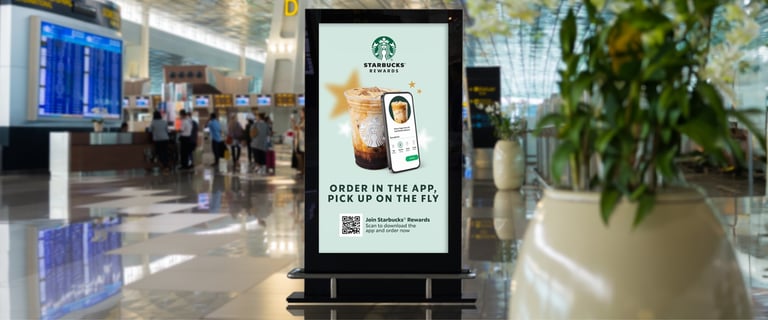 Retail
We've all been there — thinking we've packed everything, only to realize we left behind something we just can't live without. From sunglasses and souvenirs to newspapers and neck pillows, DOOH can provide the perfect platform to remind flyers about those last-minute items their trip is missing.

However, beyond the travel necessities, larger airports often serve as a point of purchase for luxury goods such as perfume, makeup, high-end apparel and luggage. Airport DOOH provides a unique opportunity to not only leverage the brand reputation of the airport environment but also act as a powerful influencer to sway opinions when and where travelers are making buying decisions.


B2B and SaaS
Studies have shown that 87% of business frequent flyers are planning to take 3 or more business trips between this year and next. If you're looking to reach decision-makers, airport screens are a crucial medium to reach B2B and SaaS buyers while business is front and center in their minds.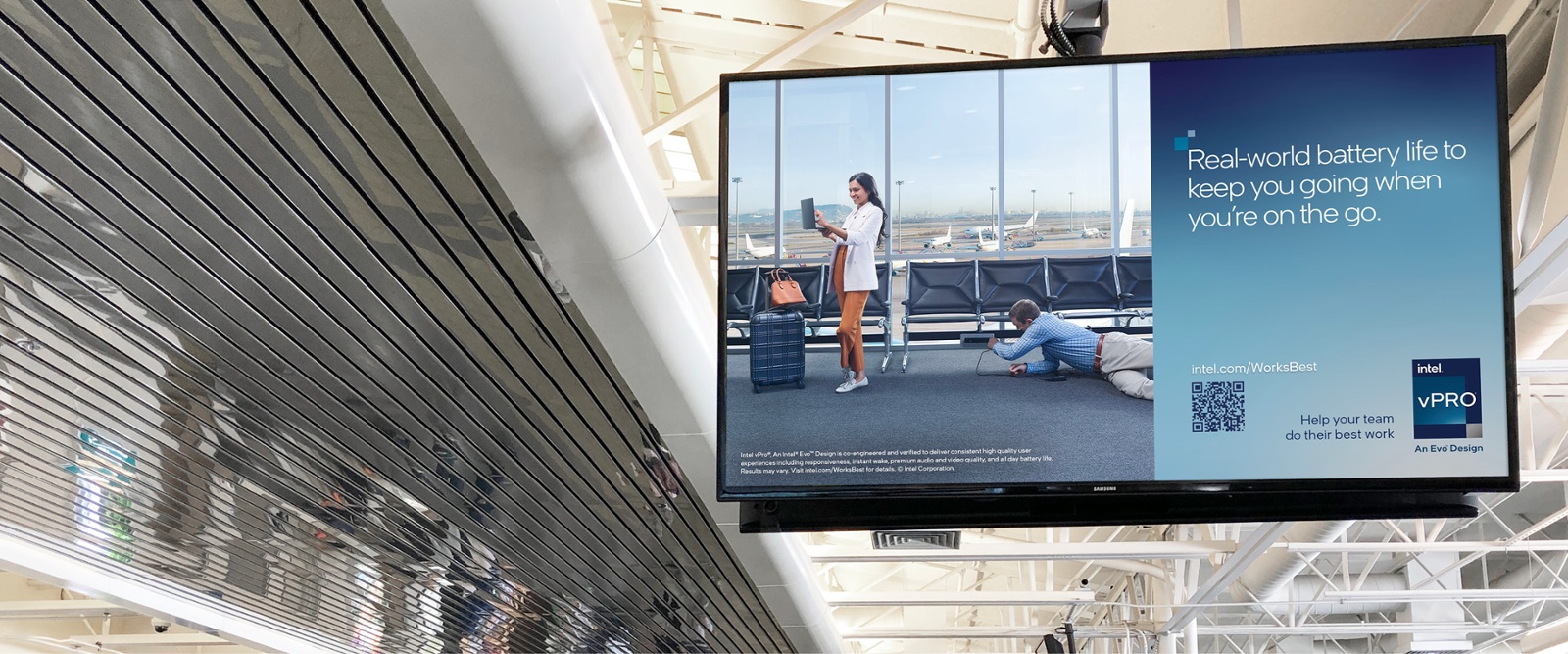 Airport advertising in action: Nature's Way
Recognizing that consumers often make in-the-moment purchasing decisions for immune-support products, Nature's Way launched a data-driven DOOH campaign to reach consumers in real-life moments when they might be feeling cold and flu symptoms.
For this campaign, Nature's Way combined the contextual relevance of airport inventory with weather targeting and programmatic activation through Vistar — allowing the brand to target consumers at "immune risk" moments and influence their purchasing decisions in real time.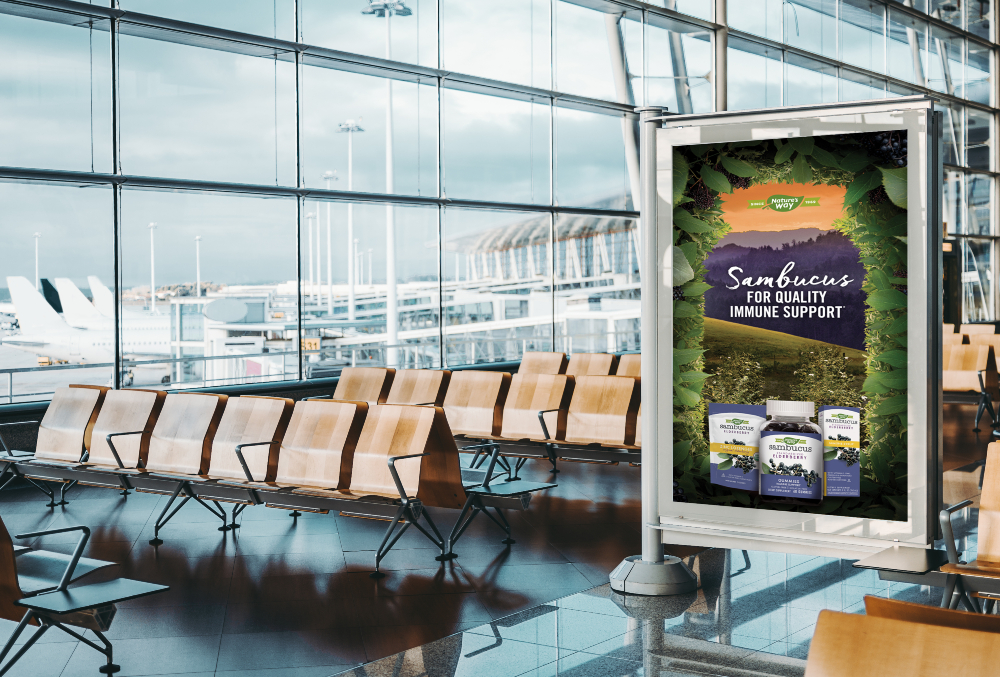 Watch your DOOH ads take flight!
Airport DOOH screens offer a unique and powerful platform to engage an attentive and diverse audience. Leveraging the advantages of high dwell times, prime locations, contextual messaging and elevated brand perception allows you to create compelling campaigns that leave a lasting impression on consumers.

If you'd like to learn more about how you can make your next airport advertising campaign take off, reach out to our team of DOOH experts today!