Whether you're chatting with a distant relative at a family gathering or making small talk with a coworker while waiting for a meeting to start, the weather is one of the most popular topics of conversation. And for good reason.
Weather is one of the largest influences in our daily lives — it affects our mood, tells us how to dress, where to go, what to eat and even changes our buying habits. That last point is especially true. Believe it or not, the weather is the second biggest factor that influences purchase decisions (right behind the state of the economy). We know that when it rains, people buy umbrellas, and when it's hot, ice cream sales go up. This paradigm is well-documented across many geographic locations, industries, etc.

However, weather-related insights go far beyond these reactive observations. Looking at historical weather information, layered with elements like movement patterns and buying behaviors, allows you to accurately predict where your audience will be and what they will buy in the future based on their local weather forecast — making weather a critical element of any ad campaign.

In this article, we'll walk through the basics of weather-based marketing and share best practices on how to effectively deploy weather-based triggers in your next digital out-of-home (DOOH) campaign.

How does weather-based marketing work?
Broadly speaking, weather-based marketing uses data and analytics to deliver highly-relevant messages to consumers based on the weather conditions in their local area. The specific environmental conditions that influence consumer behavior are known as "weather triggers." A few sample triggers include:
Air quality and pollen count

Precipitation

Temperature

Humidity

Migraine conditions

Pest/insect seasons

Cold and flu conditions
When specific weather conditions are met within a geographic area, your programmatic ad platform can automatically prioritize weather-dependent ads over your generic messaging — allowing you to deliver contextually relevant ads that are more likely to resonate with your target audience.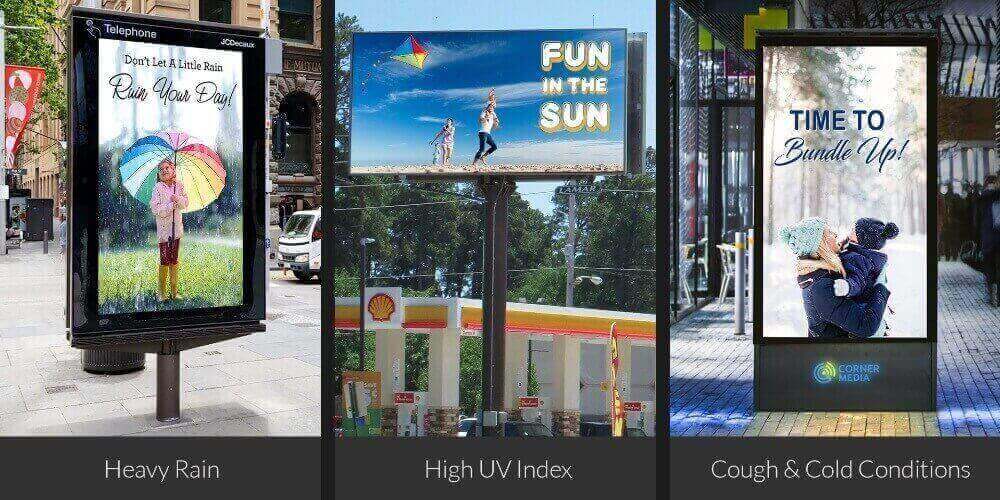 Weather's impact on DOOH ads
Because DOOH ads are seen across screens in the physical world, local weather conditions can make or break your ad campaign (imagine launching a beautifully crafted campaign for an iced beverage in an area that just received 14 inches of snow, yikes!). However, the opposite is also true. When conditions are right, weather-based targeting can drastically increase the effectiveness of your campaigns by placing engaging, contextually relevant ads in front of the right audience.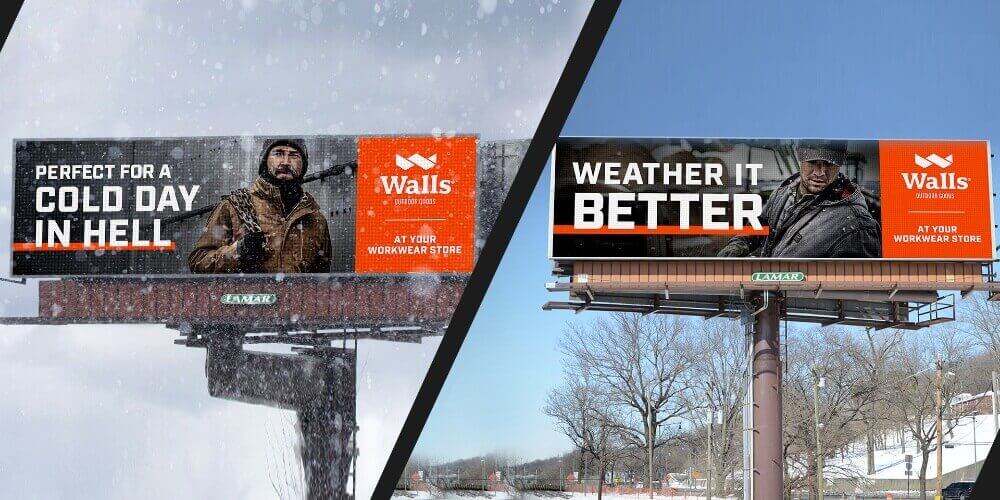 Through an integration with IBM Watson's Weather Targeting solution, Vistar's programmatic DOOH platform allows you to target qualified audiences with the right message when weather conditions are most likely to influence consumer behavior by triggering creative messaging when it matters most.
IBM's technology analyzes weather variables, sales data and anonymized third-party data across thousands of zip codes across the United States and globally. This data is used to build a dynamic picture of consumer responses and create campaign triggers across zip codes experiencing the optimal mix of weather conditions that influence consumer behaviors. Vistar's programmatic technology then seamlessly activates creative messaging based on these triggers — allowing you to deliver highly-targeted ads that drive consumer action based on the current weather's impact on moods and behaviors in a specific area without any manual work.


Building an effective weather-based DOOH campaign
There is a wide range of tactics you can use to build effective weather-based campaigns, but here are a few best practices to get you started:
Tailor your creative to match the weather trigger

One of the key pillars of contextually relevant ads is a cohesive messaging strategy that directly addresses the needs and interests of your target audience. This means building creatives that match the conditions you anticipate your audience will experience.





For example, let's say, you're an outdoor retailer and want to promote your newest product line throughout the season (knowing the forecast will call for multiple inches of snow throughout the campaign flight). While your typical campaign may promote your business more broadly, consider highlighting your ski and snowboard equipment in the days leading up to good snow conditions for skiing.





Real-world case study:

See how Timberland drove a

2.8X lift

in store visits using weather-triggered targeting to increase in-store foot traffic using rainy/snowy creatives when weather conditions were met.




Get specific about locations

Whether the weather is "good" or "bad", "surprising" or "normal" is largely subjective based on where consumers live. For instance, a 68°F winter day would mean very little in a place like Los Angeles, while that same temperature in New York City would likely raise some eyebrows, drive more people outside and increase purchase intent for things like barbecue supplies, outdoor games, etc.





Targeting specific geolocations with different weather triggers based on the relative perceptions of certain weather patterns will ensure that your ads are always relevant to the local market.





Leverage dynamic weather content

With competition for consumers' attention at an all-time high, it's critical to stand out from the crowd with DOOH ads that cater to your audience's needs. A study by A Million Ads found that 53% of consumers reported being more likely to purchase a product or service after seeing a personalized ad. While personalization is nothing new in the world of digital and display ads, out-of-home advertising has traditionally lagged behind.

However, companies like Vistar are able to leverage dynamic weather content that automatically changes specific elements of your creative using API integrations (i.e. pulling in local temperatures or other weather details into a portion of the campaign creative using real-time data feeds).



By combining the dynamic capabilities of programmatic ads with visually enticing creative enables you to build highly relevant campaigns that are more likely to convert your target audience.






This Aruba Tourism ad incorporates current weather from the location where the ad was served (Philadelphia) and weather from Aruba — making for a very powerful side-by-side comparison.





Pivot quickly as weather conditions change

One of the biggest benefits of programmatic DOOH advertising is the ability to swap out messaging in real time as local conditions change. Why does this matter? According to a survey by market research firm AskYourTargetMarket, 41% of people said they check the weather every day — meaning consumers are constantly informing themselves about the weather and changing purchase decisions accordingly.

Furthermore, weather patterns can change quickly. Places like the Adirondack Mountains of upstate New York can see temperature swings of 85 degrees Fahrenheit in 36 hours. In cases like this, when a big cold front or snowstorm rolls into a specific area, a programmatic DOOH platform can automatically display the appropriate ads — instead of lawn chairs and sunscreen, your ads may now show snow boots and warm coats to reflect the weather your audience is currently experiencing.



Build predictive campaigns for seasonal health conditions

Warm weather of summer months often correlates with increased foot traffic to brick-and-mortar locations like retail stores, restaurants, bars and car dealerships This makes sense — people are more likely to go outside when the weather is warmer. It's also not surprising that winter months with cold weather often see increased purchases of products like blankets, heaters and hot beverages. Even factors like outside air quality and pollen count in a particular area can make a huge impact on spending.

For example, if you're an over-the-counter brand that sells allergy medicine, you might want to focus your efforts on reaching seasonal allergy sufferers when allergens are at their peak and they're most receptive to allergy medicine messaging.

To achieve this, you could activate your DOOH campaign when the pollen count is high in a particular area.



In New York, allergy season begins in late February/early March and ends in late October, while in areas like Texas, allergy season runs from early fall through the winter thanks to seasonally dry, mild temperatures that allow plants to continue pollinating — meaning your messaging could (and should) change based on the seasonality of the local market.

Looking at historical purchase patterns across different seasons will give you an indication of the specific products that consumers are more likely to purchase, and those you may want to highlight in your creative.


Final thoughts
Programmatic digital out-of-home is an incredibly powerful and highly nimble channel that allows you to activate strategic campaigns based on a variety of data sets and change creative at a moment's notice. Incorporating a weather-based marketing strategy into your DOOH campaigns will allow you to tap into the wealth of insights weather can provide and deploy ads that engage your target audience with contextually relevant messages at the right time.
Want to learn more about weather triggers and how other brands have successfully taken this data-driven approach to their campaigns? Download our new Audience & Targeting Playbook today.