Back to school is an important time of year for many retail businesses. As summer comes to a close and parents and students alike begin to prepare for the school year ahead, it's essential for retailers to capture in-market consumers and bring an increase of revenue and foot traffic for in-store purchases. In a world thought to be heavily influenced by Amazon, it's interesting to note that 93% of consumers intend to shop in stores around major retail shopping holidays — a refreshing reminder that brick-and-mortar locations are still thriving in this digital age.
In the lead up to the back to school shopping season, there is tremendous opportunity for retailers to shape where and how much consumers are spending. Digital out-of-home and mobile media offer the unique ability to reach active shoppers with custom targeting and messaging and influence real-time purchasing decisions across a wide variety of venue types, including malls, doctor's offices, convenience stores, gyms, office buildings, transit centers and more.
By understanding shopping behavior, preferences and customer location affinity, marketers can activate strategic campaigns to reach target consumers while they are on their path-to-purchase as well as at their point-of-purchase.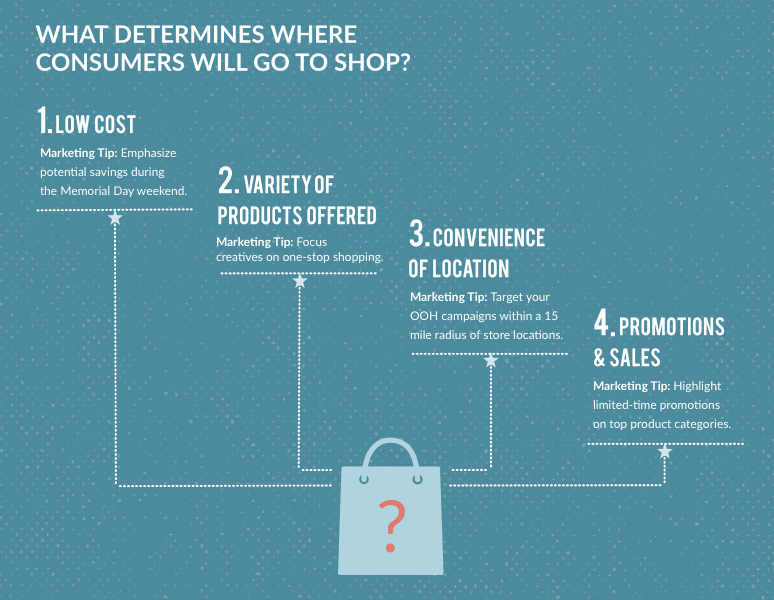 Our proprietary retail study, conducted in partnership with MFour, reveals some additional data-driven insights to help you craft your tailored back to school campaigns.
Consumers are least likely to factor in brand loyalty and brand associations when deciding where to shop around major holiday shopping events, so retailers should focus on promotional offer messaging to try to capture these in-market purchase intenders.

For brands that are already centered around low cost and savings, we suggest that creatives showcase the variety of products offered. More luxurious brands should consider highlighting new "Back to School" products in creative messaging.

Consumers typically travel less than 15 miles to shop at retail stores, so consider limiting proximity targeting across all mediums to less than 15 miles around store locations.


Consumers tend to travel even less when shopping at home improvement stores, so retailers may want to further reduce the target radius around these store locations to 10 miles or less.


Electronics purchase intenders plan to spend the most money, so creating a custom audience around these shoppers may help best reach these high-end consumers.
The study further analyzes shopping preferences across the following five major retail categories: Home Improvement, Home Goods and Furnishings, Electronics, Department Stores and Apparel.
To learn more, download the full report below:
Background & Methodology
In order to provide marketers with tips around optimal digital out-of-home and mobile targeting strategies, Vistar and MFour partnered to better understand consumer behavior and shopping preferences around major holiday shopping events. The study was conducted from April 5-9, 2018 with 1,000 respondents surveyed about travel plans, purchase intentions, shopping preferences and customer location affinity.
MFour's Path-2-PurchaseTM Platform combines the power of location analytics with market research by connecting to its first-party, validated, proprietary panel of 2 million verified consumers with full demographic profiling, matched across 12.5 million locations, including the ability to survey consumers at any time on their smartphone. Companies can now understand the consumer journey linking the "Who," "What," and "Where" to the "Why" by observing and intercepting consumers at any point from awareness to the Point-of-Emotion®."