Marketers are no strangers to measuring the effectiveness of their campaigns. But what if I told you that with the help of programmatic technology, measurement within the out-of-home industry is easier than ever before? And, with this newfound power – you can confidently and conveniently measure your entire campaign from top to bottom of the marketing funnel. Let's look at how measurement is used in the digital out-of-home (DOOH) industry today.
Table of Contents


1. How is DOOH Advertising Measured?
2. The Best Measurement Solutions for DOOH
2.1 Brand Health Study
2.2 Foot Traffic Study
2.3 Online Activity & Web Conversion Metrics
2.4 Device ID Passback
3. What's Next for DOOH Measurement
How is DOOH Advertising Measured?
For the past decade, advertisers have been using location-based data to better understand their consumers and create more targeted campaigns. Similarly, today's measurement solutions are powered by verified exposure, meaning that brands can assess the impact of their campaign among individuals who have seen their DOOH media versus those who have not.

A key component of successful out-of-home advertising measurement is the ability to accurately and efficiently determine who was exposed to a campaign. The methodology for determining exposure should take into account several factors, including ad log timestamps, device location, venue type and screen location (i.e. indoor vs. outdoor). Specific consumer behaviors of the exposed vs. unexposed can then be analyzed to understand the campaign effect on real-world actions.
To sum it up, measuring the success of your DOOH campaign requires two things:
Knowing when and where your ad played, and who was there to see it - also known as exposure.

Understanding how that exposure drove real-world actions

.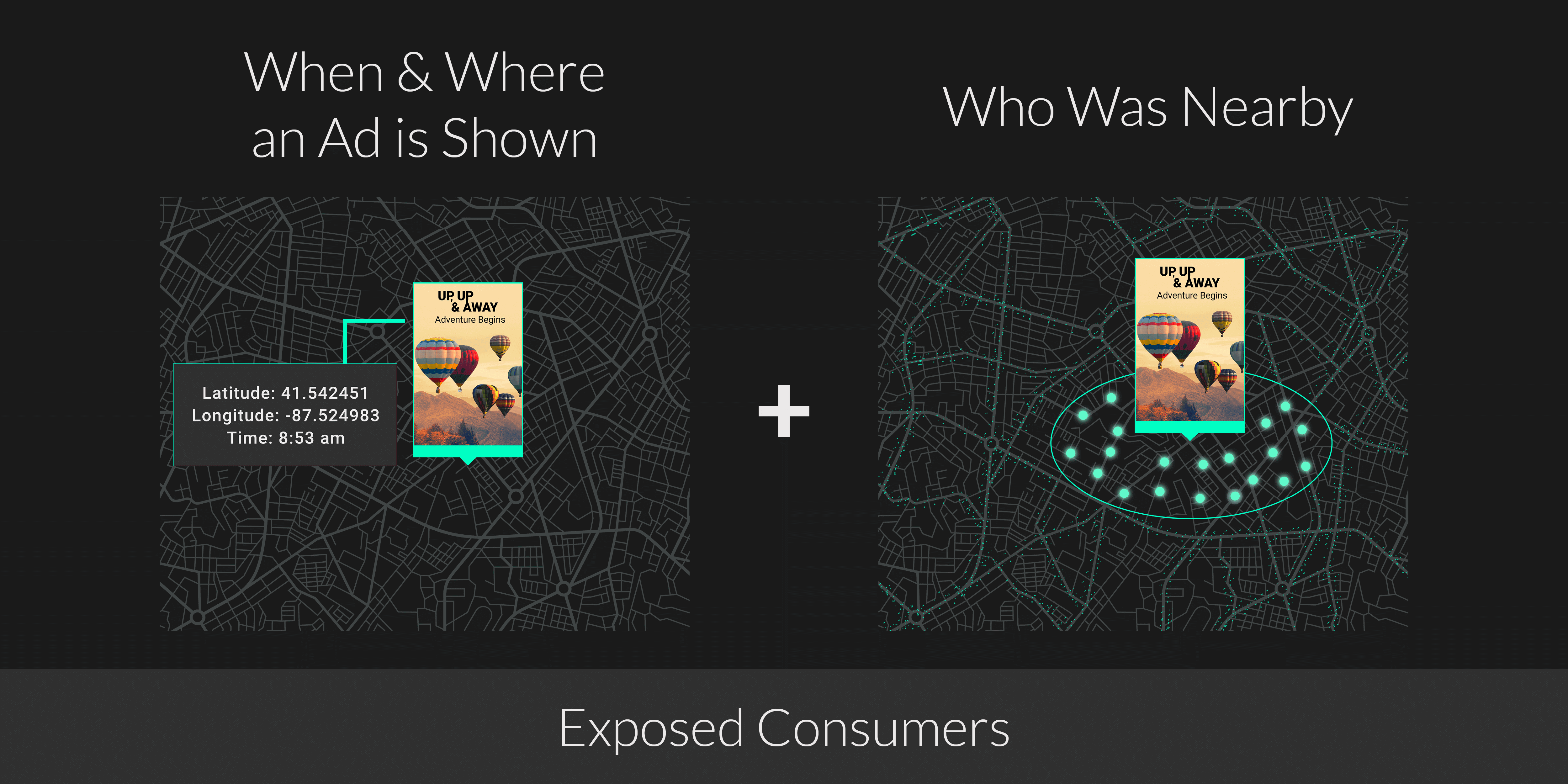 The Best Measurement Solutions for DOOH
Despite the power of out-of-home media, the channel historically has been considered a bit of a wild card for marketers that require precise result metrics. The mass medium was just too big, too diverse, and too hard to measure. But times have changed! Marketers can now measure the impact of out-of-home on KPIs through precise measurement studies based on location data and advanced analysis. While OOH has historically been used as an awareness driver, today the world's leading brands are using out-of-home to drive a variety of marketing results. Let's take a look at the best measurement solutions used for DOOH campaigns today.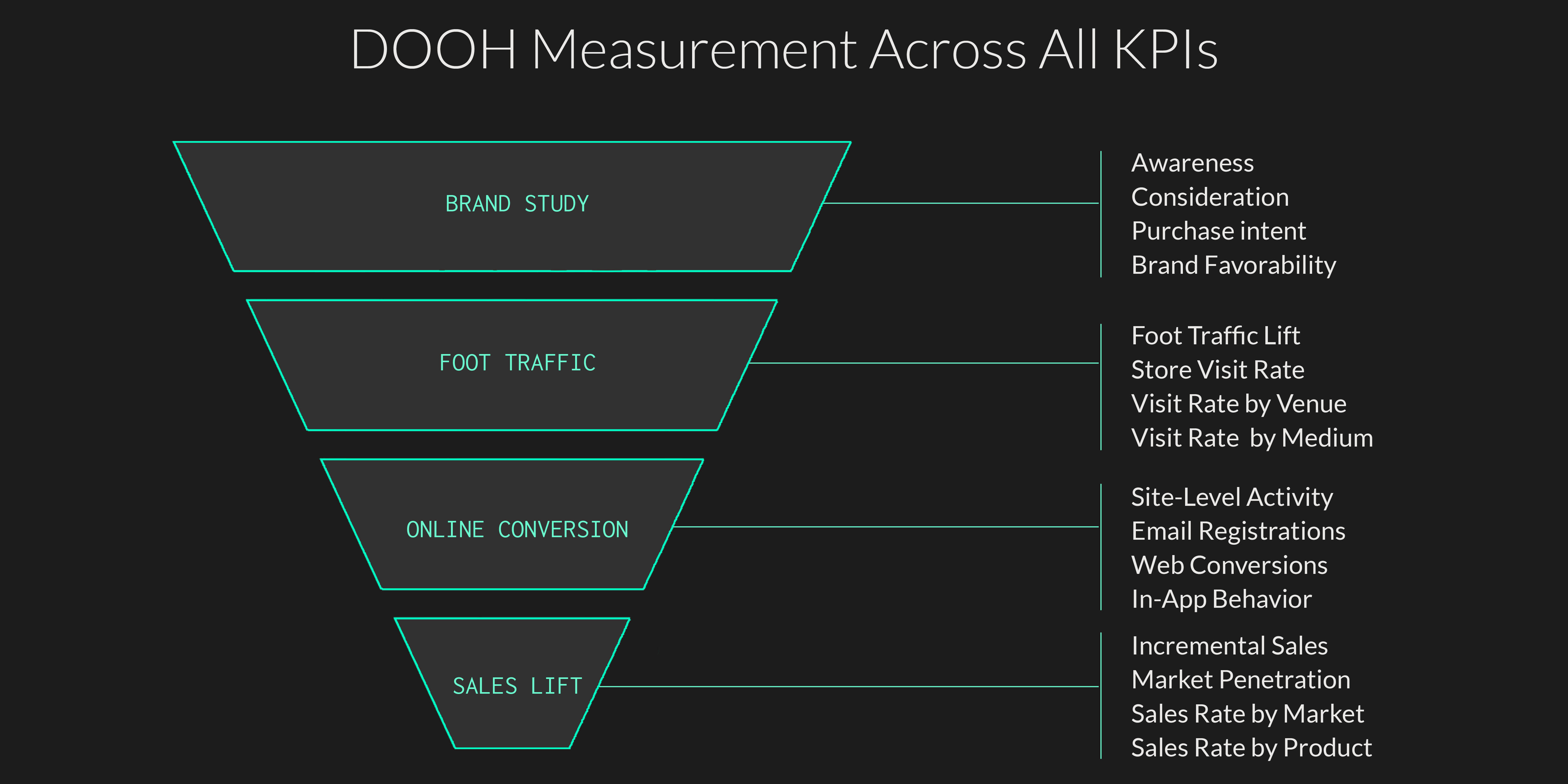 Brand Health Study
Focusing on the top of the funnel, brand studies are often used to understand campaign effectiveness on overall brand metrics - including awareness, consideration, intent (purchase, sign-up, travel, etc.), favorability and recommendation.
Brand studies are great for marketers launching campaigns around:
General branding or rebranding efforts;
New brand or product launches;
Competitive awareness and conquesting;
Loyalty programs;
Intent or action-driving measures (tune-in, visits, downloads, etc.).
Foot Traffic Study
Foot traffic studies measure lift in visits to a brand's brick-and-mortar and physical locations driven by DOOH campaign exposure. Marketers from a variety of verticals — from retail to QSR, automotive to financial services, telecommunications and more — regularly use foot traffic analyses around their OOH campaigns to measure an increase in store visits.
For the travel sector specifically, marketers can use tools like Arrivalist to get a detailed view of the foot traffic across the entire consumer travel journey — including to, within and back from a travel or tourism destination.
Here are a few campaign tactics that benefit from foot traffic measurement:
When awareness is already high, drive intent and action for your brand/product at nearby sales locations;
Steer people to your locations around big in-store sales and special promotions;
Generate foot traffic to a group of new store openings;
Pool together franchisee budgets to gain insight into consumer visitation patterns;
Encourage visits to a tourism destination or attraction.
PRO TIP: Combine this with dynamic creative DOOH capabilities to capitalize on driving consumers to the nearest store location.
Online Activity & Web Conversion Metrics
Newer to the industry and still unknown by many, brands can now measure the effectiveness of DOOH campaigns across a variety of digital KPIs, including web conversions and behaviors, app downloads and in-app actions. This solution is a game-changer for brands who are focused on lower-funnel and DR metrics, as OOH can now be tied back to digital performance metrics - thus becoming a direct part of the omnichannel media mix. Innovative marketers focused on D2C, e-commerce, fintech, retail, gaming, streaming, delivery services and more are already leaning in.
Marketers can use this type of measurement to:
Learn how many consumers are visiting your site after being exposed to DOOH;

Understand how many exposed consumers are downloading, signing up or making purchases;

See in-app metrics, such as lift in activity or orders after DOOH campaign exposure.
Sales Lift



Sales lift studies, offered specifically for the CPG and automotive verticals, measure the impact of incremental sales driven by DOOH campaign exposure against a control baseline. These closed-loop measurement solutions - linking exposure to offline sales - can provide brands with meaningful ROI metrics and actionable insights based on consumers' purchasing behavior, including:

Sales lift: the relative difference between control and exposed purchase rates;

Sales rate by market: the percentage increase in sales above the baseline in a particular DMA;

Penetration: the percentage of exposed users who purchased a product post ad exposure;

Dollars per trip (CPG): The average amount of money exposed consumers spent on the product/brand per shopping trip;

Sales rate by car type (automotive): The percentage increase in sales above the baseline for a particular car model.
Device ID Passback
Perhaps one of DOOH's most advanced offerings, Device ID Passback allows marketers to receive the anonymized device IDs of the consumers who were exposed to their DOOH campaign. From there, brands can either:

Amplify campaign impact through multiple touchpoints, by retargeting these consumers across the channels of their choice (i.e. mobile, display, CTV, social, audio, etc.); or,

Understand how OOH is driving results across other media channels, by using the exposed device IDs to conduct further in-house measurement.
What's Next for DOOH Measurement
With the advent of programmatic technology for DOOH, marketers now have access to a mass medium that has finally leveled the playing field in terms of measuring and proving its effectiveness. By implementing performance-based DOOH, marketers can confidently measure and optimize their marketing campaigns. And that's only the beginning. As digital media continues on its path toward total audience measurement, we are excited to continue to create new advancements and capabilities that will empower marketers' bottom line results.