DOOH you know digital out-of-home reaches consumers at multiple touch points during their day?
Brands and advertisers are looking to reach consumers in their natural environment. Other digital solutions like display and connected television (CTV) only reach users when they are plugged in to their device. DOOH, on the other hand, reaches people multiple times throughout a typical day.

Let's take a look at how a notable beauty brand leveraged DOOH screens to reach consumers across their day.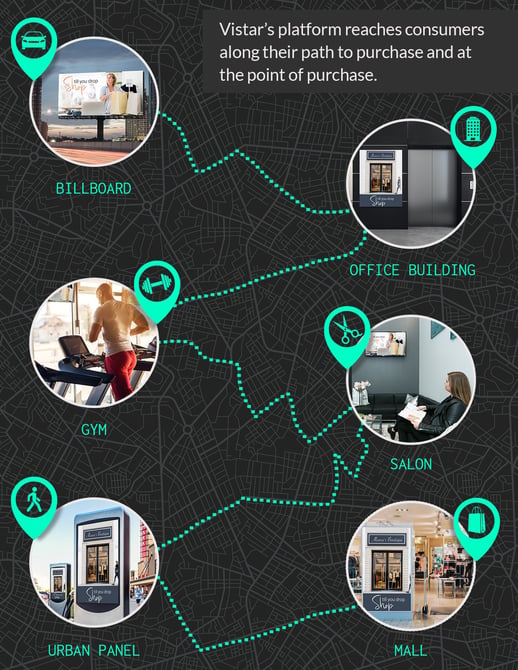 While consumers are on their commute and running errands, brands can reach them via billboards and urban panels.
Once at the office, consumers are engaged by DOOH screens as they go about their business day in building elevators and lobbies.
After work and at the gym, consumers are reminded by screens to take care of their skin while they take care of their bodies.
Following the gym, a beauty consumer might head to the salon where they again receive messaging about skin care while they are partaking in another form of self care.
Inventory scale is critical to ensure you can find enough relevant media that matches your audience's particular patterns. As the largest marketplace for programmatic OOH, Vistar's scale is unrivaled. This beauty campaign ran seamlessly across 10+ media networks representing a mix of venue types — allowing a brand to reach its target consumer at multiple different points in their day and in a variety of contextual environments.
Download Vistar's latest case study to learn how multiple touch points across shoppers' path to purchase generated lift across key KPIs, such as purchase intent and foot traffic.