As we enter the 2023/24 holiday season, consumer spending is predicted to rise by 4.5% across brick-and-mortar and online retailers. However, amid news of economic uncertainty, inflation and interest rate hikes, consumers are likely to be more intentional with their purchases — meaning that if you (like many others) are looking to bolster seasonal sales numbers, you'll have to be much more strategic and forward-thinking with your holiday marketing efforts.
Digital out-of-home (DOOH) advertising provides an effective and proven way to reach consumers in contextual environments, on the path to purchase and at the point of purchase. With complete flexibility, dynamic creative capabilities, advanced location-based audience targeting and cross-screen retargeting opportunities, DOOH offers all the tools you need to gain market share and influence purchasing behaviors during the busiest time of year.
To help kickstart the planning process, here are three ways you can leverage DOOH to reach your holiday sales goals:


1. Activate quickly to stay ahead of shopping trends
One of the biggest benefits of DOOH is the speed and flexibility with which you can launch and optimize campaigns. Amid constantly changing economic and consumer trends, the need for an agile media plan has never been more apparent. DOOH gives you the ability to shift budgets, change up messaging, add or remove specific venue types, or even pause a campaign altogether based on day-to-day conditions.
Whether you want to launch a targeted campaign for only a few days leading up to a retail holiday like Black Friday, Cyber Monday or an entire holiday season, DOOH allows you to turn around campaigns on short notice, while also selectively activating when and where it will have the strongest impact.
Pro tip: You can even rotate your creatives on the fly based on different sales events, or take advantage of dynamic creative capabilities, to easily swap out the messaging in their ads based on real-time data.
For example, if you're a local retailer looking to boost sales during the winter holiday season, you can quickly turn on a campaign that directs shoppers within a busy mall or shopping center to your nearest store location, promote time-sensitive offers as they evolve and even highlight countdowns to key holidays to drive a sense of urgency, all while having the ability to adapt, pause or cancel a campaign altogether based on internal shifts and priorities.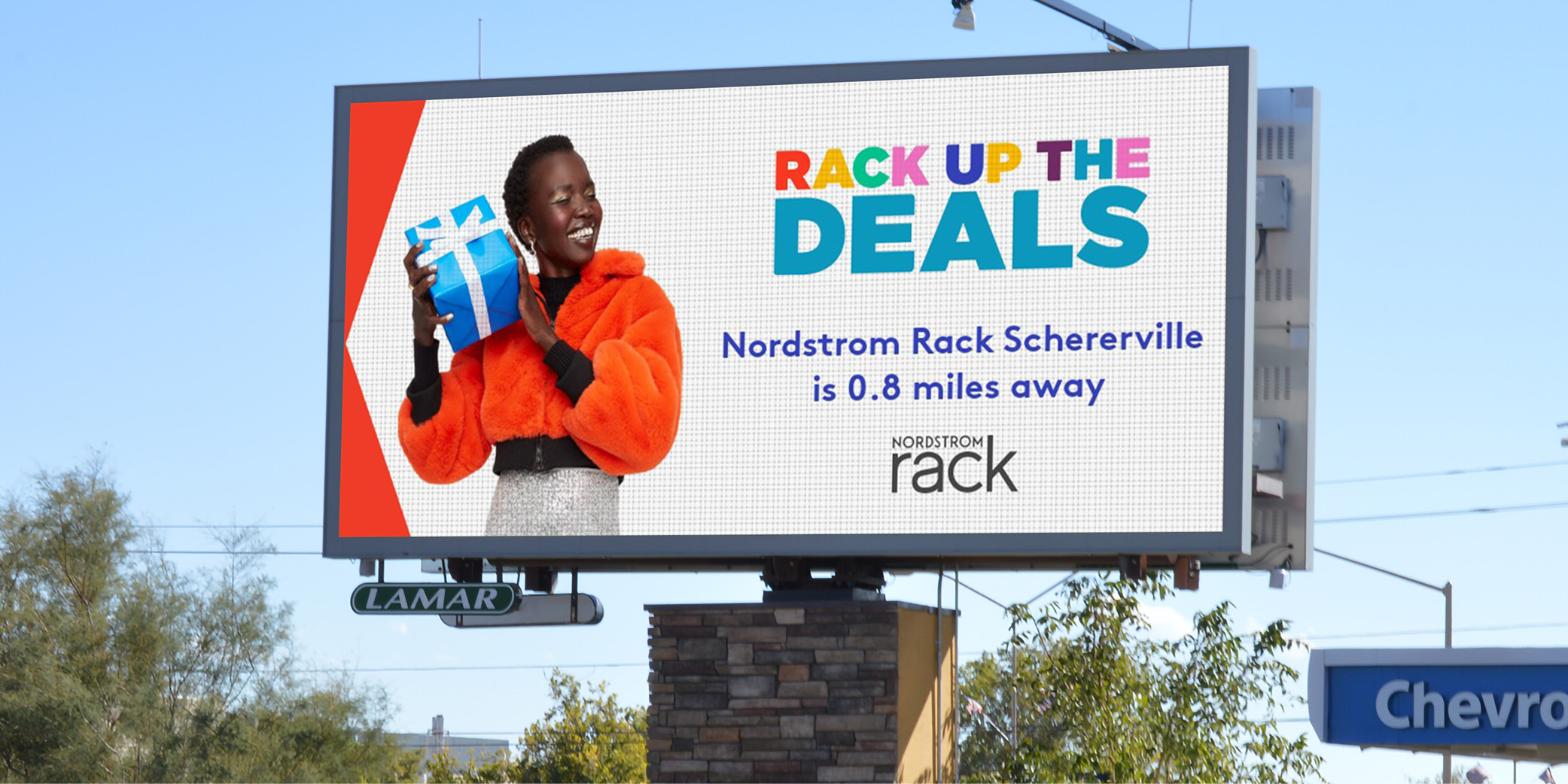 2. Use DOOH screens to reach shoppers at key moments
With well over 1 million DOOH screens available in the U.S. alone, the possibilities are endless for you to reach your target audience at multiple touchpoints on the path to purchase. Whether your audience is commuting to and from work, running errands, working out the gym, grocery shopping, making a pitstop for gas and so much more, DOOH allows you to reach consumers across their entire day where and when they're most likely to be.
Using the vast network of inventory available through a DOOH demand-side platform, you can activate different types of screens throughout a campaign flight to effectively match your audience's movement patterns in the physical world, stay top-of-mind and influence holiday buying decisions in real time.
For instance, if your brand is launching a Black Friday campaign to drive traffic to your retail stores, you can leverage proximity or point of interest (POI) targeting to activate DOOH screens within a set radius of certain POIs such as your own brick-and-mortar locations, near competitive stores or specific places your audience tends to visit. You can also maximize the impact of your campaign by increasing your budget for a limited time (e.g. in the days leading up to Black Friday) to take over your target markets, surround POIs with your message and increase consumers' favorability to your brand over your competitors during these crucial moments.


3. Extend your holiday marketing across online and offline channels
Cross-screen marketing has been proven to be one of the most effective ways to reach consumers. Research has shown that retargeting can increase conversion rates by up to 70% — making it crucial to build a consistent brand message and engage consumers at multiple touchpoints both online and offline to rise above the noise of a crowded holiday shopping market.
The addition of anonymized data-capturing technology in DOOH allows you to identify the device IDs exposed to an ad — based on when and where the ad was shown and the device proximity at that time. This data is then processed and anonymized with the highest standards of privacy compliance, making the device IDs safely available for you to activate retargeting across mobile, display, CTV, social, streaming audio and more.
By retargeting audiences that have already seen your ads, you can engage consumers on high-impact real-world screens, and safely retarget those exposed with sequential touchpoints. This allows you to build compelling stories that span the entire customer journey and launch DOOH campaigns that align with, and amplify your other holiday advertising initiatives.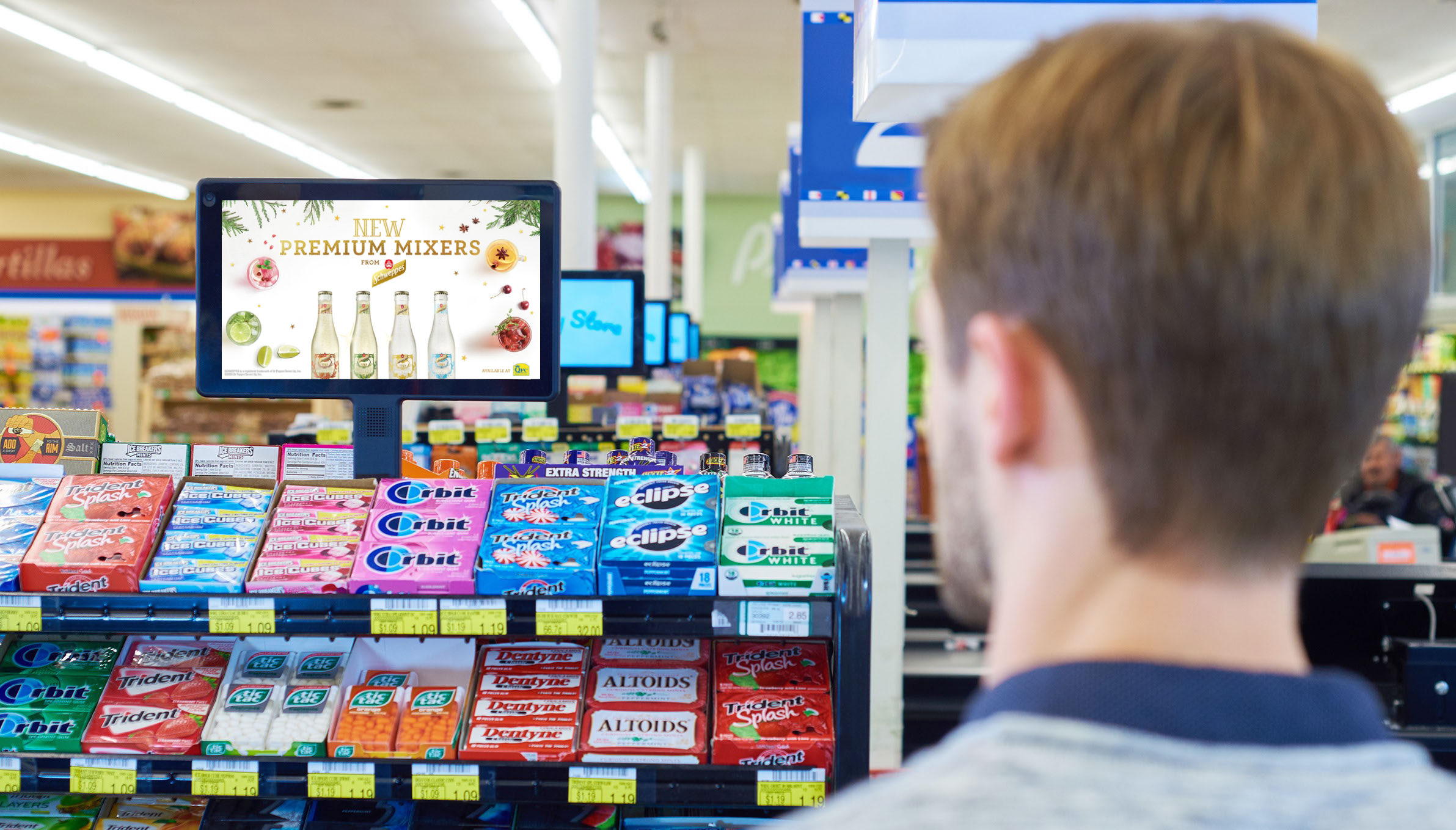 Make 2023 an unforgettable holiday season
In what is shaping up to be a busy holiday shopping season, DOOH presents an exciting opportunity to stand out in an ever-changing shopping landscape and influence purchasing decisions in real time.
With complete flexibility, dynamic creative capabilities, advanced location-based audience targeting and cross-screen retargeting opportunities, DOOH allows you to reach your desired consumers in a variety of moments — both along the path to purchase as well as at the point of purchase.
With the power of DOOH at your fingertips, your brand will be able to operate fluidly with changing trends and consumer preferences, while also being highly targeted with your campaigns to maximize exposure, and in turn, results.
If you'd like to learn more about how DOOH can bring your brand some holiday cheer this year, contact us today!