Health Media Network (HMN) has screens at point of care locations such as doctors and veterinary offices. We caught up with Keith Gomes, Head of Programmatic Sales, to learn more about the network and unique offering to buyers.
Could you describe your business, and what your network offers brands?
At HMN, our mission is to provide trusted healthcare communication platforms at the Point of Care to advance consumer health literacy, facilitate better conversations between doctors and patients, and to improve healthcare outcomes.

We have over 6,000 medical, vet, and lab waiting room screens located nationally, across the top 200 DMAs.
The value we offer brands is in line with what every brand seeks – a diverse, engaged, audience who can be efficiently reached in an uncluttered environment.
What sets HMN apart from other digital channels?
Audience quality, action bias, and the ad exposure location are among the top considerations when selecting a pDOOH partner. We offer our advertising partners evidence-supported, high marks across all these considerations. Our audience makeup is second to none, their propensity to take meaningful brand actions is supported by our brand case studies, and they spend an uninterrupted, 30-minute average dwell time in front of our screens.
COVID-19 has undeniably impacted many businesses. How has HMN adapted during these times?
We empathize with those business most negatively impacted by the pandemic and wish them a speedy recovery. Fortunately, our screens reside within the environments who were forced to adapt and change the earliest during the pandemic. We have executed several research studies that clearly show our locations are among the safest and most traveled environments since the initial surge.
How has HMN foot traffic and customer set changed since the onset of the pandemic?
At the pandemic's peak, our network locations realized an approximate 15% dip in impressions; however, since the early days of the pandemic, our foot traffic has made a full recovery. With multiple therapies and vaccines now arrived, and a continuing backlog of healthcare visits, we anticipate our traffic will spike significantly in 2021. As evidence of our bullishness we cite the following source.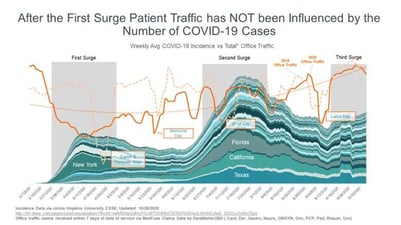 After the initial Covid-19 surge, unlike many OOH locations, we saw an opposite, positive effect on in-office foot traffic. We attribute this to the following factors:

• Significant backlog of visits
• Strict safety protocols put in place throughout our locations
• Plummeting infection fatality rates (~0.65% as of July 2020)
In today's "new normal" for advertisers, what do you wish more digital buyers knew more about buying OOH programmatically?
Not all audiences are the same, nor do they hold the same value to marketers. We actively encourage programmatic ad buyers to include place-based DOOH media venues as a key tactic in their marketing plans. Research shows these venues are safe marketing environments, embedded within one's life routine, and touch action-oriented individuals.
How do you see digital out-of-home evolving over the next year?
Write this down ..
Prediction #1: We all move closer to acceptable industry standards around the three key A's of pDOOH: Addressable, Accountable, Attributable.
Prediction #2: Once the pandemic hits the rear-view mirror, we will see incredible foot traffic surges that drive a meaningful shift in ad dollars toward pDOOH.
What has been Vistar's most valuable contribution to your business?
Vistar provides easy to navigate access to a diverse marketplace, and the guidance they lend is smart and enthusiastic.
What Vistar software capabilities do you find most useful?
Dashboards, creative approvals process, and deal-making.
Why did you choose Vistar as a partner?
They are by far and away the clear market leader as demonstrated by their software and people.