If you live in the US, there is a good chance that you have come across one of Vengo's screens on their interactive digital kiosks at either a gym, college, hotel, office, or retail store. They provide brands with a unique opportunity to engage with their customers on-the-go with DOOH media in a very up close and personal way.
To learn more about their latest innovations, we caught up with Marci Weisler, Vengo's Chief Commercial Officer.
Tell us more about Vengo's inventory and what you offer to brands?
"Through Vengo's network of over 1,500 interactive screens on digital kiosks, atop vending machines, and through partner screens on walls in various locations, brands are enabled to contextually connect their message to their target audience in the places they go - gyms, colleges, hotels, office/coworking spaces and now grocery and multifamily residential buildings too. Not only can they run digital media, but they can also run interactive campaigns that capture data through interactive surveys and opt-in email collection, often in exchange for receiving an offer.
Since the onset of COVID-19, how has Vengo adapted its business?
"We've done a few things to enhance our offering. For a long time, we have been thinking about how mobile interacts with Vengo. With the onset of the pandemic, we knew that some people would not want to engage with a touchscreen interface, so our team rapidly developed a touchless extension using a QR code. This also made us realize the value of QR codes to our advertisers and are now encouraging integration of QR codes in their creatives to drive engagement since many of our screens are so up close and personal.
Additionally, with concerns over traffic in venues like gyms and colleges, we use our motion sensors to track activity around the screen to ensure we are delivering value to our clients. Now, in November 2021, we see traffic in all our venue types at 90% or above pre-COVID-19 levels, confirming that people are back at places like gyms and hotels."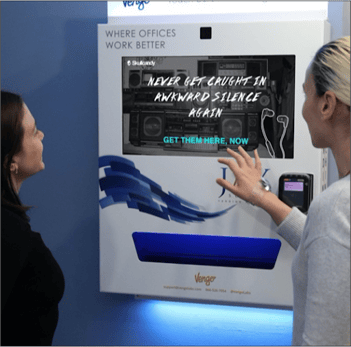 Traditionally, Vengo machines were found in gyms, colleges, hotels and offices. How are you expanding your network now?
"We are excited to be expanding in grocery stores including Shaw's, Albertsons and Superior. through our partnership with National Entertainment Network (NEN), an entertainment kiosk operator located in over 15,000 locations across the US. This is a natural extension of our turnkey digital media platform, which includes Vistar, and impacts consumer purchase behavior. We will be adding screens atop of NEN machines to catch shoppers' attention on their way into the store.
Additionally, we are also expanding partnerships on standalone screens through other partners. In fact, we just launched an exciting partnership with TransitScreen, which provides commuter information on large format screens in multifamily residential buildings and will be extending to their network and with other screen owners over the coming months.
Where do you see the digital out-of-home industry moving in the next 12 months?
"We couldn't be more excited to be part of this growth industry. Vengo started working with Vistar early on and will continue to be a strong partner. The growth trajectory as more OOH spend becomes digital and as more campaigns are omnichannel, there's just so much opportunity ahead. According to OAAA, it's growing at 38% and we're expanding our screen network so we can make sure that advertisers can get their messages to the consumer wherever s/he is. We truly believe meeting consumers on the go is a win-win-win: for consumers, brands and media owners alike."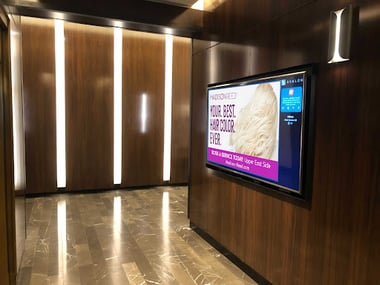 What is the one thing that you wish more digital buyers knew about out-of-home?
"DOOH is very data-driven. It's targetable and trackable, which is key to digital buyers. We can often run digital media without reformatting cross platforms as long as we ensure that the messaging makes sense in the specific location environment. For example, on a DOOH display you don't want a CTA to click on a link, but you can often have a CTA that is a code scan, hashtag promotion or other. DOOH catches people's attention on the go in contextually, relevant ways."
What has been Vistar's most valuable contribution to your business?
"We have been a proud Vistar partner from early on and value the relationship. Vistar has brought us advertisers that we would have not been able to reach on our own - either because we're running a lean team, or because these buyers are solely focused on programmatic. Thanks to Vistar, we are able to capture incremental spend and scale more quickly than we'd be able to do on our own."
What Vistar software capabilities do you find most useful?
"The platform is solid! We've used a lot of platforms and Vistar's ease of use for content flow, approvals, reporting and creating PMPs is intuitive and it works."
Why did you choose Vistar as a partner?
"Vistar has been at the forefront of the DOOH migration to programmatic. Vengo is at the forefront of connecting physical and digital, brands and consumers. We believe we are well aligned and both focused on growing not only our businesses but the industry as a whole."