Whether commuting to work, taking a walk through the city or in line at the grocery store, today's consumers spend a significant amount of their day outside the office and away from home.

Fortunately, digital out-of-home (DOOH) offers a way to reach consumers in the real-world moments when they can act on a well-placed ad, and adding programmatic capabilities takes DOOH to a whole new level.

Here are the top five benefits of adding programmatic DOOH to your media mix.
What is Programmatic DOOH?
Programmatic DOOH advertising is the automated process of buying and selling digital out-of-home ad placements. It allows you to target locations where your audience moves throughout their day. It allows you to build a cohesive and engaging journey for your audience. Programmatic DOOH takes all the best parts of traditional DOOH advertising — wide reach, advanced targeting capabilities, measurement, etc., but adds the ability to reach consumers in the real world at multiple touchpoints throughout their day at moments when they can act on a well-placed ad.
Programmatic DOOH Capabilities Include
Marketers are increasingly turning to programmatic DOOH for their outdoor marketing strategy. According to a study by Statista, spending in the medium has increased by almost 488% from 2019 to 2022 in the United States. Globally, DOOH ad spend is expected to reach $10.3 billion in 2023.
With features mirroring forms of online media,, it's no surprise that the programmatic DOOH industry has seen such massive growth. Here are a few reasons that programmatic DOOH needs to be in your marketing plan.
The Top 5 Benefits of Programmatic DOOH
1. Programmatic DOOH Weaves Your Brand Story into the Consumer Journey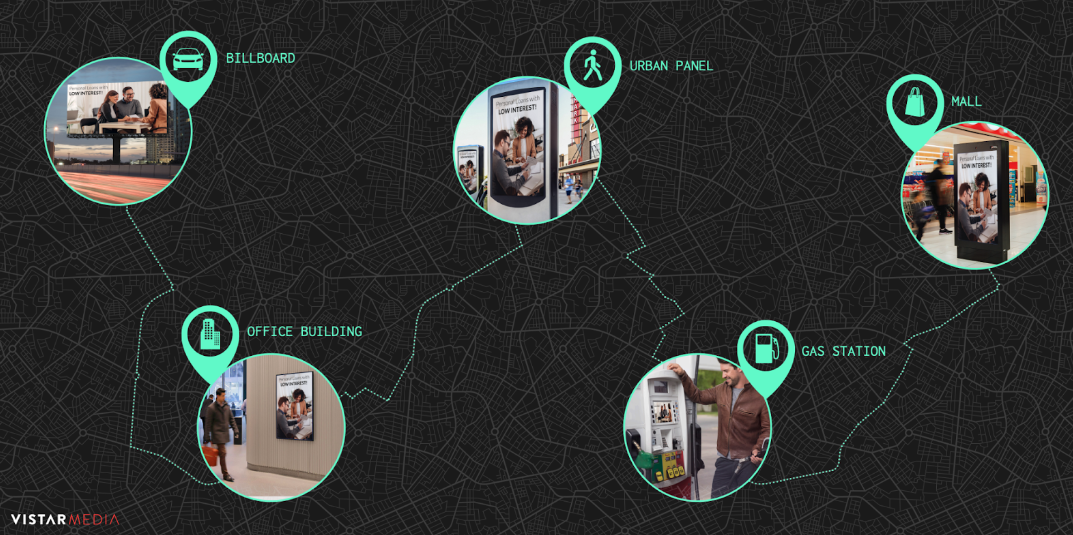 DOOH media allows you to amplify your message and build brand awareness by strategically placing advertisements at key moments throughout a consumer's day. By activating screens in high-traffic environments like public transportation hubs, roadside billboards, malls, grocery stores and gyms, consumers gain repeated exposure to a brand. In addition, buying programmatically gives you unparalleled access to place-based screens in contextually-relevant environments like office buildings, convenience stores, pharmacies, etc. where people are more likely to be in the market for your products. You can even combine programmatic DOOH with mobile retargeting to add another layer of exposure and bring your brand message full circle.
2. It Uses Your Data, Smartly & Safely
Data is always a hot topic. Marketing as an industry is only at the tip of the iceberg when it comes to exploring data's full potential for audience building, targeting and data-informed creatives. Programmatic DOOH technology allows you to leverage geospatial analysis to better understand how our audience moves throughout the day and reach them at multiple touchpoints. In addition, you can build highly-targeted audience segments using your own first-party data (like loyalty card holders) or third-party data (like fast food mobile app users) and strategically activate screens where those audiences are most likely to be.
3. Programmatic DOOH Allows You to Activate Media When & Where You Need It
Are you crunched for time to get an outdoor campaign launched? Programmatic DOOH allows you to upload, schedule and launch campaigns in minutes — allowing you to activate media when and where it's needed. So whether you're looking to launch a campaign that came up on short notice, secure extra budget for a last-minute push or react to breaking news, programmatic DOOH can deliver.
4. Pack a Punch with High-Impact Creative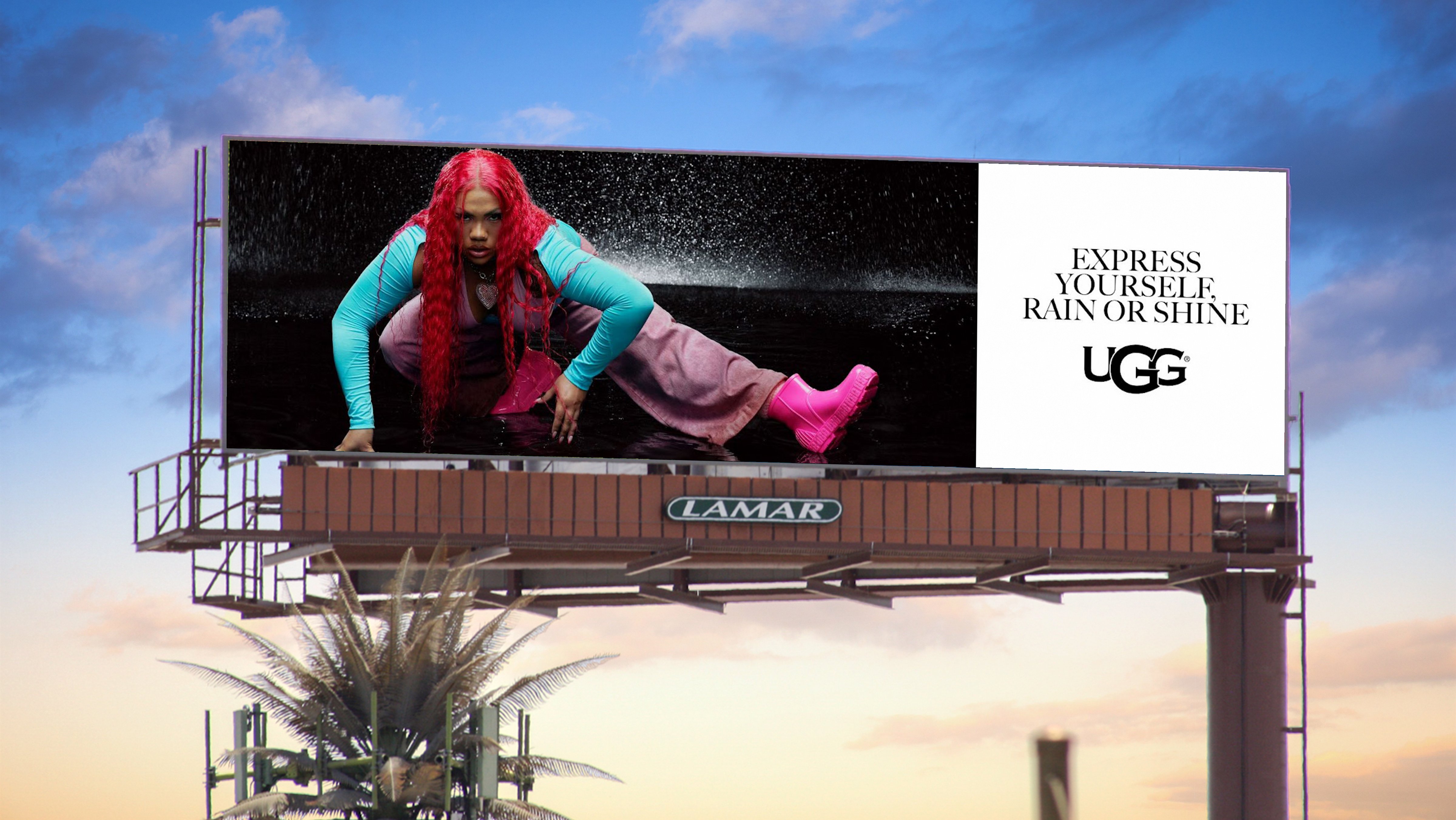 If you want to make a splash, DOOH offers unmatchable, high-impact formats that garner attention from passing consumers. You can get your brand onto large format screens that are hard to ignore. UGG's recent campaign to promote its new collection of rain-or-shine-ready styles used big, bright colors to catch the attention of on-the-go consumers on highways, in malls, parking lots and more.
Some of our favorite DOOH campaigns take advantage of the ability to use video, data-informed assets like countdowns and social feeds, and keep their creatives clean, simple and memorable.
5. Measure Campaign Results with Clear ROI tied to Programmatic DOOH Advertisements
Historically, measuring the success and true ROI of a DOOH advertising campaign has been somewhat of a gray area. However, with more digital screens being built over traditional billboards, that is no longer the case. We can now measure the impact of OOH campaigns through precise measurement studies based on location data and advanced studies including brand lift, foot traffic, online conversions and sales lift. While OOH has long been seen as an awareness driver; today, the world's leading brands are using it to drive a variety of marketing results.
In Conclusion
No matter what goals you want to achieve with your marketing campaigns, programmatic DOOH is an incredibly effective tool. It allows you to reach consumers at key moments throughout their day with high-impact creative that drives awareness and engagement. Layering programmatic capabilities onto DOOH also opens up the ability to target audiences in a privacy-safe way, activate contextually-relevant screens and measure the real impact of your campaigns.

These five benefits are not the only reasons to leverage programmatic DOOH. The channel, and the OOH industry, are constantly creating new and better ways for you to hit your marketing goals.

Ready to get started? Contact us to speak with one of our programmatic experts for a demo today!