Since Vistar's inception in 2012, we've provided media owners a variety of solutions, designed with their unique set of needs in mind. From the Vistar SSP to our content management system, Cortex, we have created ways for media owners to make the most of their DOOH assets.
Here are the three primary ways you can partner with Vistar to monetize unsold inventory, centralize and optimize sales and operations for direct business, as well as manage your network infrastructure.
Revenue Operations: the Vistar SSP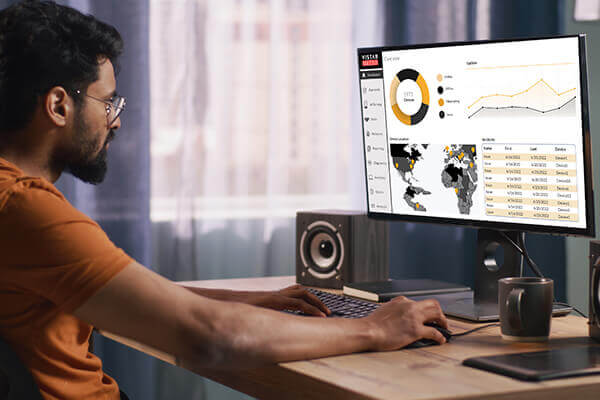 Vistar Media's SSP provides media owners with access to the largest source of digital demand from the world's top programmatic buyers. Vistar's programmatic dashboard gives media owners full transparency and control over monetizing your inventory. Whether you're selling on the open exchange or private marketplace, you determine the method of transacting, how much to charge, and what inventory to make available. Vistar connects you to buyers, helping you increase the scale of brands you work and tap into new digital sources of revenue.
Ad Operations: the Vistar Ad Server
Vistar is reimagining the loop with unified ad serving. This first-to-market solution marries traditional ad scheduling (also known as loop-based) and programmatic advertising in one, central platform.
Loop-based ad serving offers media owners control over when specific creatives will appear on their screens, while eliminating the complicated, manual scheduling work. These campaigns can be sold based on the share of the loop that they will occupy.
Whereas programmatic ad serving allows media owners to run data-supported, impression-based campaigns. These campaigns are sold based on impressions, share of voice, or hourly frequency and may be run-of-network or more targeted. In either case, you can leverage Vistar's powerful targeting options including geography, time of day, day of week, weather triggers, and audience.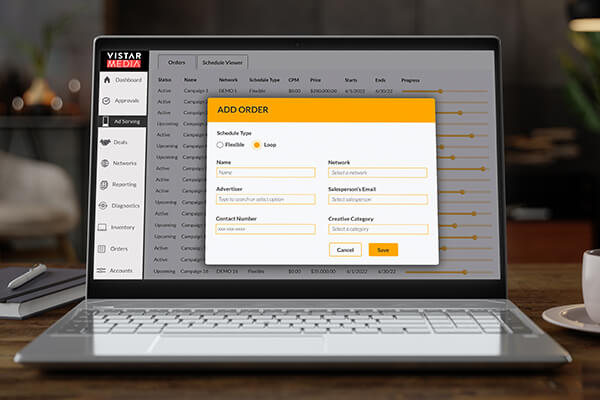 Vistar's Ad Server intelligently delivers impression-based buys around fixed-schedule buys to ensure all campaigns deliver to plan, while still meeting any campaign business rules and/or targeting requirements. Vistar is helping you monetize your screens while continuing to sell to both traditional buyers and programmatic buyers.
Network Operations: Cortex
Seamlessly control all devices and content while mastering the on-screen experience with Cortex, Vistar's content management system (CMS). Digital signage networks are able to manage devices, develop their customer experience, and have access to network diagnostics. Whether you're managing a large fleet or operating a few high-impact screens, Cortex helps you take care of key operational logistics. Our web-based diagnostics mean you can register, configure, monitor and upgrade players remotely, allowing you to seamlessly roll out changes across your network.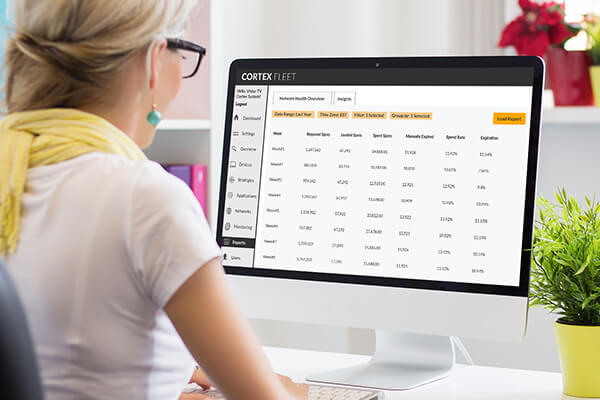 Media owners that adopt Cortex are automatically integrated with the Vistar SSP, opening an immediate revenue stream so you start making money right away. You also can completely control the on-screen experience - build custom apps for anything ranging from transit updates to weather notifications, all based on web-standard technology (HTML, JavaScript, CSS).
Ready to learn more about how we can work with your business?
Whether you're looking to quickly monetize your network, or fully upgrade your business operations into a programmatic powerhouse, Vistar can help!