Out-of-home (OOH) is an advertising channel that has existed for centuries. Long before digital took the reigns, marketers brought their messages to the streets. Whether ads were painted on the side of a building or plastered over a blank wall, these original OOH ads have stood the test of time and continue to capture audiences in big and exciting ways. As one of the most impactful mediums then and now, OOH readily reaches a wide audience at once with big, bold and beautiful messaging. Over the past decade, digital out-of-home (DOOH) has combined the proven success of OOH with the revolutionary capabilities of a digital channel, making it one of the fastest growing and most impactful mediums in advertising today.
In this article, we're going to discuss:
1. What is Out-of-Home (OOH) Advertising?
3. Understanding DOOH Venue Types
4. How DOOH has Evolved - and Is Breaking Down Old Barriers
5. How to Take Advantage of DOOH Advertising
6. How to use DOOH to Enhance Your Messaging
What is Out-of-Home (OOH) Advertising?
Out-of-home advertising, or OOH, is defined as any advertising media found outside of the home. The first example that often comes to mind is the larger-than-life billboards found in Times Square; however, there really is so much more. As you go about your daily activities, you are exposed to dozens of screens, big and small.

What Does DOOH Mean?
Traditionally, OOH advertising involved visual static signage such as posters or printed vinyl billboards. However, as the world has become more digitized, so has the OOH industry. Digital signage gradually began elevating the medium alongside static print ads, creating the digital out-of-home, more commonly known as DOOH, channel. The shift to digital signage, along with the advent of programmatic technology, has opened the door to advanced targeting and measurement tools that were never possible in outdoor media before.
Why is DOOH a Powerful Advertising Medium?
In an era of information overload, it's essential for marketers to get their message out in an exciting, eye-catching way and to reach people who will actually benefit from seeing their content. Digital screens in the physical world deliver flashy creatives that are relevant and engaging across multiple locations that span the consumer journey — something that other channels simply can't offer.

To put this into context, 98% of consumers have visited at least one DOOH venue in the past 30 days. In fact, most people come across multiple DOOH screens in a day! The medium is so intertwined in our daily lives that it's almost impossible not to see it, yet it integrates into our lives without being overly intrusive — creating an impactful way for advertisers to get in front of consumers without being disruptive. What's more, 84% of consumers recall seeing DOOH ads. When compared to a recent study by Kantar and Snapchat on social media advertising recall, Gen-Z stated a 55% recall rate and older generations like millennials (46%) and boomers (26%) have an even lower rate of recall when it comes to social media advertising. Thus, if you're trying to make an effective impact, without some of the troubles of other digital channels like fraud, brand safety, and privacy, DOOH might just be the answer.
Understanding DOOH Venue Types
Large Format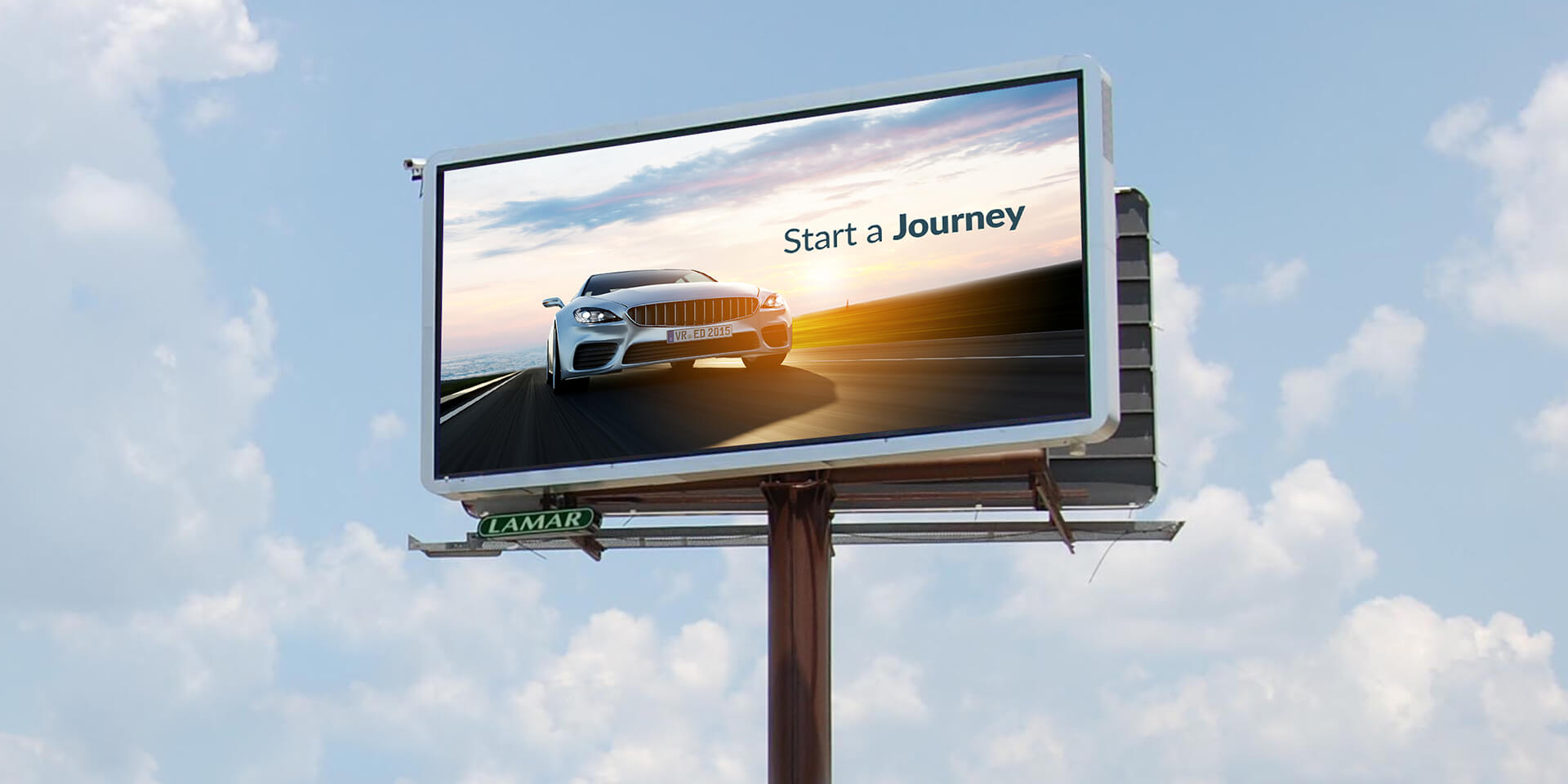 Large format DOOH varies from the billboards you see along a highway to bus shelters on a city sidewalk, and are often best viewed by pedestrians and street-level traffic.
Think about your commute to work - whether you drive, take public transportation, or walk to the office, you most likely will pass some form of DOOH. Marketers are in the perfect position to reach consumers as they move through their daily routine, from the moment they leave their home in the morning to the moment they make their way back in the evening.

For instance, let's look at a consumer's morning commute in an urban city. On the subway platform, there is likely a beautiful kiosk displaying transit information and the local weather, interspersed with advertising for a vacation destination. As you walk down the street, they may pass by a billboard or urban panel promoting that same destination. This audience has now had multiple contextual touchpoints where they could have been exposed to advertising for this vacation destination through large format screens.
Place-Based Marketing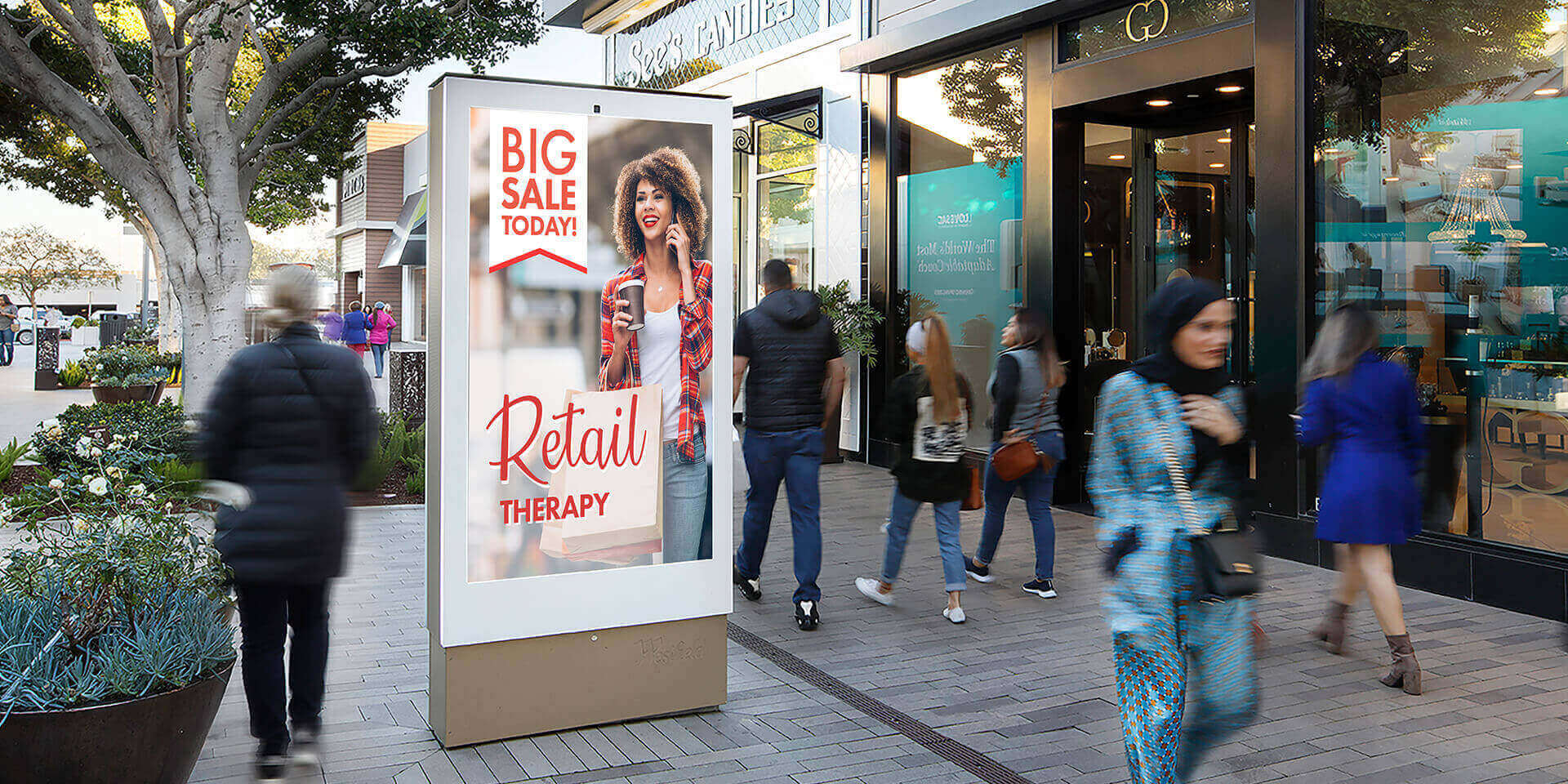 Place-based media centers around contextually relevant environments and includes locations like office buildings, malls, gas stations, gyms, restaurants, bars, universities and more. When executing a campaign that aims to reach a specific target audience and/or leverage measurable dwell time, advertisers can benefit from the attention and relevance that place-based screens command.
For example, if a protein bar brand wants to reach consumers who demonstrate healthy lifestyle behaviors, they could target an audience of gym goers – both at gyms and in other locations where gym-goer personas also visit, such as within certain neighborhoods, grocery stores, doctor's offices or coffee shops.
Point-of-Purchase
Point-of-purchase screens often fall within the place-based media category. However, point-of-purchase digital signage specifically exists inside of stores where a brand's products are being sold — in locations such as big box retailers, casual dining and quick service restaurants, convenience stores, grocery stores, liquor stores and pharmacies.
When it comes to leveraging point-of-purchase screens, the potential ROI is even greater for reaching on-the-go consumers and influencing last minute purchasing decisions. Products like beer and cold medicine are typically purchased with little planning, so it's important for these brands to remain top of mind among shoppers when they are actually about to make a purchase. What better place to advertise than where those last minute decisions are made?
How DOOH has Evolved - and Is Breaking Down Old Barriers
While OOH has been around for centuries, DOOH has only started to take off in the past 15 years. Despite its impressive advancements, there are still a lot of misconceptions about what is possible within the - previously traditional - medium. Past blockers, such as precise audience targeting and accurate measurement tools, have been revolutionized as technology has advanced.
DOOH Buying Can Now Be Centralized and Automated
Programmatic DOOH platforms remove the hurdles marketers face in planning and contracting OOH buys with multiple vendors individually — allowing brands to buy screens of all shapes and sizes in one streamlined plan. Through these platforms, advertisers can tackle everything from strategy and activation to reporting and optimization in a single location, all while letting automation and data-driven decisioning reach the right people in the right places at the right dates and times.
Bringing DOOH Up to Par with Other Digital Channels
A common misconception about OOH is that it takes too long to launch a campaign compared to digital channels. Yet one of the key perks of programmatic DOOH is the ability to launch ads at a moment's notice. Today's technology allows you to upload assets electronically and schedule campaigns in near real-time, the same as other digital-forward channels.

Another barrier that DOOH dealt with in the past is its measurement solutions. Other digital advertising channels, such as display and social, gave marketers the ability to measure campaigns immediately after launch, collecting data down to the last click. Meanwhile, OOH advertising was considered "old" and "traditional," a medium that - while effective - didn't keep up with the industry's evolving measurement capabilities. With DOOH, that is no longer the case. In fact, while online campaigns are mostly driven by direct site engagement and conversions, the impact of DOOH exposure can be measured in multiple ways including brand lift, foot traffic, web conversion, sales lift and more. The advancements combine the best of traditional outdoor media with today's robust digital capabilities, allowing brands to make a massive impact and also understand the impact of their campaigns across the entire marketing funnel.
How to Take Advantage of DOOH Advertising
DOOH now has the same features as other forms of digital media when it comes to targeting, automation and measurement. Further, it has the added benefit of being able to reach consumers, at scale, in real-world moments. Let's break down some of the capabilities that are born when running DOOH on a dedicated demand-side platform (DSP).
Programmatic Advertising
Programmatic DOOH lets you - as a marketer - set parameters around who you are trying to reach. It allows you to upload your creative assets, set the budget, audience targeting, and other campaign requirements. Then, the DSP uses this data to find your audience and activate your creative at the right moments, rendering better results at every stage of the consumer journey.
There are a number of benefits for using programmatic DOOH:
A programmatic platform provides you with a single access point for all DOOH inventory.

All media planning and buying can be done through a single platform — bought via managed service, self service, or through an omnichannel DSP — which allows even the smallest teams to handle large, complex campaigns.

Data informs buying decisions for every single ad placement at the impression or spot level.

Instead of measuring each publisher on an individualized basis, you can evaluate the effect of your campaigns more holistically.
Targeting Capabilities



In the past, marketers bought OOH media based solely on geographic factors, such as within certain zip codes or around specific store locations. However, with today's data-driven technology, brands are able to use patterns in consumer movement to make informed decisions about their DOOH placements. By understanding behavioral trends, marketers can activate DOOH media to engage their target audiences in the right place and at the right time. In addition to audience targeting, popular targeting tactics for programmatic OOH include geo-targeting, proximity targeting, day-parting and mobile extensions.

For a more in-depth look at all of DOOH's targeting capabilities, check out our guide: Audience and Targeting Strategies for DOOH.
Using First-Party Data



Historically, digital marketers have successfully utilized first-party data to reach the same audience across mobile, video, display and social — but it has long been a challenge to extend these connections to OOH media. Advancements in both data and OOH technology now enable brands to use their first-party data to create and target audiences in the real world.

In a time when everyone's behaviors have changed and brands are concerned with maintaining loyalty, in addition to the approaching industry-wide privacy changes, many advertisers are making use of their existing customer data to keep their customers engaged. And many are putting that data to work in the real-world with programmatic OOH.
Weather-Based Marketing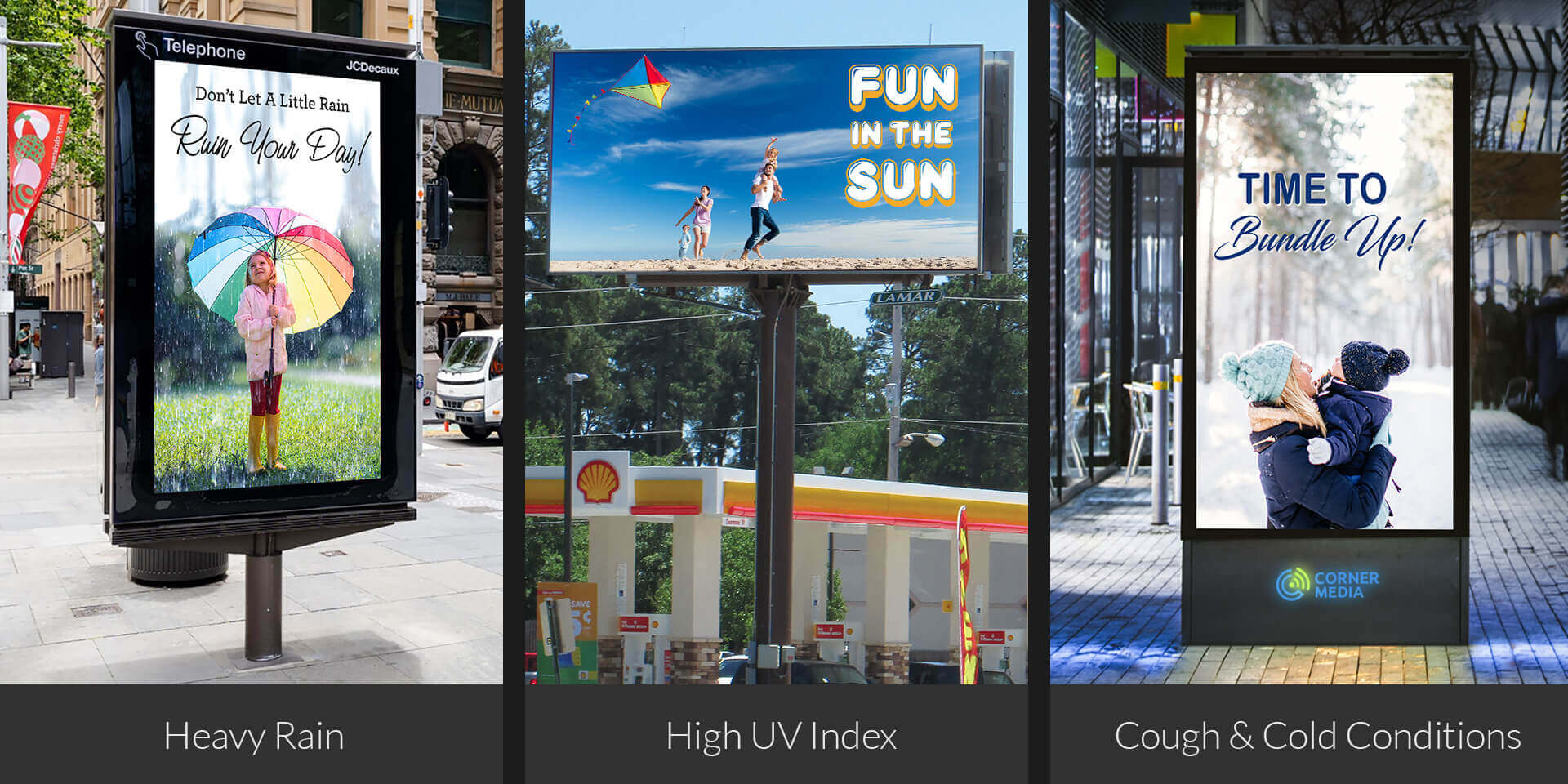 Weather-based marketing is a widely popular advertising tactic, utilized across several different media channels, most often by travel, healthcare, CPG and retail brands. This capability allows marketers to seamlessly, using data and automation, deliver creative messaging that corresponds to local weather conditions. For instance, a convenience store retailer can set their campaign up to serve ads for sunscreen in areas where temperatures are warm and automatically deploy ads for cold and flu medication when the weather drops below a certain temperature. There are a variety of different approaches that marketers can leverage when thinking about weather triggers for a DOOH campaign. Some common weather triggers include temperature, storms, high pollen count, migraine conditions, UV index, and cough and cold conditions.
Measurement



Thanks to innovations in technology and data in recent years, DOOH advertising is evolving into one of the most advanced and measurable forms of media. The medium is now measurable across both upper and lower funnel KPIs. This includes:

Brand Lift: measures upper funnel brand metrics, like awareness, consideration, intent and favorability

Foot Traffic Lift: measures lift in visits to a brand's brick-and-mortar locations

Online Conversion & Attribution: measures the effectiveness of DOOH across online KPIs, from web conversions and behaviors, to app downloads and in-app actions

Sales Lift: measures incremental lift in actual product sales

One strong example of utilizing the results of their DOOH campaign is Nestlé Perrier. The food conglomerate set out to encourage existing Perrier purchasers to add Perrier Fusions, its new product sold in Walmart stores, to their cart. By taking advantage of Vistar's advanced OOH technology, Nestlé not only saw an increase in purchase intent by 13%, but also gained further intel about consumers' product familiarity and preference. The campaign leveraged advanced ROI measurement to deliver proven results, which continues to inform the brand's future OOH strategy.

To see how other brands are leveraging measurement for DOOH, check out some of our client case studies with Twitch, Insperity, Jägermeister and Fox.
How to use DOOH to Enhance Your Messaging
Dynamic Creatives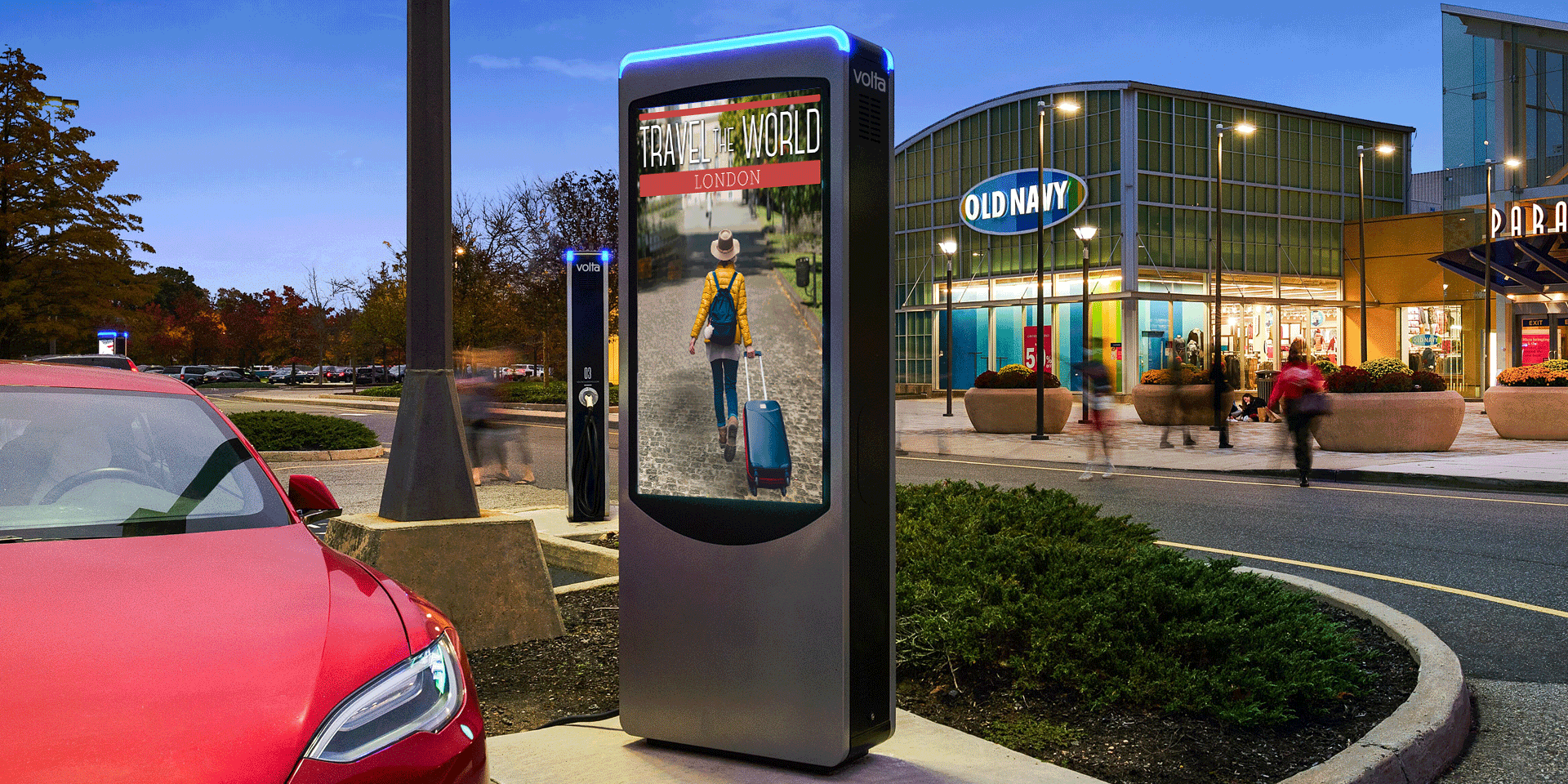 As mentioned in the beginning of this piece, one major selling point for DOOH is the ability to think beyond just one piece of static creative. Along with using data-driven targeting, marketers can now also leverage dynamic creative capabilities to unlock personalization at scale. This new solution allows brands to easily swap out (without manual work required) the creative content of an advertisement based on real-time data — from promoting live sports scores during a big game, to sharing directions to the nearest store and localized imagery or promotions.

Mobile Extensions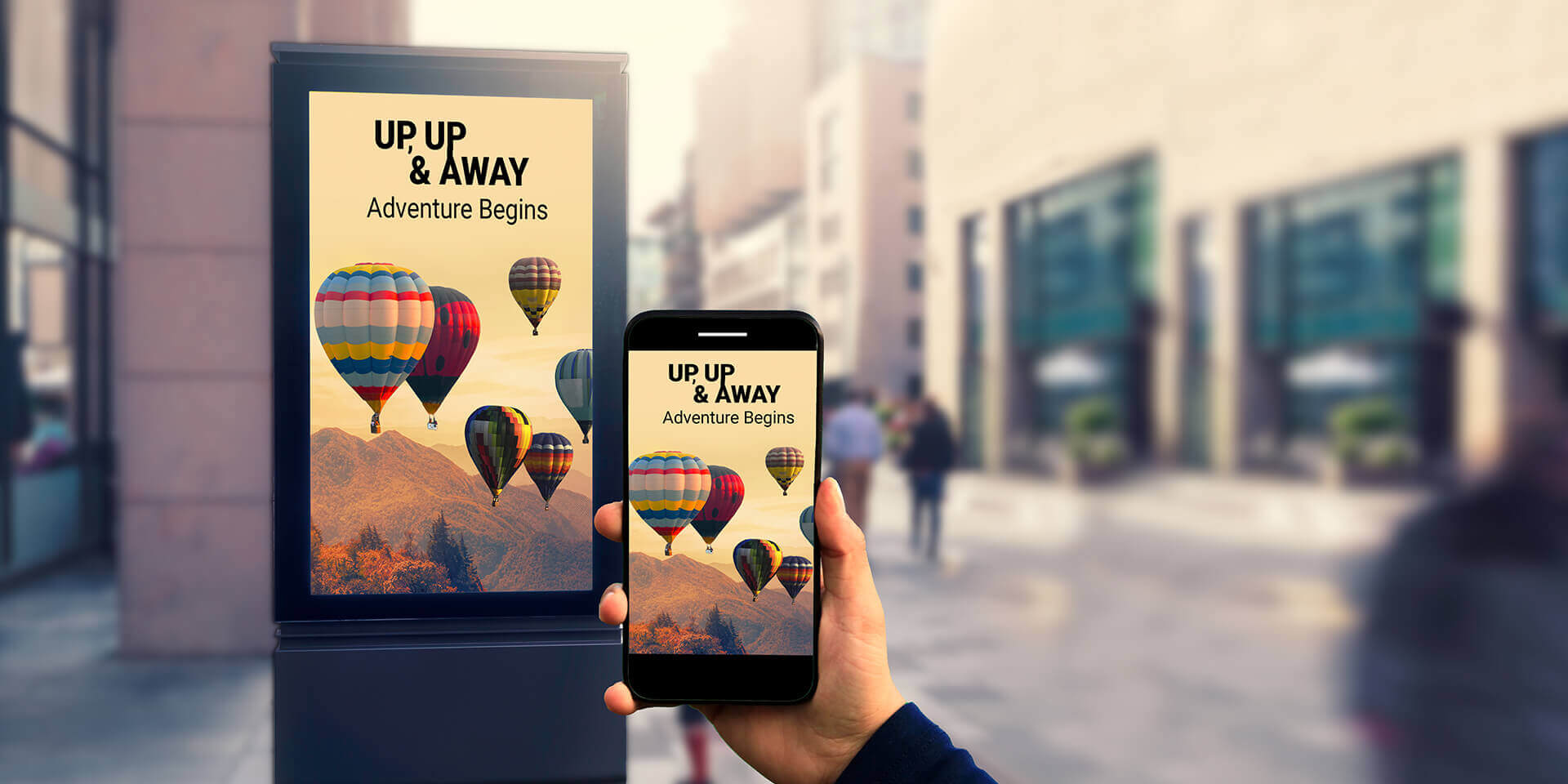 Combining mobile with programmatic DOOH offers invaluable impact for advertisers. Both channels are effective at reaching on-the-go consumers when they are away from their personal devices at home or in the office. This duo allows you to build on your established connections and create additional touchpoints with consumers who are highly likely to have already seen your ads. For instance, a retail brand can drive top of mind awareness and consideration for a new product using DOOH, then follow up on mobile with a continuation of their messaging or specific call-to-action.
Interactive Screens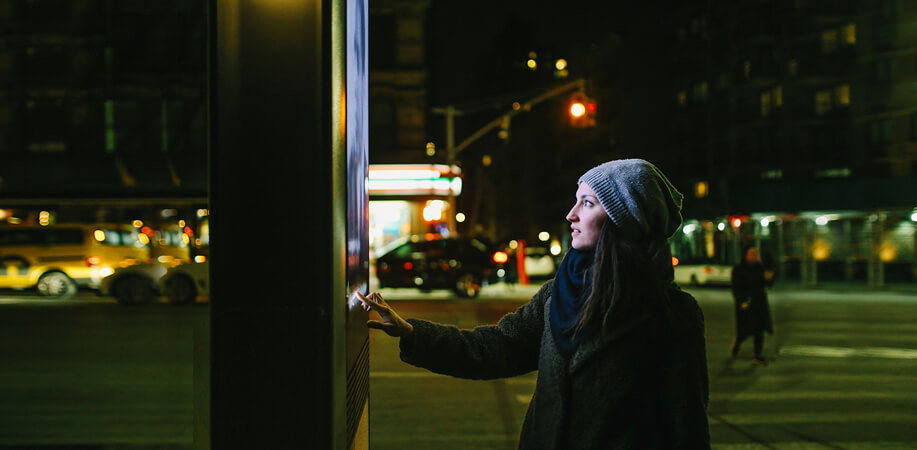 Using interactive technology gives marketers another opportunity to break out from a cluttered media landscape and differentiate their brand from competitors. While traditional OOH advertising is limited to static messaging, the digital nature of DOOH makes interactivity possible and more accessible. Traditionally a 1:many medium, interactive digital screens connect DOOH with the 1:1 world of digital advertising. Marketers can use these screens, such as kiosks in pharmacys or tablets in rideshares, to maximize consumers' attention and engagement during normal daily moments.
The Future of DOOH



By 2026, the DOOH market is expected to grow by 10.35%. As the digital medium rises in popularity thanks to its accuracy, effectiveness and automation, the sky's the limit for marketers looking to launch a creative and high-impact outdoor campaign. From new formats, venues and targeting abilities, to continuing innovations such as dynamic creatives, DOOH will continue to prove the pervasiveness and success of outdoor media, marrying traditional methods with the future of the digital age.
So what are you waiting for? With the variety of environments, screens and data-driven solutions available, these touch points have proven critical to building a savvy and results-driven marketing strategy.